AILEVON PACIFIC Aviation Consulting-Weekly Airline Schedule Update – October 16th 2023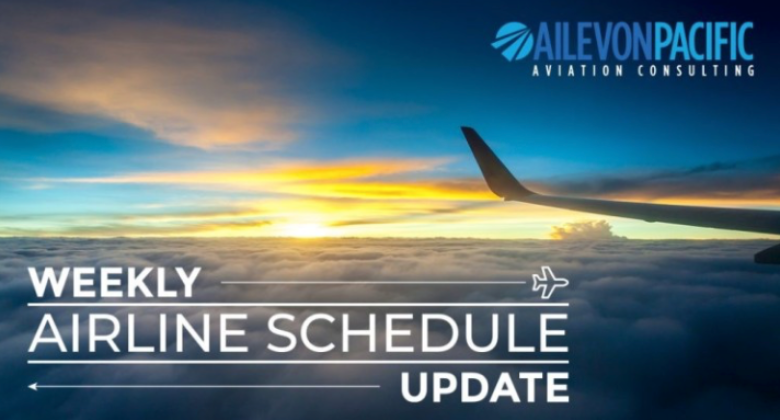 Themes of the Week
American will add and resume nine routes
Spirit filed nine new and resuming routes
Delta added a new international destination from ATL
Four earnings calls this week on Tuesday and Thursday
Our LEX Airport Roundtable is sold out! Our next Airport Roundtable will be in SAV from February 20-22, register and more information can be found here
Capacity Update
To see a detailed list of U.S. domestic and international capacity changes by airline, please click here.
Alaska cancelled LAX to RSW and TPA from January through April and May respectively. They reduced capacity to OGG from PDX and SEA from January through February.
American announced and filed new and resuming service on nine routes (LGA to ACK, BGR, HYA, IAH, MVY, PWM and YHZ; CLT to YVR; and DCA to HYA and Bermuda (BDA). They cancelled IAH and MCI to LGA from March onward and cancelled JFK to Tel Aviv, Israel (TLV) through December 4. They reduced capacity from LAX to OGG from January through April.
China Eastern cancelled SFO to Shanghai, China (PVG) from March 26 onward.
Delta filed service to a new destination from Atlanta, Tulum, MX (TQO). New daily service starts March 28. They added special NFL flights for the Buffalo Bills at the Kansas City Chiefs in December.
ITA is resuming ORD to Rome, Italy (FCO) in April. It was last served in September 2019.
JetBlue cancelled BOS to EWR from November through January 3.
Lynx adjusted many of their U.S. routes to seasonal with some seasons ending in April and others continuing to August.
Southwest cancelled ATL to IAD January 8 onward. January and February capacity was reduced by 2% week over week.
Spirit reduced capacity 9% in December week over week. They filed nine new or resuming routes: BOS to CHS, IAH and ORF; EWR to CLT and SAT; MIA to MSP; RSW to SJU; and SAN SMF. They removed CLE to RSW from future schedules. Spirit cancelled 12 routes in December through early January and three routes from December through March.
TUI Fly Netherlands filed three new charter routes to the US starting in April and May: Lourdes, France (LDE) to BWI and EWR; and Amsterdam, Netherlands (AMS) to EWR.
United added Consumer Electronics Show (CES) flights to LAS in January from FLL, MCO and SJC. Capacity was reduced in January through March 1%-3% week over week.
Note: Schedule information presented in the Weekly Airline Schedule Summary comes from what is loaded in Cirium schedules via Diio Mi and may not reflect what airlines are actually selling. 
Domestic United States Capacity By Carrier
September On-Time Performance
Q3 Airline Earnings Call Dates
Air Canada - Monday, October 30, 2023 8:00am Eastern Link
Alaska - Thursday, October 19, 2023 8:30am Eastern Link This Week
Allegiant - TBA
American - Thursday, October 19, 2023 8:30am Eastern Link This Week
Delta - Transcript
Frontier - TBA
Hawaiian - Tuesday, October 14, 2024 4:30pm Eastern Link This Week
Skywest - Thursday, October 26, 2023 4:30pm Eastern Link
Southwest - Thursday, October 26, 2023 12:30pm Eastern Link
Spirit - TBA
Sun Country - TBA
United - Tuesday, October 18, 2023 10:30am Eastern Link This Week
Interested in a Q3 airline recap, reach out to Jean.Ellisor@ailevonpacific.com for more information.
TSA Update
October 1-15 is at 103.1% of 2019 levels and 111.2% of 2022 levels
Read the full Weekly, Airline Schedule Update Here.