AILEVON PACIFIC Aviation Consulting-Weekly Airline Schedule Update – October 23rd 2023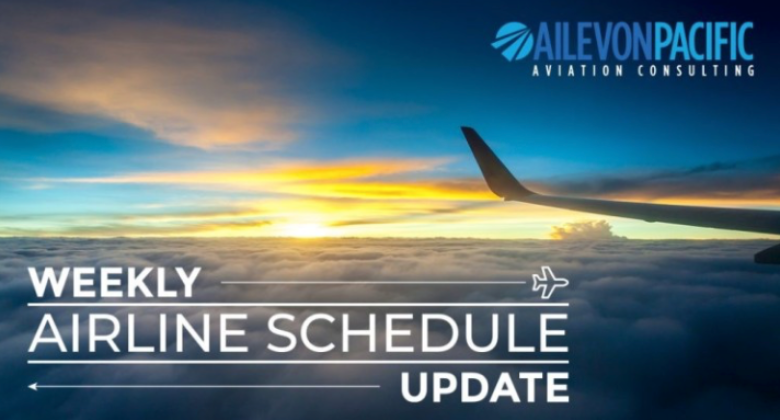 Themes of the Week
Delta and United reduce NYC capacity in 2024
American adds a new destination that will Jamaica you crazy
Sun Country adds 10 new routes
VivaAerobus continues their US expansion with four new routes
Four earnings calls happen this week on Tuesday and Thursday
Las Vegas is getting more CES flights and special Rugby flights from Australia
Capacity Update
To see a detailed list of U.S. domestic and international capacity changes by airline, please click here.
Alaska reduced capacity in March and April 5% and 4% respectively week over week. They filed and announced two new ANC routes: JFK and SAN starting in Summer 2024.
American reduced capacity in January 1% week over week. They reduced capacity in AUS 7% week over week in January - February period. Five AUS routes were suspended between January 8 and February 14. They filed new service from MIA to Ocho Rios, Jamaica (OCJ) from February onward. This will be the first US service to OCJ.
Asiana filed Consumer Electronic Show (CES) flights to LAS from Seoul, Korea (ICN) in January.
Breeze suspended service from MSY to MCO from December through mid-February and removed MSY to TUL from December onward.
Delta reduced capacity in January through March 2% week over week. They reduced capacity from LGA around 10% week over week for January through March. They suspended BGM to LGA from January 8 onward. They are resuming three routes: BGM to DTW in January (last served January 2023); BOS to Providenciales, Turks and Caicos (PLS) in February (last served March 2020); and MSP to Grand Cayman (GCM) in February (last served March 2020).
Frontier suspended seven routes from Mid-January through February.
Hawaiian removed HNL to Auckland, New Zealand (AKL) from April onward. They suspended LGB to OGG from Mid-December through early March and OAK to OGG from March 10 through May 24.
JetBlue suspended BOS to EWR in November.
Porter announced and filed new service from YYZ to LAS starting in March.
Qantas filed two charter flights for the National Rugby League kickoff matches in LAS in March from Brisbane (BNE) and Sydney (SYD).
Sun Country extended their schedule through September 10. They announcedand filed new service on 10 routes: MSP to ABQ, BIL, BOI, GRR, HOU, MSO, OAK, SYR, YUL and YYZ.
United reduced EWR capacity April onward around 6% week over week. They cancelled EWR to HNL from Mid-April onward.
VivaAerobus filed new service on four routes: DFW to Leon, MX (BJX) starting in December; IAH and SAT to Queretaro, MX (QRO) starting in December; and SAT to Torreon, MX (TRC) starting in June.
Note: Schedule information presented in the Weekly Airline Schedule Summary comes from what is loaded in Cirium schedules via Diio Mi and may not reflect what airlines are actually selling. 
Domestic United States Capacity By Carrier
Q3 Airline Earnings Call Dates
Air Canada - Monday, October 30, 2023 8:00am Eastern Link
Alaska - Transcript
Allegiant - TBA
American - Transcript
Delta - Transcript
Frontier - Thursday, October 26, 2023 11:00am Eastern Link This Week
Hawaiian - Tuesday, October 24, 2023 4:30pm Eastern Link This Week
JetBlue - Tuesday, October 31, 2023 10:00am Eastern Link
Skywest - Thursday, October 26, 2023 4:30pm Eastern Link This Week
Southwest - Thursday, October 26, 2023 12:30pm Eastern Link This Week
Spirit - No Earnings Call
Sun Country - TBA
United - Transcript
Interested in a Q3 airline recap, reach out to Jean.Ellisor@ailevonpacific.com for more information.
TSA Update
October 1-22 is at 104.1% of 2019 levels and 110.8% of 2022 levels
Read the full Weekly, Airline Schedule Update Here.