AILEVON PACIFIC Aviation Consulting-Weekly Airline Schedule Update – October 2nd 2023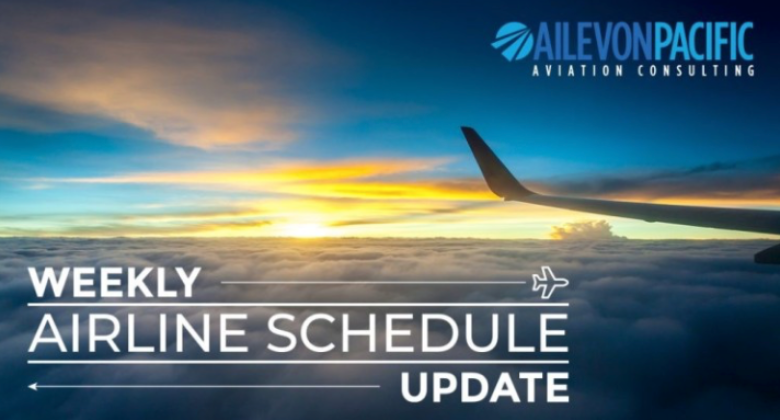 Themes of the Week
OGG capacity cuts continue with Air Canada, Alaska, Hawaiian and United all making cuts this week
CHS gets new Canada service on Air Canada
MSP gets new Caribbean service on Delta
SCASD announced with 20 airports receiving a total of $14.8m
Our next Airport Roundtable will be October 25-27 in Lexington, KY with seven airlines in attendance; details here
Capacity Update
To see a detailed list of U.S. domestic and international capacity changes by airline, please click here.
Air Canada filed new service from YYZ to CHS starting in March. They reduced capacity to OGG from YVR October through April.
Air China is resuming SFO to Beijing, China (PEK) in November. Market was last served April 2020. They are also increasing capacity from LAX to PEK November through March.
Alaska reduced December capacity 1% week over week. They reduced OGG capacity in December 10% week over week and filed their recently announced new service from SAN to ATL starting in May.
Allegiant reduced capacity 1% week over week December onward. They mostly reduced capacity in BNA, which is down 14% week over week from December onward.
American reduced capacity in January 7% and February 4% week over week.
Breeze filed 21 market resumptions/extensions from May onward but also cancelled 19 markets from May or July onward. Eight of these cancels were to RSW and only five destinations remain as of now for Summer 2024. Six MSY markets were cancelled and only four remain for Summer 2024 (CHS, ORF, RIC and RDU). Many of these routes will likely return in Fall 2024. CMH to TPA was cancelled from December onward.
China Southern is resuming service from SFO to Wuhan, China (WUH) in November. It was last served February 2020.
Condor filed previously announced new service from Frankfurt, Germany (FRA) to SAT starting in May.
Delta reduced capacity by 7% in January, 8% in February and 2% in March week over week. They cancelled eight markets temporarily in the late Winter/Spring months. They removed PDX to Haneda/Tokyo, Japan from future schedules. They cancelled JNU to SEA from November 5 through June 6. This now makes them ineligible for the nine markets they recently won in the FY24 GSA government city pairs program. Delta filed CVG to JAX in December for the Bengals at Jaguars NFL game. They also added new service from MSP to Providenciales, Turks and Caicos (PLS) from January through April. They are resuming service early on January 8 to two National Park Regions (CNY and WYS).
Flair cancelled FLL (October) and LAS (November through December 15) to Waterloo, Canada (YKF).
Frontier removed MCO to SAN and SFO; and PHX to TPA from future schedules. They cancelled LAS to BNA, DTW and TPA in December, as well as RDU in November and December.
Hawaiian reduced capacity to OGG from the mainland from November through January by 3% to 7% week over week.
Silver cancelled CHS service to FLL, MCO and TPA from October 17 onward. They have no service filed to CHS after that date, so it is a potential station exit. MSY to TPA has also been cancelled from October 10 onward and SAV to TPA from October 17 through February 15.
United cancelled EWR to Mumbai, India (BOM) and Hong Kong (HKG) from October through March. They also cancelled SFO to Delhi, India (DEL) from October to March. They reduced OGG capacity in December 17% week over week.
Note: Schedule information presented in the Weekly Airline Schedule Summary comes from what is loaded in Cirium schedules via Diio Mi and may not reflect what airlines are actually selling.
Domestic United States Capacity By Carrier
Small Community Air Service Development Grant 2023 (FY 2022)
There were 20 winners out of 48 applicants for the SCASD grant this year. Of the 20 winners, 19 were for air service revenue guarantees and one was for marketing of existing air service. Awards ranged from $250,000 to $1,500,000. 18 of the 20 winners had an airline letter of support and of those 18, 17 were for a legacy airline (Alaska, American, Delta or United). For a detailed review of this year's SCASD and how service has come along (or not come along) please click here.
TSA Update
September finished at 103.9% of 2019 levels and 110.3% of 2022 levels.
Read the full Weekly, Airline Schedule Update Here.