AILEVON PACIFIC Aviation Consulting-Weekly Airline Schedule Update – October 30th 2023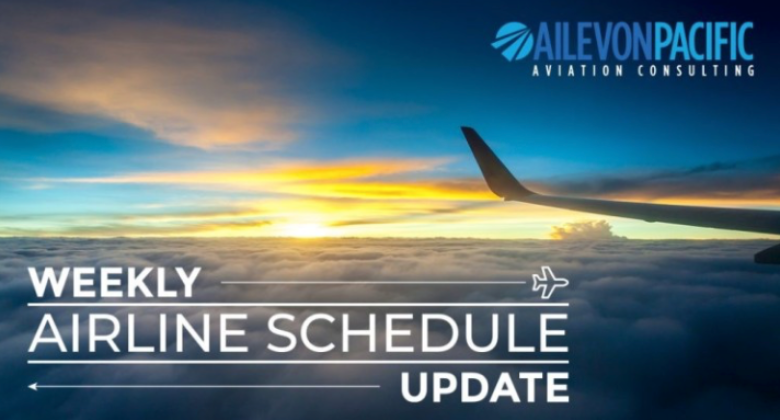 Themes of the Week
Southwest added and will resume over 30 markets
Tel Aviv, Israel (TLV) flight suspensions were extended on several airlines
JetBlue suspended seven Northeast routes and added four new international routes
Breeze added three new routes including their first new market in Mississippi
United added a new international market that doesn't currently have U.S. service
Thank you to Blue Grass Airport and The Quotient Group for another wonderful Airport Roundtable! Our next Airport Roundtable will be February 22-24 in Savannah, GA.
Capacity Update
To see a detailed list of U.S. domestic and international capacity changes by airline, please click here.
Aeroméxico filed previously announced new routes: Mexico City (MEX) to BOS, IAD and SLC; and Mexico City (NLU) to DFW and MFE.
American extended the suspension of JFK to Tel Aviv, Israel (TLV) through January 7. They also extended the suspension of DFW to STS and FLL to LAX through early May. They also increased April capacity 1% week over week.
Avianca suspended LAX to Bogotá, Colombia (BOG) from October 30-December 9.
Breeze filed and announced three new routes: CAK to RDU starting in February; and new station, GPT, with service to LAS and TPA starting in January.
Delta increased capacity from June onward 1% week over week. They suspended service to TLV indefinitely from ATL and BOS and extended JFK suspension until November 16. They are resuming service in three markets in June: LGA to YHZ (last served August 2019); MSP to ORF (last served March 2020); and MSP to TYS (last served December 2021).
JetBlue reduced capacity January onward, with reductions ranging from 4%-11% week over week. Seven routes (BNA to LGA: BOS to ROC; BTV to JFK; CHS to LGA; DCA to JFK; EWR to MIA; JAX to LGA) were suspended from January onward with confirmation that some of the routes (like BTV) are permanent exits. BTV will be a station exit for JetBlue. They announced and filed four new international routes: Paris, France (CDG) to BOS; Dublin, Ireland (DUB) to BOS and JFK; and Edinburgh, Scotland (EDI) to JFK.
Silver filed new service from FLL to Providenciales, Turks and Caicos (PLS) from December onward.
Southwest extended their schedule through August 4. They announced and filed 38 new and resuming routes. MCO to RSW was suspended from March 7 onward.
Spirit pushed the start date for BNA to RSW until December 3.
United announced new service to Faro, Portugal starting in May. They cancelled ORD and SFO to TLV in November. They are not resuming IAD to Berlin, Germany (BER) next summer.
Virgin Atlantic cancelled AUS to London-Heathrow (LHR) from January onward.
Note: Schedule information presented in the Weekly Airline Schedule Summary comes from what is loaded in Cirium schedules via Diio Mi and may not reflect what airlines are actually selling. 
Domestic United States Capacity By Carrier
Q3 Airline Earnings Call Dates
Air Canada - Monday, October 30, 2023 8:00am Eastern Link This Week
Alaska - Transcript
Allegiant - Thursday, November 2 12:30 Eastern Link This Week
American - Transcript
Delta - Transcript
Frontier - Transcript
Hawaiian - Transcript
JetBlue - Tuesday, October 31, 2023 10:00am Eastern Link This Week
Skywest - Transcript
Southwest - Transcript
Spirit - Results
Sun Country - TBA
United - Transcript
Interested in a Q3 airline recap, reach out to Jean.Ellisor@ailevonpacific.com for more information.
TSA Update
October 1-29 is at 105.8% of 2019 levels and 110.9% of 2022 levels
Read the full Weekly, Airline Schedule Update Here.