AILEVON PACIFIC Aviation Consulting-Weekly Airline Schedule Update – October 9th 2023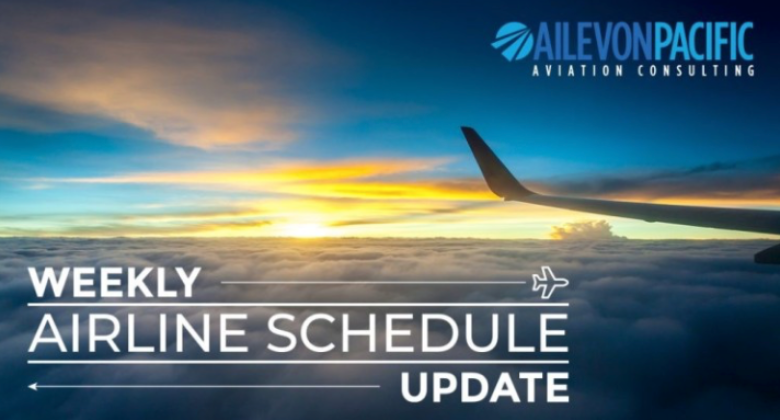 Themes of the Week
Aeroméxico and Viva Aerobus add more US routes
Porter is adding California to their route map
Norse is saying nei to several routes
Delta has their Q3 earnings call this Thursday
Thank you to airline schedule planners for mostly taking a break this week on schedule changes
Capacity Update
To see a detailed list of U.S. domestic and international capacity changes by airline, please click here.
Aeroméxico announced and filed new service this week: ATL to Merida (MID) and Monterrey (MTY); DTW to Guadalajara (GDL); and SLC to MTY. They are also resuming ATL to Leon (BJX) and GDL; DTW to Queretaro, MX (QRO); and JFK to MTY.
Air Antilles removed SJU to Saint Maarten (SXM) from future schedules.
American cancelled FLL to LAX from February through April 3.
Bahamas Air cancelled RDU to Freeport, Bahamas (FPO) in June.
Breeze filed new service from ISP to Vero Beach, FL (BRB) from December onward.
China Eastern is resuming SFO to Shanghai, China (PVG) from October 30 onward. It was last served in May 2020.
Delta cancelled SLC to Moab (CNY) and West Yellowstone (WYS) from January through March.
Flair removed 18 routes in Summer 2024.
Frontier increased capacity in March 1% week over week. They cancelled TPA to Santo Domingo, Dominican Republic (SDQ) in February and March.
Kuwait Airways cancelled IAD to Kuwait City, Kuwait (KWI) from December through February 25.
Norse removed three routes from future schedules: JFK to Berlin, Germany (BER) and Oslo, Norway (OSL); and LAX to OSL. They also removed MIA to BER, OSL and Paris, France (CDG) from April onward.
Porter announced and filed new service from YYZ to LAX and SFO starting in January.
Southern Airways added MKL to STL from November onward.
United reduced capacity 2% in February week over week. They are resuming DEN to PBI in February and March (last served May 2021). United cancelled EWR to Stockholm, Sweden (ARN) from May through June 4. They cancelled EWR to Porto, Portugal (OPO) in March.
VivaAerobus announced and filed eight new routes starting in 2024: MTY to AUS, DEN, MCO, MIA and OAK; Mexico City, MX (MEX) to DFW; and MID to MCO and MIA. They also announced more U.S. service this week; Queretaro (QRO) to SAT and IAH.
Note: Schedule information presented in the Weekly Airline Schedule Summary comes from what is loaded in Cirium schedules via Diio Mi and may not reflect what airlines are actually selling. 
Domestic United States Capacity By Carrier
YE 2023 Capacity Versus YE 2019 Capacity
Q3 Airline Earnings Call Dates
Air Canada - TBA
Alaska - TBA
Allegiant - TBA
American - Wednesday, October 19, 2023 8:30am Eastern Link
Delta - Thursday, October 12, 2023 10:00am Eastern Link This Week
Frontier - TBA
Hawaiian - TBA
Skywest - Thursday, October 26, 2023 4:30pm Eastern Link
Southwest - Thursday, October 26, 2023 12:30pm Eastern Link
Spirit - TBA
Sun Country - TBA
United - Tuesday, October 18, 2023 10:30am Eastern Link
Interested in a Q3 airline recap, reach out to Jean.Ellisor@ailevonpacific.com for more information.
TSA Update
October 1-8 is at 102.9% of 2019 levels and 112.1% of 2022 levels.
Read the full Weekly, Airline Schedule Update Here.