AILEVON PACIFIC Aviation Consulting-Weekly Airline Schedule Update – September 11th 2023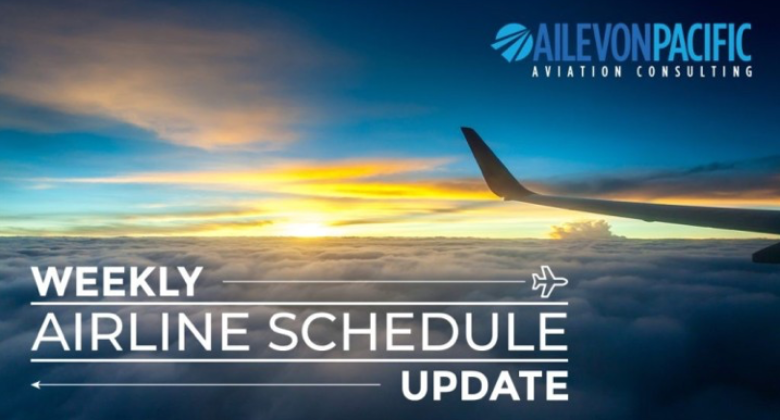 Themes of the Week
OGG capacity cuts continue again this week with reductions and cancellations by Alaska, Delta and WestJet
Frontier extends their schedule
WestJet adds a new route to LAS
Norse cancelled a route that was set to start in March
Two airlines rebrand themselves with new names
YVR Airport Roundtable kicks off this week. Next opportunity is in LEX 25-27 October with seven airlines attending; register here
Capacity Update
To see a detailed list of U.S. domestic and international capacity changes by airline, please click here.
Alaska capacity in February and March is down 1% week over week. Alaska reduced OGG capacity in November by 14% week over week.
American capacity decreased 3% in December and 2% in January week over week.
Avianca filed new service from OAK to San Salvador (SAL) starting in January. They are resuming service from JFK to San Pedro Sula (SAP) and ORD to Guatemala City (GUA) in December.
Breeze cancelled eight routes from early January through February. They filed PVD to SAV starting in February which was previously supposed to start in June 2022.
Delta removed OGG to ATL and MSP from future schedules. They still offer service to OGG from LAX and SEA currently and SLC resuming in December.
Eurowings Discover rebranded to Discover Airlines.
Frontier extended their schedule to March 6. They cancelled eight routes from mid-December through January.
Norse cancelled SFO to London Gatwick (LGW) service was scheduled to start in March.
Northern Pacific rebranded to New Pacific Airlines due to trademark infringement from BNSF Railway.
Starlux filed new service from SFO to Taipei (TPE) starting in December.
United reduced capacity in January 5% and February 3% week over week.
WestJet filed new service from YLW to LAS starting in December. They cancelled YYC to OGG in October.
Domestic United States Capacity By Carrier
TSA Update
September 1 – 10 is at 104.9% of 2019 levels and 108.1% of 2022 levels.
Read the full Weekly, Airline Schedule Update Here!