AILEVON PACIFIC Aviation Consulting-Weekly Airline Schedule Update – September 18th 2023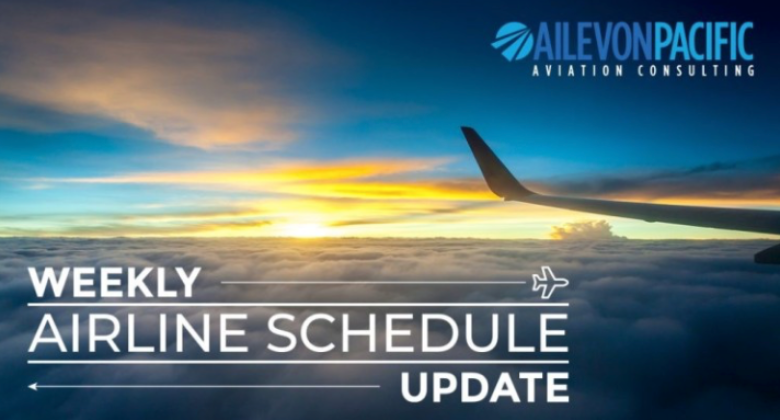 Themes of the Week
Delta gets down to business adding new routes and resuming long-haul domestic routes from ATL
OGG capacity cuts continue again this week with reductions and cancellations by Alaska and American
Southwest extends their schedule and adds a new route
Breeze added two new routes and a new destination that is also the hometown of an APAC consultant (hint: it ends in burgh)
New Pacific (formerly Northern Pacific) is growing from ONT
Spirit adds new LGA routes
Our next Airport Roundtable will be October 25-27 in Lexington, KY with seven airlines in attendance; come check it out!
Capacity Update
To see a detailed list of U.S. domestic and international capacity changes by airline, please click here.
Aeroméxico cancelled three Guadalajara (GDL) markets in November: FAT, SLC and SMF.
Alaska continued to reduce OGG capacity in Q1 2024. They added two Consumer Electronic Show (CES) routes to LAS in January: JFK and SJC.
American removed AUS to STL from future schedules, cancelled RDU to TPA from January 8 onward and cancelled AUS to VPS from April through June 4. They also reduced OGG capacity to LAX in November and December.
Azores Airlines announced and filed new service to BOS from Madeira, Portugal (FNC) starting in June.
Breeze added two new routes this week starting in November: PWM to RSW and MCO to a new destination: Plattsburgh, NY (PBG).
Delta announced and filed the resumption of 10 previously served routes and three new routes all starting in Summer 2024. Half of the new and resuming routes will be from their ATL hub.
Condor announced and filed new service from Frankfurt (FRA) to MIA starting in May.
Lufthansa announced and filed new service from FRA to MSP and RDU starting in June; and Munich (MUC) to SEA starting in May. MSP and RDU will be new destinations for Lufthansa.
New Pacific announced and filed two new routes from ONT starting in November: BNA and RNO.
Norse announced and filed new service to LAX from Paris (CDG) starting in May.
Silver is cancelling GSO to TPA from November 26 onward.
Southwest extended their schedule through June 3 and filed new service between IAD and PHX starting in April.
Spirit is resuming three routes (ATL to RSW; BDL to FLL; and LGA to ORD) and adding new service from LGA to ATL and PBI starting in November. They cancelled seven routes in November bringing down overall capacity 1% week over week.
Swiss announced and filed new service to IAD from Zurich (ZRH) starting in March.
United cancelled 10 routes in Q1.
Domestic United States Capacity By Carrier
TSA Update
September 1 – 17 is at 103.4% of 2019 levels and 108.2% of 2022 levels
Read the full Weekly, Airline Schedule Update Here!