AILEVON PACIFIC Aviation Consulting-Weekly Airline Schedule Update – September 25th 2023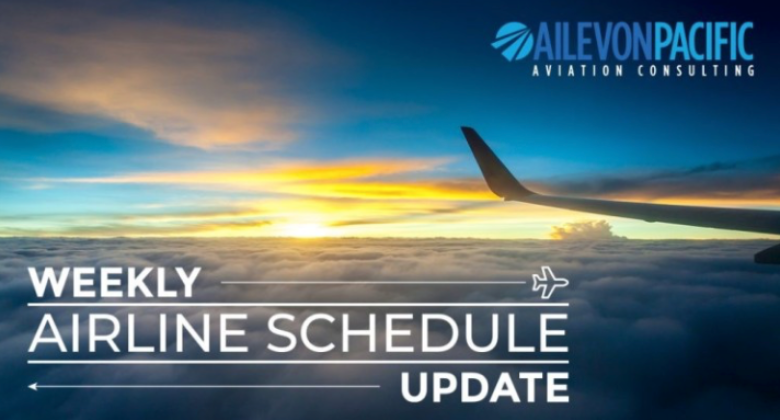 Themes of the Week
Delta makes big changes to their Summer 2024 Transatlantic schedule
Alaska announces new service SAN to ATL
OGG capacity cuts continue with WestJet reducing capacity in the fall
Southwest extends their schedule and adds a new route
Breeze added a new destination that would make Abe Lincoln proud
Still no SCASD announcement, but should be soon! Three applicants requested documents be kept confidential and that was updated this week here
Our next Airport Roundtable will be October 25-27 in Lexington, KY with seven airlines in attendance; come check one out
Capacity Update
To see a detailed list of U.S. domestic and international capacity changes by airline, please click here.
Air Canada filed new service from YUL to AUS and STL starting in May.
Alaska reduced capacity in February and March 4% and 3% week over week respectively. They cancelled DAL to SFO from February through March 13. Alaska announced today they are adding SAN to ATL service starting in May. Delta, Frontier and Southwest currently offer nonstop service on the route.
American decreased capacity in December 3% and January through March 1%, week over week. They cancelled DAB to DFW after the Daytona 500 in February. They are resuming ORD to RNO service in June 2024 (last served November 2021).
Avelo extended their schedule through April 30.
Breeze announced and filed new service from Springfield, IL (SPI) to MCO and TPA starting in December and RSW to PWM in November.
Delta reduced November and December capacity week over week 1% and 2% respectively. They are cancelling ATL to Dusseldorf, Germany (DUS) from May onward. They announced and filed their biggest Transatlantic summer schedule ever this week. They are resuming ATL to Zurich, Switzerland (ZRH) in May (Last served September 2019); filed new service from JFK to Naples, Italy (NAP) and Munich, Germany (MUC) starting this spring; and resuming JFK to Shannon, Ireland (SNN) in May (last served September 2019). LAX to Auckland, NZ (AKL) has been extended from April onward. Several Transatlantic routes were cancelled in March through mid-April (JFK to DTW to MUC; JFK to Stockholm, Sweden (ARN); JFK to Copenhagen, Denmark (CPH); JFK to Geneva, Switzerland (GVA); and JFK to London Gatwick (LGW). They also continued to trim capacity between LAX and OGG in November and December.
JetBlue extended their schedule until August 24. They cancelled DCA to Nassau, Bahamas (NAS) from January through February.
Iberia filed new service from MIA to Barcelona, Spain (BCN) starting in March.
TUI Airways cancelled five routes to MLB from November through March or April; Birmingham (BHX); Glasgow, Scotland (GLA); London Gatwick (LGW); Manchester (MAN); and Newcastle (NCL). They also cancelled MLB to Bristol (BRS) from November onward.
WestJet announced and filed new service to LAS from YYJ starting in February. They also continued to reduce OGG capacity in October and November.
Domestic United States Capacity By Carrier
TSA Update
September 1 - 24 is at 103.5% of 2019 levels and 108.6% of 2022 levels.
Balloons of the week - PIT
Congrats to PIT for winning balloons of the week for their inaugural LAX service on Breeze Airways!
Read the full Weekly, Airline Schedule Update Here!