AILEVON PACIFIC Aviation Consulting-Weekly Airline Schedule Update – September 4th 2023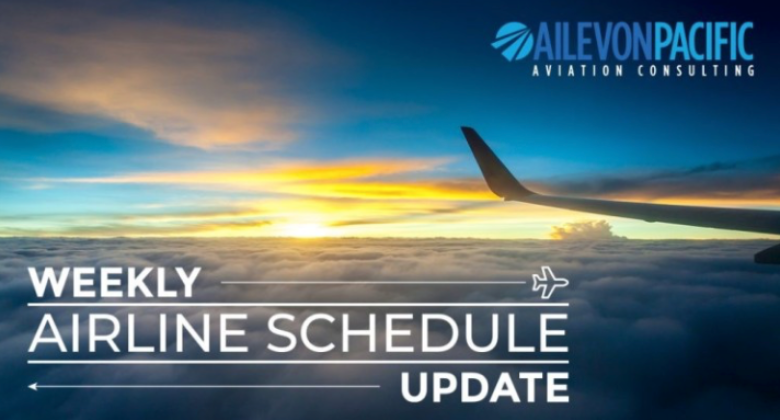 Themes of the Week
OGG capacity cuts continue into November and December
American is growing in MIA with a new route
JetBlue is saying goodbye for now to Cuba
Spirit is tweaking service
SCASD announcement expected in the next 2-3 weeks
Capacity Update
To see a detailed list of U.S. domestic and international capacity changes by airline, please click here.
Air Canada removed HNL to YYC from future schedules. They also cancelled LAX to YYC from November onward. They reduced capacity from YVR to OGG in October.
Alaska cancelled seven routes in the spring months and reduced OGG to SEA capacity in November.
American cancelled CHO to PHL from January 8 onward. They filed new service from MIA to SNA starting in January with once daily service. This was the fourth largest unserved U.S. market for MIA after ELP, ABQ and HNL.
BermudAir replaced IATA code BMA with 2T in Diio Mi.
Caribbean Airlines removed JFK to Montego Bay, Jamaica (MBJ) from future schedules.
Frontier filed and previously announced seven new and resuming routes starting in November: BWI to TPA; DTW to CUN and RSW; MDW to CUN; MSP to CUN and RSW; and PHL to Santo Domingo, Dominican Republic (SDQ).
JetBlue removed flights for FLL and JFK to Havana, Cuba (HAV) after September 17 due to low demand and regulatory hurdles.
Silver cancelled GSO to TPA from October through November 10.
Southwest reduced capacity to OGG from four of the six mainland destinations they serve in November.
Spirit removed 10 routes from future schedules and also filed 10 new routes from November onward. They also cancelled 11 routes in select winter months and are resuming four routes that were previously suspended. See our detailed list link above for specific routes.
United continued to reduce OGG capacity with the cancellation of EWR in November and ORD from October through December 13. They cancelled four routes in December and early January.
Domestic United States Capacity By Carrier
TSA Update
August finished at 102.7% of 2019 levels and 110.6% of 2022 levels.
Read the full Weekly, Airline Schedule Update Here!