Air Arabia and Wizz Air offering new routes between Italy and UAE; capacity still down 12% in January 2023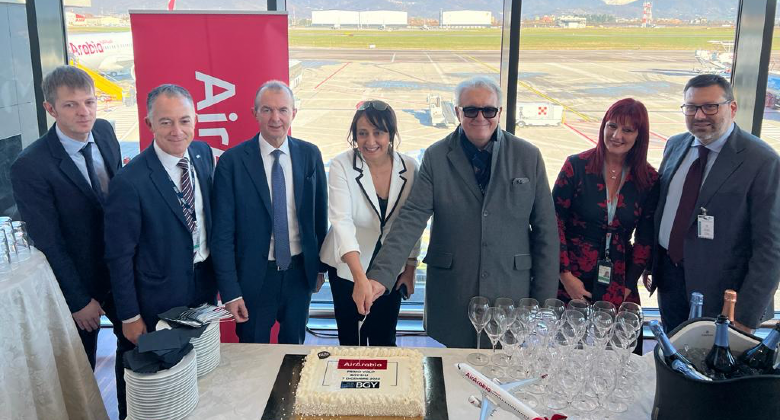 The last 15 months has seen the Italy to United Arab Emirates (UAE) market gain two new carriers and five new routes thanks to the decisions by Air Arabia, flydubai and Wizz Air to add routes between the two countries. The first week of December saw Air Arabia begin 3-weekly service between Sharjah and Milan BGY while Wizz Air added 2-weekly flights between Abu Dhabi and Naples, operated by its Naples based aircraft rather its Abu Dhabi based aircraft.
Among European countries, Italy is currently ranked fifth for capacity to the UAE according to Cirium data for January 2023. Compared with pre-pandemic January 2020, Russia has moved up from third to second while Turkiye is up from sixth to fourth. The UK remains by far the leading European country market to the UAE.
Overall, the Europe-UAE market is still down 5% in terms of non-stop seats compared with three years ago. While 10 of the top 15 markets are down by at least 10%, five markets are up at least 10%; Turkiye (+43%), Russia (+40%), Austria (+21%), Poland (+19%) and Hungary (+11%).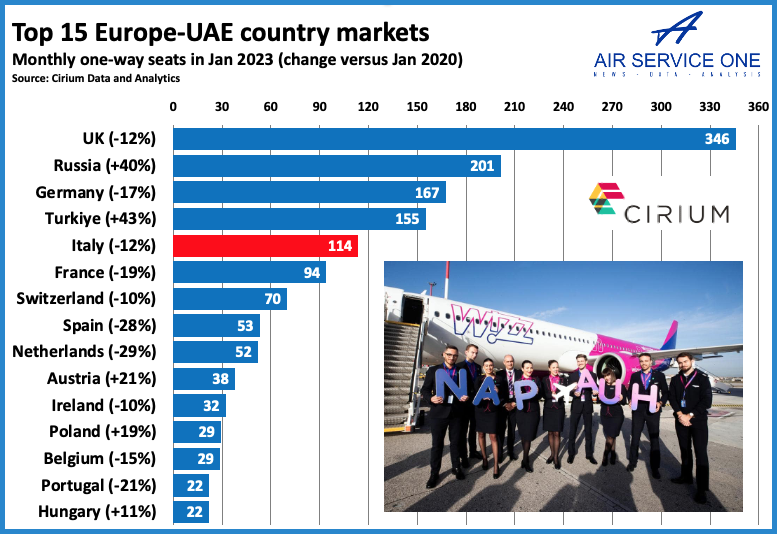 The Italy-UAE market has been recovering well in 2021 and 2022, though in January 2023 it will still be down by around 12% compared with January 2020. Data from 2019 shows clearly that capacity peaks during the main summer months from June to October.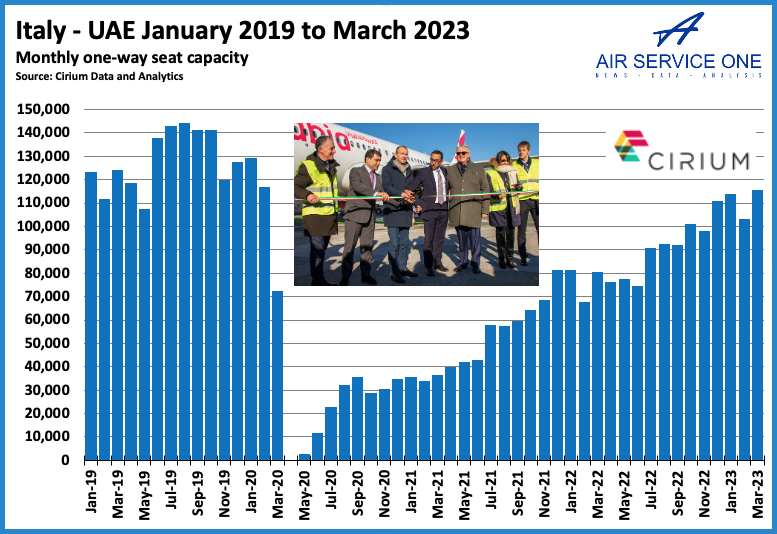 Five carriers currently connecting Italy and UAE
According to Cirium data the following airlines are now (early December 2022) operating non-stop service between Italy and the United Arab Emirates (current weekly frequency in brackets):
Air Arabia to SHJ: Milan BGY (3, launched December 2022)
Emirates to DXB: Bologna (5), Milan MXP (14), Rome FCO (13), Venice VCE (5)
Etihad Airways to AUH: Milan MXP (7), Rome FCO (7)
flydubai to DXB: Catania (3, launched 2018), Naples (4, launched 2019), Pisa (3, launched June 2022)
Wizz Air to AUH: Bari (2, launched March 2022), Catania (2, launched April 2022), Naples (2, launched December 2022)
Prior to launching service to/from Abu Dhabi, Wizz Air had served Dubai DXB for a few months while the delayed Expo 2020 was taking place there between October 2021 and March 2022.
According to the airline's on-line booking tool, Italian leisure airline Neos will be offering weekly flights from a number of Italian airports to Dubai DWC between mid-December and mid-March. However, when trying to book any of these services no dates appeared to be bookable.