Air Arabia Maroc serving Europe from multiple Moroccan airports; Spain is fastest-growing market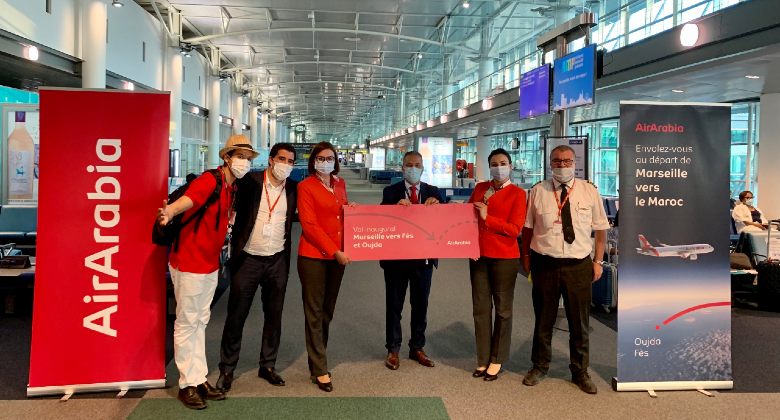 Air Arabia Maroc (IATA code 3O) launched service from Casablanca in May 2009. The carrier is a joint venture between Sharjah-based Air Arabia and Moroccan investors. With a fleet of nine 174-seat Airbus A320s the airline is the biggest low-cost carrier (LCC) headquartered in Morocco. Initially operating international routes just from Casablanca, the airline has gradually expanded its network to other Moroccan airports. While Casablanca remains the airline's biggest base for flights, it now also has a significant presence at Fez, Nador and Tangier.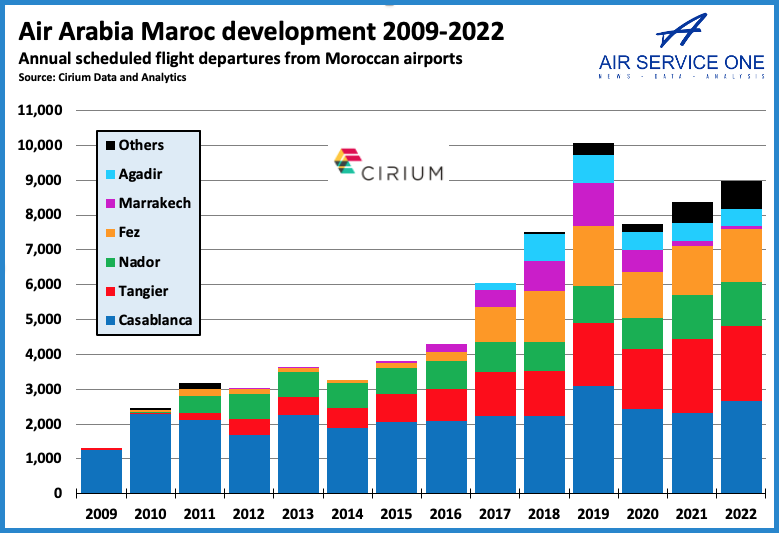 According to analysis of Cirium data, the airline more than doubled in size between 2016 and 2019, with the number of annual flights increasing from 4,300 to over 10,000. Much of this growth came from expansion in Agadir, Fez and Marrakech.
Focus on international routes
The majority of Air Arabia Maroc's routes are international, linking airports in Morocco with destinations in Europe. The carrier operates to nine countries in Europe. The leading markets (by monthly departures from Morocco in January 2023) are France (173 flights), Spain (121) and Italy (90). The other six country markets are Belgium (81 monthly departures), Netherlands (44), Turkey (43), Switzerland (20), UK (13) and Germany (12). Spain has seen the biggest increase in flights, up 70% compared with three years ago. In pre-pandemic January 2020, the airline also served Austria, the Czech Republic, Portugal and Tunisia.
The best served European destination in 2023 Q2 is set to be Brussels with 247 flights. The Belgian capital is served non-stop by Air Arabia Maroc from five airports in Morocco; Casablanca, Fez, Nador, Oujda and Tangier. The only other airport that comes close to Brussels is Barcelona, with 234 scheduled flights. The Spanish city is served from the same five Moroccan airports.
Among the top 18 destination airports (all served with at least three weekly flights from Morocco), there are two airports that were not served in 2019 Q2. They are Marseille in France (10th) and Murcia in Spain (11th). Other airports now served that were not part of the airline's network four years ago are Bilbao, Geneva, Malaga and Valencia. Conversely, several European airports are no longer served. These include Birmingham, Copenhagen, Dublin, Frankfurt, Lisbon, Munich, Prague, Rome, Tunis and Vienna. Overall, scheduled flights in 2023 Q2 are still set to be around 12% below the level seen in 2019 Q2.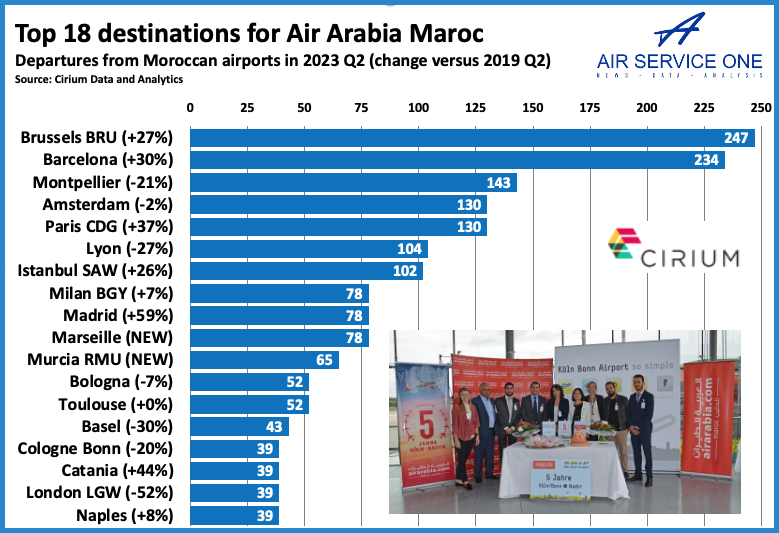 Air Arabia Maroc is operating just six domestic routes this winter involving eight Moroccan airports. Of the 32 weekly frequencies, 20 are split equally across Friday and Sunday. All routes are flown with between two and four weekly frequencies.