Air Belgium and Eurowings Discover launch flights to South Africa; UK tops Europe-SA country rankings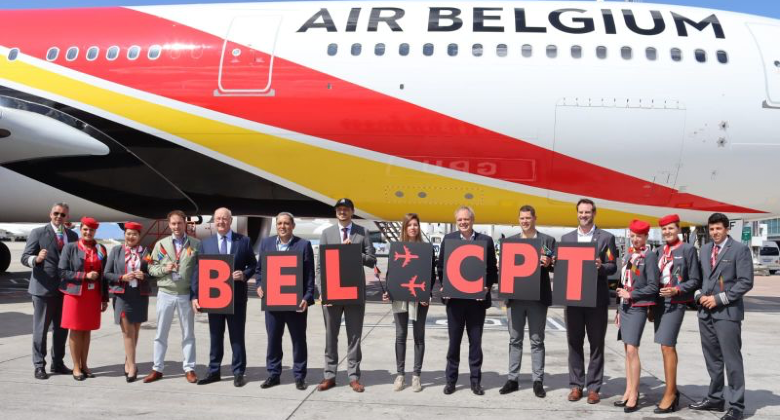 There are more flights between European airports and South Africa this northern winter than between Europe and any other country in sub-Saharan Africa. According to Cirium schedules information data, there are 780,000 one-way seats.
Europe-South Africa capacity is down by a quarter
Even though it is now South Africa's summer, Europe-South Africa seats remain down by 24% over W19. In comparison, Europe to all sub-Saharan Africa is down by just 9%. South Africa has 'lost' nearly a quarter of a million seats, over half of which is because of the exit of South African Airways (SAA), whose ongoing woes means it no longer serves Europe; its farthest route is now Accra in Ghana.
In W19, SAA had flights from Johannesburg to Frankfurt, London LHR and Munich. Its exit means Munich-Johannesburg remains unserved as Lufthansa only operates from its second hub in Germany to Cape Town.
It was also not helped by the exits of Austrian Airlines (Vienna-Cape Town) and Alitalia (as it then was; Rome FCO-Johannesburg), while British Airways has ceased London LHR-Durban.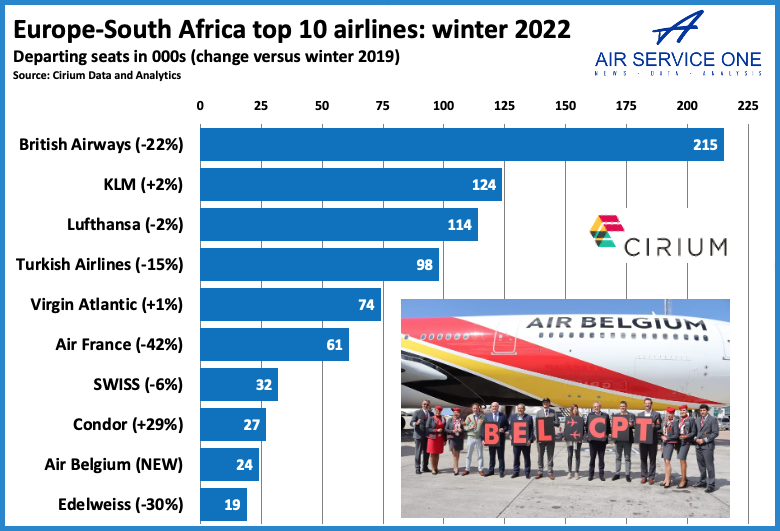 Air Belgium and Eurowings Discover to South Africa
On 14 September 2022, Air Belgium introduced Brussels to Johannesburg and Cape Town with 2-weekly year-round flights, reconnecting the two countries with the first passenger flights in two decades. In 2019, Johannesburg was Brussels' largest unserved market in Africa, while the Belgian capital was among Johannesburg's biggest unserved cities in Europe.
Then came Eurowings Discover. On 16 November, the leisure airline made history by beginning the first long-haul flights to Nelspruit Kruger Mpumalanga International Airport, serving the famous national park. Frankfurt-Kruger is 2-weekly, operating via Windhoek in Namibia in both directions.
Cape Town nears number one airport
South Africa now has European flights from four airports, possibly for the first time. Four Cape Verdean airports also have European flights. Analysis of Cirium schedules tells us that no other sub-Saharan country has Europe service from more airports.
This northern winter, Cape Town has 45% of all European capacity from South Africa. In W19, it was just 35%, the increase helped by being so leisure-driven and Johannesburg's reduced service.
Johannesburg: 407,000 W22 Europe seats (-35% versus W19)
Cape Town: 350,000 (-3%)
Durban: 12,500 (-68%)
Nelspruit: new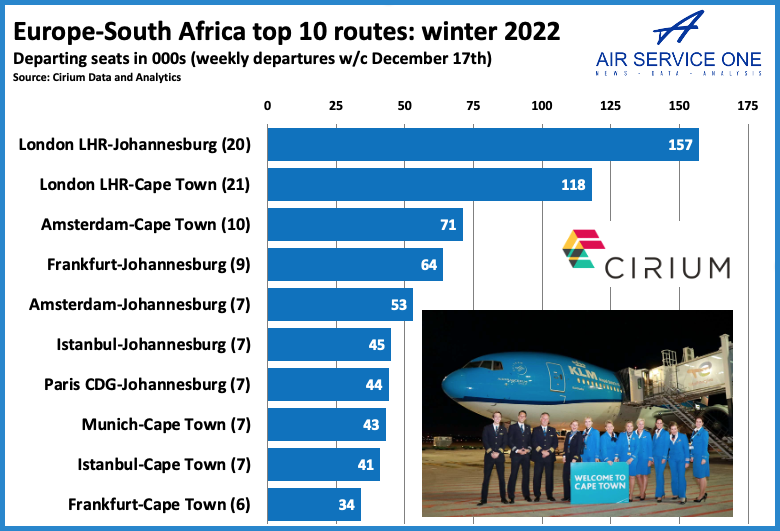 Virgin Atlantic is back in Cape Town as BA returns to 3-daily
On 5 November, Virgin Atlantic resumed (almost) full-season, daily London LHR-Cape Town flights for the first time since 2015 (it had a handful of flights during coronavirus). Fifteen days later, British Airways doubled London LHR-Cape Town to winter-seasonal 2-daily, while 3-weekly London LGW-Cape Town returns on 13 December. It means that, shortly before Christmas, there will be a maximum of 4-daily London-Cape Town flights, a figure last achieved in March 2019. This makes the UK easily the biggest country market in Europe for South African flights.