Air Canada begins four Europe routes; now has 43 routes and 304 weekly flights in August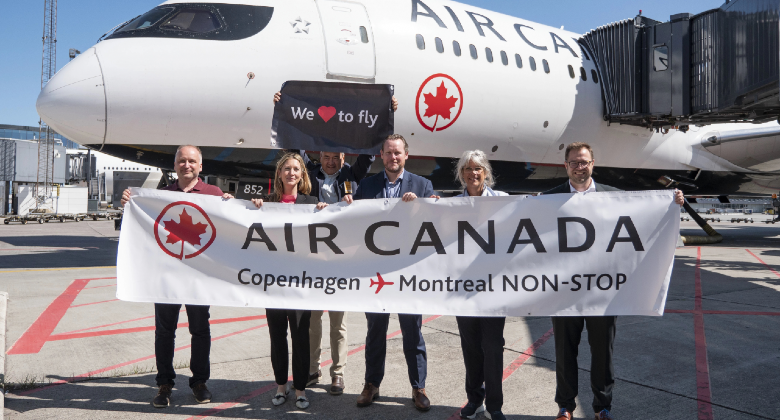 Air Canada is the fifth largest operator between North America and Europe in August 2023. According to Cirium schedules data, it has 304 weekly departing flights, surpassed only by United, Delta, American and British Airways. If lower-cost subsidiary Air Canada Rouge – which no longer operates long-haul – is included, Europe frequencies remain down by 11.9% versus August 2019 and 13.2% versus 2018. However, if only Air Canada's own services are included, 2023 is a record, helped by various new routes this summer. Flights are 10.5% higher than its prior peak, achieved last year.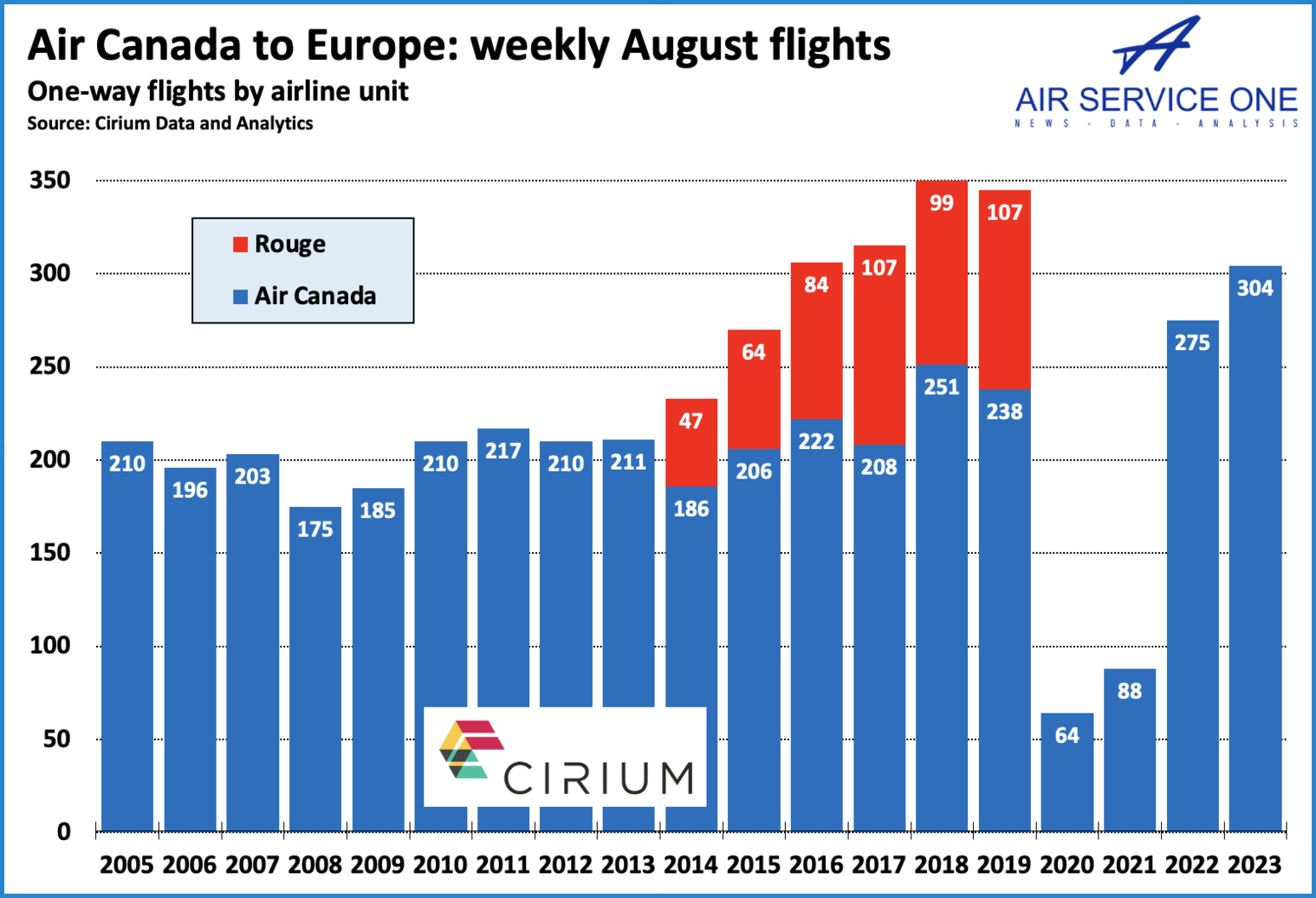 Four new Air Canada routes
The following have joined Air Canada's Europe network. It is the first time in more than 40 years that Montreal and Copenhagen have been linked, connecting two Star Alliance hubs. All routes are summer-seasonal except year-round Montreal-Toulouse, on which it competes directly with Air Transat (3-weekly). Air Canada becomes the third airline between Montreal and Amsterdam, alongside Air Transat (3-weekly) and KLM (6-weekly).
1 June 2023: Montreal to Copenhagen (5-weekly)
1 June 2023: Montreal to Toulouse (5-weekly)
2 June 2023: Montreal to Amsterdam (5-weekly)
1 August 2023: Toronto to Brussels (5-weekly)
Toronto to Brussels – also connecting two Star Alliance hubs – is different. Last served by Brussels Airlines (2016 to 2020), it materialised following the end of Jet Airways on India-Brussels-Toronto (2007-2016). This resulted from the end of Etihad on Abu Dhabi-Brussels-Toronto (2004-2007).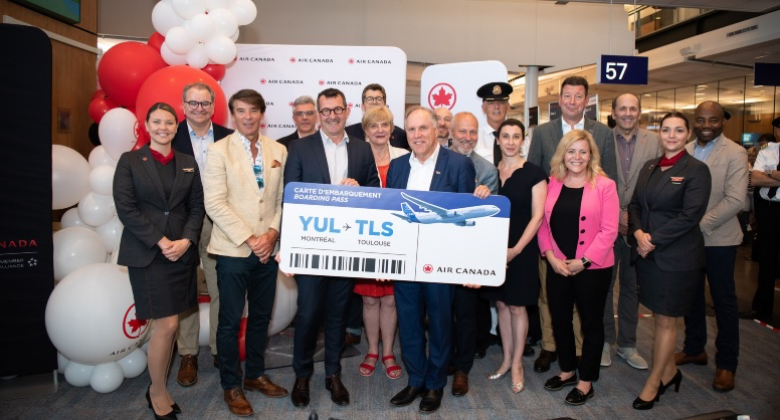 Toronto leading hub, but gap narrows with Montreal
Air Canada's Europe network involves five Canadian airports, as summarised below. As Toronto is the airline's primary hub, it is not surprising that it is first. However, the gap with Montreal continues to narrow. In 2018, Toronto had more than double the Europe flights of its Quebec alternative, which reduced to 40% more in 2022 and is now a third.
Toronto: 150 weekly one-way flights in August; 19 routes
Montreal: 112 flights; 17 routes
Vancouver: 21 flights; four routes
Calgary: 14 flights; two routes
Halifax: daily flight; one route
Using Cirium to examine Air Canada's Europe schedule since 2005 tells that it longer has non-stop Europe routes from Edmonton (last served in 2015), Ottawa (last served in 2020) or St John's (last served in 2019).
43 Europe routes
Air Canada has 43 August routes involving 23 European airports. London LHR has the greatest number of services (279), followed by Star Alliance's Frankfurt (177). With a 28-weekly operation, Toronto-London LHR is still firmly the most served route. It competes directly with British Airways (14-weekly) and indirectly with Air Transat to London LGW (15-weekly).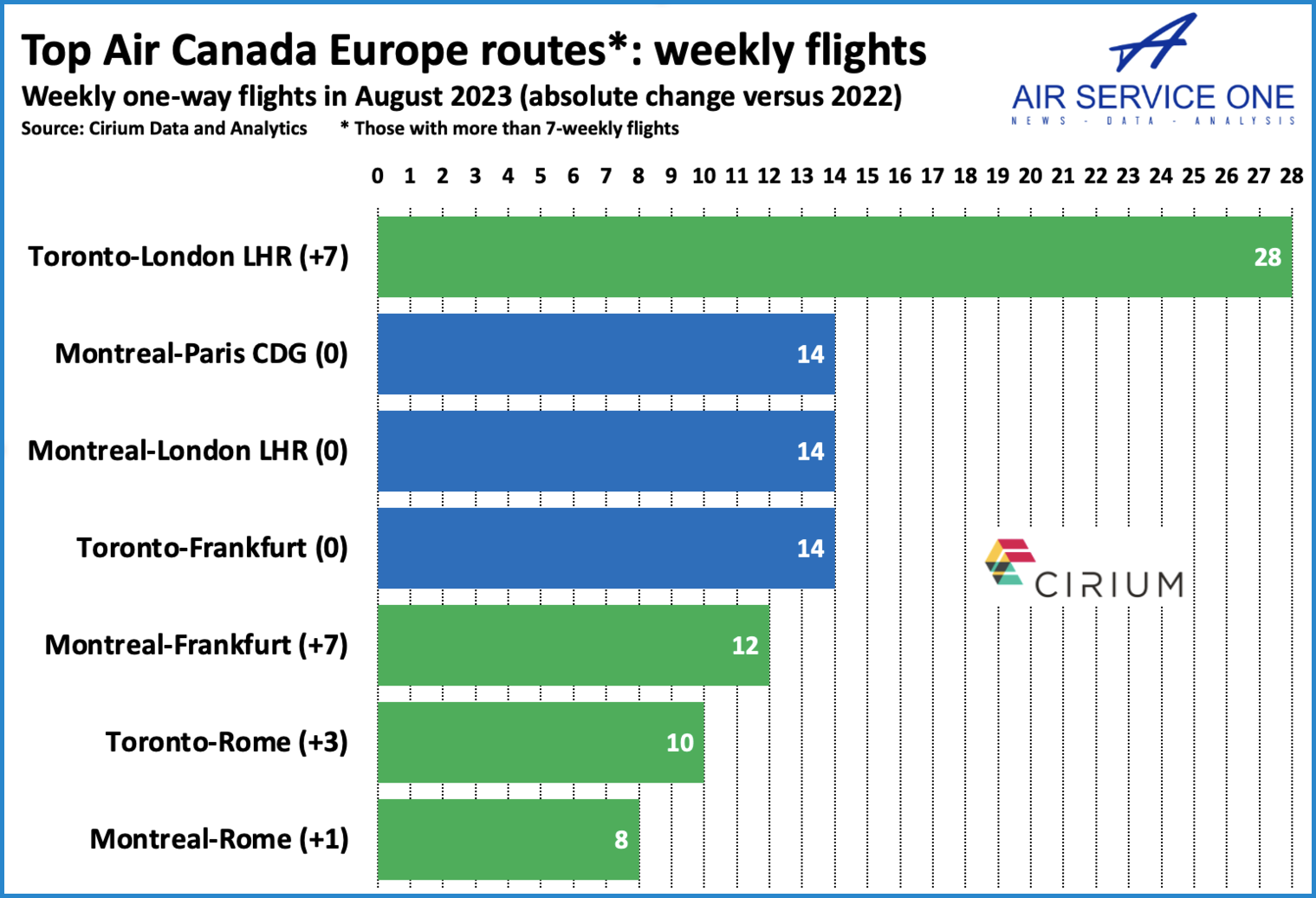 Now longer serves 13 European destinations
Air Canada (including Rouge) has cut 13 European airports from its network since 2005. This excludes Lyon, which returns from Montreal in October 2023. The 13 are as follows, with many served by Rouge:
Berlin TXL (2017-2019); BER is not served
Bordeaux (2019)
Bucharest (2018-2019)
Budapest (2016-2019)
Glasgow (until 2005, then 2016-2019); switched to Edinburgh
Istanbul (2013-2017)
London LGW (2016-2017)
Marseille (2017-2019)
Porto (2018-2019)
Prague (2016-2019)
Shannon (2018)
Warsaw (2016-2019)
Zagreb (2018-2019)