Air China has 125 weekly Europe flights in August on 25 routes; still the largest carrier to Europe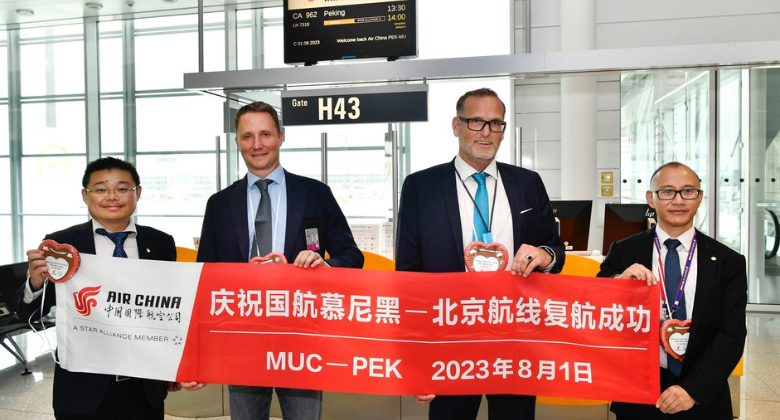 Air China is one of 25 passenger airlines with non-stop flights between China and Europe this August, based on Cirium schedules information data. It has 125 weekly departures and 29.1% of the total, although they remain down by a quarter versus 2019. However, partly because it continues to overfly Russia rather than undertaking more costly and time-consuming detours, Air China's reduction is far shallower than all other carriers combined (-47.8%).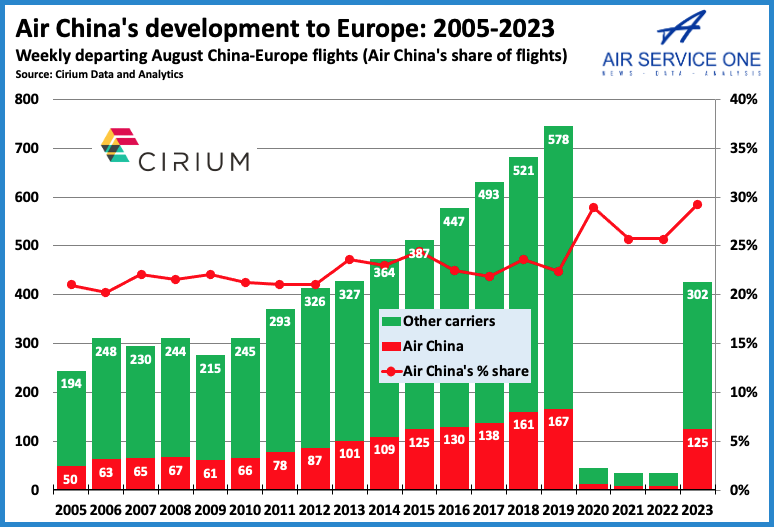 Air China remains the leading operator to Europe
Cirium data indicates that 11 of the 25 operators are Chinese, with the top four all from the country. Given the point of sale is often in China, including the important tour group market, this is not surprising. Turkish Airlines is the largest foreign carrier, replacing Lufthansa, which was first in 2019.
The main difference among the top 10 is the huge reduction in Aeroflot flights, largely because sanctions mean that it cannot serve most of Europe and therefore does not need as many flights. It contributes to the recovery of European operators being far behind Chinese carriers.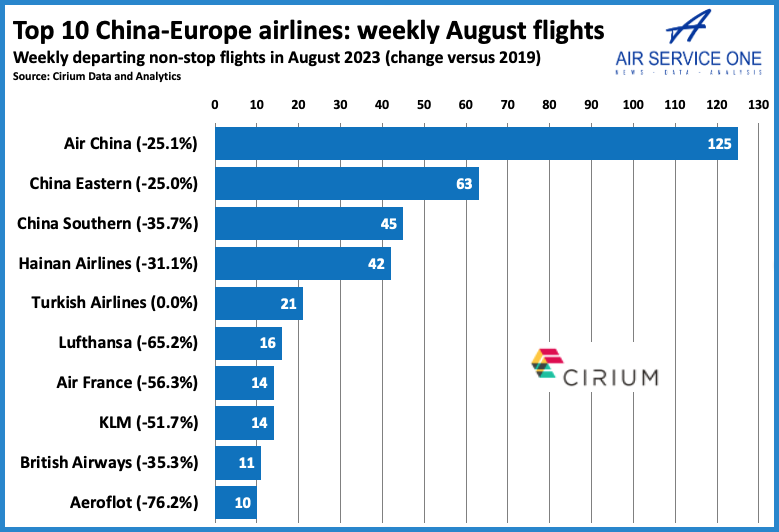 Air China has 25 Europe routes
The airline has 25 Europe routes this August (down from 29 in 2019). Obviously, most routes (17) are from its Beijing PEK hub, with others from Shanghai PVG (three), Chengdu TFU (two), Chongqing (one), Hangzhou (one) and Wenzhou (one). PEK accounts for more than seven in 10 of Air China's Europe flights.
Some 18 European airports are served, with Frankfurt and Milan MXP having three routes each, more than any of its other European destinations. Due to slot restrictions, Air China serves London LHR and LGW, with a combined three routes from three Chinese airports. While London has more Air China flights at the city level (107-weekly), Frankfurt does at the airport level (88).
Beijing PEK-London LHR is its leading route, although flights remain a third lower than in 2019. While it has no direct competition, it competes indirectly with two carriers to Beijing PKX: China Southern (daily) and British Airways (4-weekly).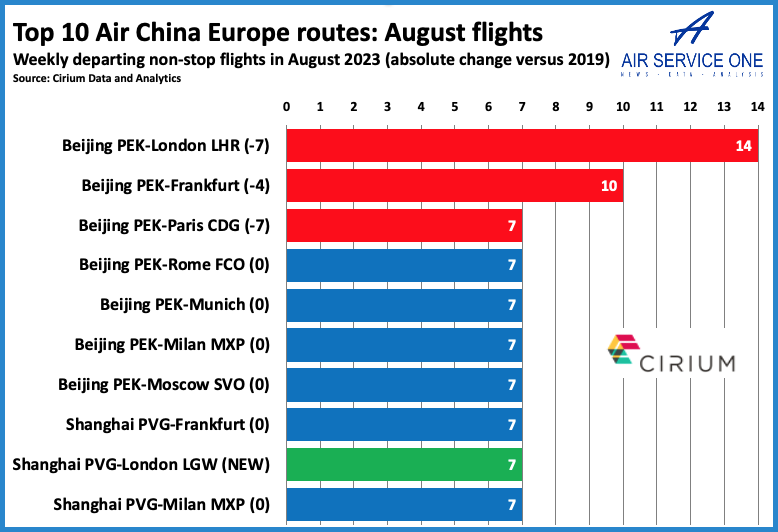 Eight routes begin or resume
The following routes have either started or resumed since November 2022. The most recent was Beijing PEK to Munich, which returned on 1 August. Operating daily, Air China inaugurated the route in August 2004. Some 19 years on, it continues to coexist with Lufthansa (3-weekly).
18 November 2022: Chongqing to Budapest (new; weekly in August)
28 November 2022: Wenzhou to Milan MXP (new; 4-weekly)
9 February 2023: Beijing PEK to Geneva (returned; 4-weekly)
27 March 2023: Beijing PEK to Rome FCO (returned; daily)
28 March 2023: Shanghai PVG to Milan MXP (returned; daily)
1 June 2023: Beijing PEK to Barcelona (returned; 3-weekly)
4 June 2023: Shanghai PVG-London LGW (returned; daily)
1 August 2023: Beijing PEK-Munich (returned; daily)