Air Dolomiti grows capacity by over 20% this summer v 2019; all routes from either Munich or Frankfurt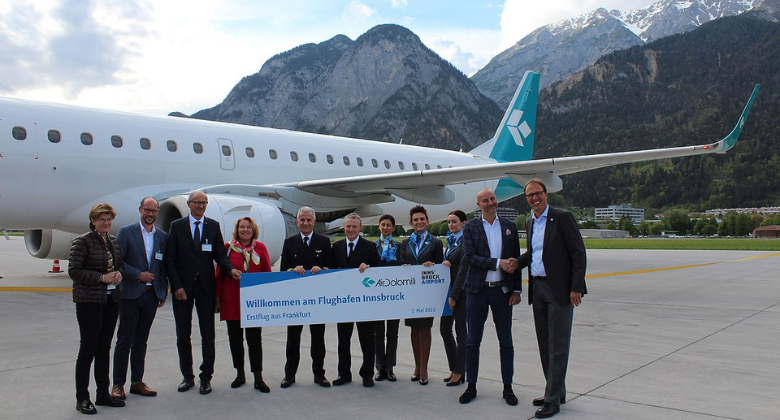 Based in Verona, Air Dolomiti (IATA code EN) is a wholly-owned subsidiary of Lufthansa. It currently has a fleet of 17 active aircraft comprising 15 122-seat E195s and two 100-seat E190s (according to planespotters.net). The two E190s have only just joined the fleet having previously been operated by Lufthansa CityLine for Lufthansa Regional.
Air Dolomiti's focus has been on routes between Lufthansa's hubs at Frankfurt and Munich, and Italy. Most recently it took over Lufthansa's route between Frankfurt and Trieste on 30 January. In June 2019 it operated a total of 13 routes under its own code and sold through its own website. Lufthansa is a codeshare partner on these routes. In addition, Air Dolomiti also operates flights on behalf of Lufthansa, primarily to and from Munich.
Q2 capacity up 23% versus 2019
In the second quarter of 2023 (April to June), Air Dolomiti's capacity for its own branded flights is set to be 23% higher than it was in pre-pandemic 2019 Q2. Based on analysis of Cirium data that is set to increase to 30% in the third quarter of this year.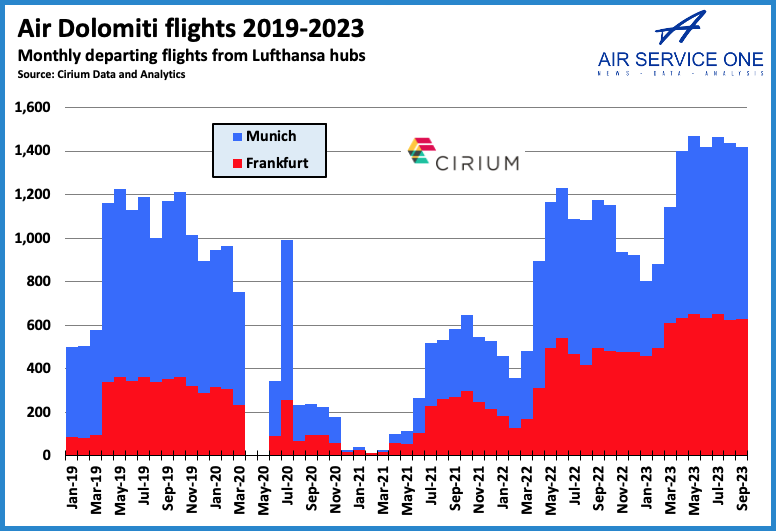 Since June 2019, two of its own routes have been dropped (Munich to Graz and Munich to Pisa). Lufthansa will continue to operate the Graz route. The Pisa route is currently unserved this summer by any carrier. However, 10 routes have been added:
Frankfurt to: Graz, Innsbruck, Kalmar, Milan LIN, Pisa and Trieste
Munich to: Brindisi, Genoa, Milan LIN and Olbia
As a result, Air Dolomiti now operates 21 routes this summer under its own name, with 19 served at least daily. Eight routes are served with at least three daily flights on weekdays.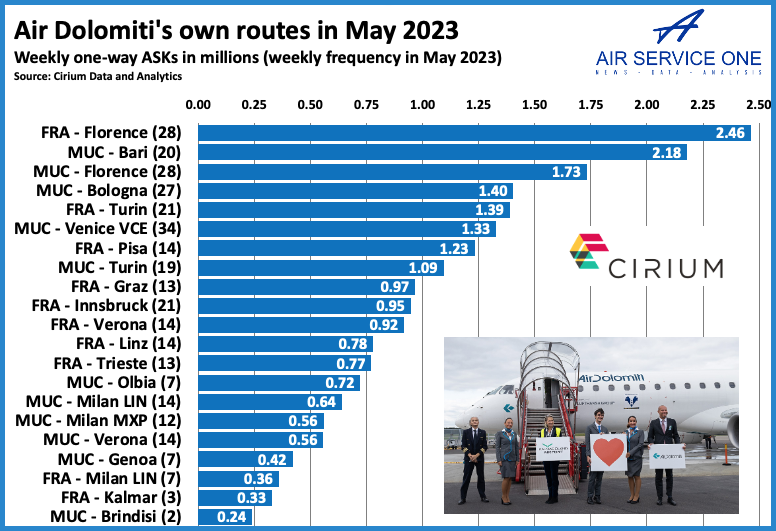 Analysis of schedule data reveals that since operations resumed after the pandemic Air Dolomiti has tried a few routes which are not operating this summer. These include:
Berlin – Verona
Munich – Aarhus
Munich – Cuneo
Munich – Forli