Air Malta has 23 summer routes; 14 have direct competition; 57 destinations dropped since 2004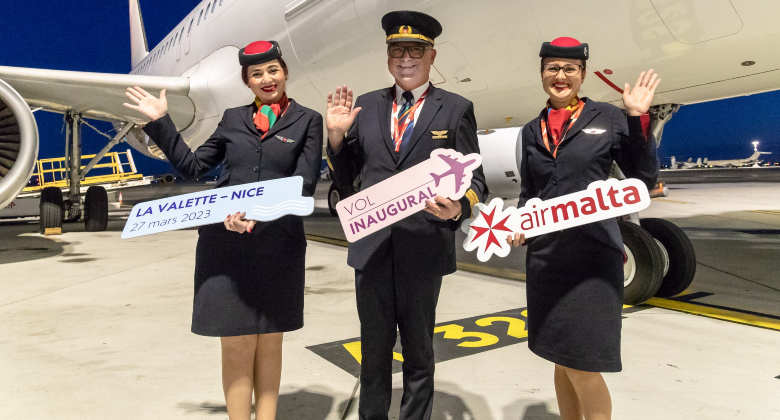 Long-established Air Malta is expected to cease to exist at the end of this year. The loss-making carrier, which could not secure more state aid, is to be replaced by a brand-new operator; one without historic shackles. The purpose is to be considerably more efficient, lower-cost and competitive. Given Air Malta's big route removal recently, the 'new' carrier will, in all probability, have the same routes as it currently does, all by A320neos. Sensibility, it shelved plans for a long-haul network using A321XLRs.
Air Malta has a quarter of the country market
According to Cirium schedules information data, Malta has 3.13 million one-way seats in S23, the country's highest volume to date. Air Malta has 798,000 of this, as shown in the following figure.
It is considerably smaller than the country's leading operator: Ryanair (1.41 million). The pair's change versus S19 is telling. While Ryanair has grown strongly (+41.0%), Air Malta has not recovered (-12.2%). Consequently, the flag carrier's share of the market has fallen from 30.2% in S19 to a quarter now (25.5%).
Air Malta grew by 14.0% between S13-S23, against 138.0% for all other airlines. Most of this growth was by (U)LCCs.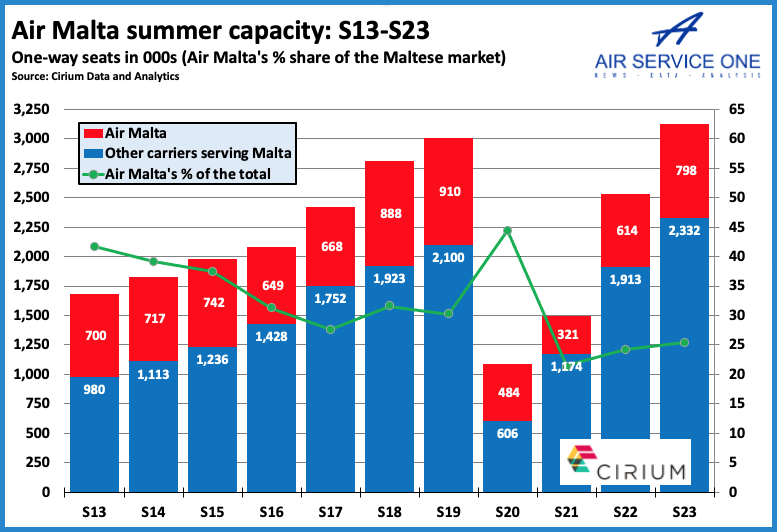 23 summer routes; Italy #1
Air Malta has 23 routes in S23, down by nearly half versus S19; its purge of loss-making or insufficiently performing routes has been great. Only one new route has started this year: Nice. Launched on 27 March with 2-weekly flights, it has not previously been served by the carrier, at least in the past two decades. It was served by Volotea in 2018/2019.
Cirium informs that the 23 routes have 155 weekly August flights; those with 7-weekly services or more are shown in the following figure. Not surprisingly, Italy has by far the most departures (48) on the back of the most destinations (five). Then France (25 flights; four destinations), UK (22; two), Germany (17; three) and Switzerland (10; two).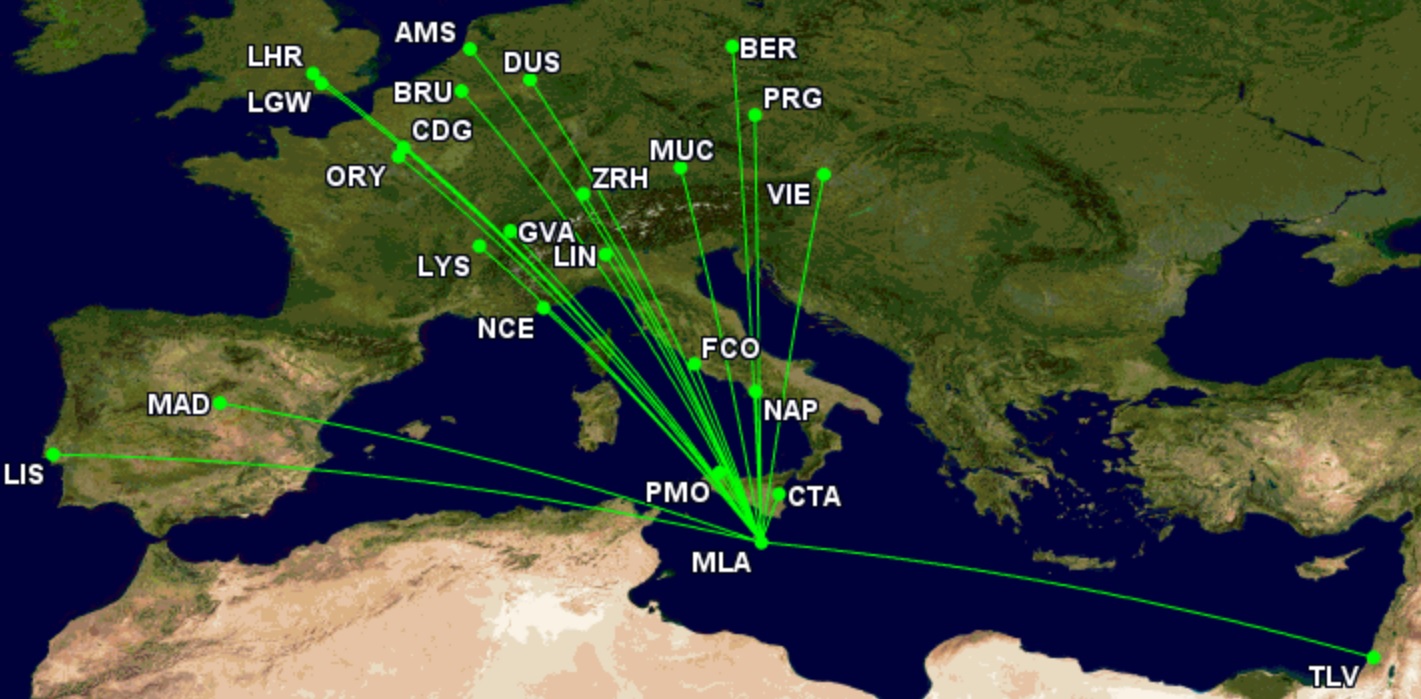 Catania is #1; 14 routes have direct competition
With 19-weekly flights, the 186-kilometre link to Catania is Air Malta's most-served route. It is also its shortest. It competes directly with Ryanair (13-weekly), one of six routes on which they do. Across all airlines, 14 of Air Malta's routes have direct competition (obviously more if indirect is considered). Only Amsterdam, Berlin, Brussels BRU, London LHR, Lyon, Milan LIN, Nice, Palermo and Prague have no head-to-head competition, of which only four make it into the following figure.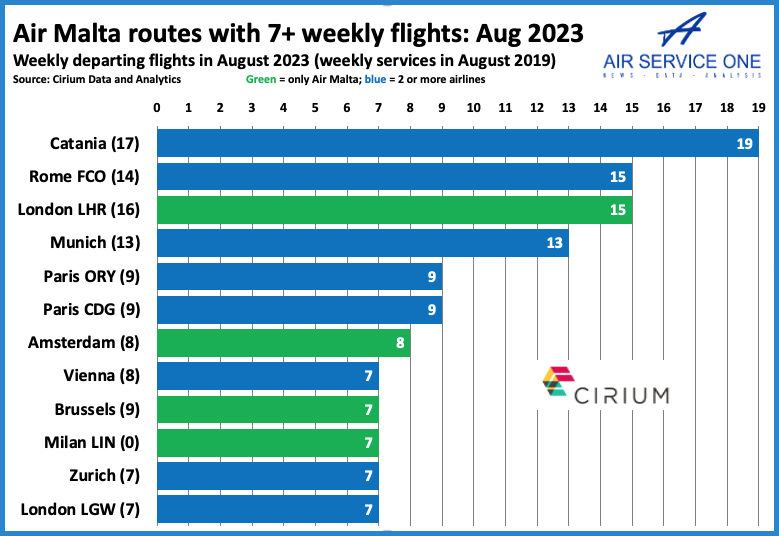 57 destinations are no longer served
Using Cirium to compare Air Malta's S23 network with that between 2004-2022 tells that 57 destinations are no longer served. This is based on having at least 20 flights and excludes airports that no longer operate (e.g., Berlin TXL, Bucharest BBU). Note that Ukraine and Russia were last served in 2020, before the war. Including scheduled and charter destinations (there could have been other charter routes), the 57 are as follows:
Algeria: Algiers
Bulgaria: Sofia
Cyprus: Larnaca
Egypt: Cairo
France: Lourdes, Marseille, Nantes, Toulouse
Germany: Cologne, Frankfurt, Hannover, Hamburg, Leipzig, Stuttgart
Greece: Athens
Hungary: Budapest
Ireland: Cork, Dublin
Italy: Bologna, Cagliari, Comiso, Milan MXP, Parma, Reggio di Calabria, Turin, Venice VCE, Verona
Libya: Benghazi, Tripoli
Morocco: Casablanca
Poland: Warsaw WAW
Romania: Bucharest OTP
Russia: Moscow DME, Moscow SVO, St Petersburg
Spain: Barcelona, Ibiza, Malaga
Sweden: Stockholm ARN
Syria: Damascus
Tunisia: Djerba, Tunis
Turkiye: Istanbul IST, Istanbul SAW
Ukraine: Kyiv KBP
UK: Birmingham, Bristol, Cardiff, East Midlands, Exeter, Glasgow, Liverpool, London SEN, London STN, Manchester, Newcastle, Norwich