Air Moldova serving 15 destinations from Chisinau with two aircraft; two new German routes in S22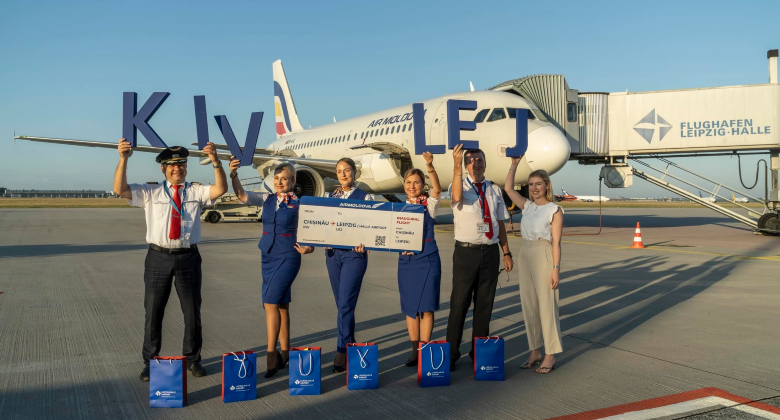 Sharing a border with Ukraine meant that Moldova temporarily closed its airspace for safety reasons when Russian forces attacked Ukraine six months ago. In April, traffic at Chisinau Airport, serving the capital, was still down 60% versus 2019. In May, traffic was down 49%, while in June traffic was still down 29% compared with three years earlier. While this is below the European average, it is only marginally behind Germany.
As one of two local carriers (the other being FlyOne), Air Moldova (IATA code 9U) has cut its schedule significantly. Cirium schedule data for August shows the carrier offering just 40 weekly flights from Chisinau compared with over 130 weekly flights in August 2019. The airline's active fleet currently comprises just two aircraft according to planespotters.net; an A319 (registration ER-AXL) and an A320 (registration ER-AXA).
Two new German routes in 2022
Despite a significant reduction in flights, the airline has still managed to launch two new routes this year. In April it began service to Düsseldorf (initially flown 2-weekly, but currently served weekly), while a second new German route was added to Leipzig/Halle on 16 August. This route is set to operate 2-weekly (on Tuesdays and Saturdays) using the airline's A319.
Cirium data for September shows Air Moldova planning to operate 44 weekly departures from Chisinau across 15 routes in 10 different countries (weekly frequency in brackets):
France: Paris BVA (3)
Germany: Düsseldorf (2), Frankfurt (3), Leipzig/Halle (2)
Greece: Thessaloniki (2)
Ireland: Dublin (3)
Israel: Tel Aviv (3)
Italy: Bologna (3), Milan MXP (3), Rome FCO (2), Verona (3)
Portugal: Lisbon (2, the longest route at 3,210 kilometres)
Romania: Bucharest (3, the shortest route at 343 kilometres)
Turkey: Istanbul IST (7)
UK: London STN (3)
In terms of ASKs (Available Seat Kilometres) the airline's top routes are Dublin, London STN and Lisbon. In the last 15 years, schedule data indicates that Air Moldova has, at one time or other, operated to over 50 airports from Chisinau.