Air Service One talks with, David Neill, Director of Planning, Jet2.com & Jet2holidays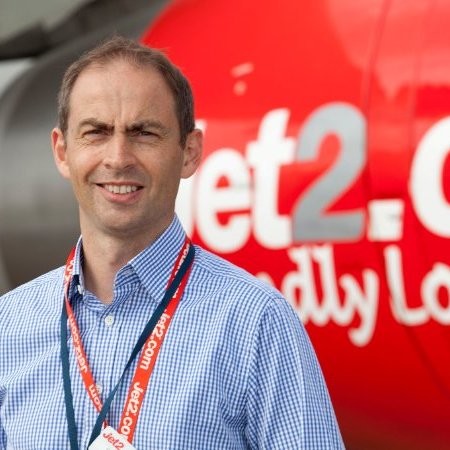 As the sun goes down on arguably a successful summer for the aviation industry, Air Service One had the privilege to continue our Air Service One talks with …. series with industry veteran and familiar face David Neill, Director of Planning, Jet2.com & Jet2Holidays.
We get the low down on the success and focus of Jet2.com as well as finding out more about the man who plays golf and loves a curry!
What was Jet2.com's approach to route resumptions during the early days of the pandemic? What did you think of the UK's approach to air travel restrictions and those of your key markets (Greece, Portugal, Spain and Turkey)?
No surprise we found it both difficult and perplexing, given the lack of consistency of rules around our different markets, and often within countries. The UK's traffic light system whilst no doubt well intentioned, was hugely difficult to manage and there was no logic to many of the Government decisions. Being told on a Saturday evening that customers on flights already in the air would require to quarantine on arrival in the UK was very difficult to understand. Despite this, there was clearly a demand from customers to travel, and we did our best to keep flying as long as possible to markets where this was possible.
As a leisure airline, your operations are highly seasonal with expected departures from your UK airports in August around four times higher than in January. What are the consequences for your pilots, cabin crew and aircraft. How do they get utilised during the off-peak winter season? How much capacity do you buy-in for the peak summer season?
Well, the good news is this disparity is shrinking, as we see more of our customers travelling in the winter, plus we have a large "cities" programme and growing set of ski destinations. Many of our destinations are great places to visit in months like April and October, and we see this trend continuing. Winter is also the time our charter programme comes to the fore, with repeat clients using our services year after year. Last but not least, winter is our peak period for training and aircraft maintenance. Currently, to help service the summer peak, we use circa 10 aircraft from other operators, including three A330s based a Manchester.
What percentage of your passengers have also booked a hotel with you as part of their travel? Has this percentage increased in recent years? How significant has the Jet2holidays service become?
Very simply, "we take people on holiday" and our success has been centred on this strategy, with 65% of customers travelling on a package holiday. Jet2holidays is now the largest tour operator in the UK, and we recently increased our Civil Aviation Authority ATOL to 6.7m customers, an increase of 15%. Our holidays customers only fly on a Jet2 flight, and we are proud to own the journey from booking to arriving in your hotel.
Holidaymakers often book well in advance of their planned travel dates. What trends are you seeing in this area? Does this help you refine your network plans with regard to planned frequencies? How does hotel bed capacity availability factor into this?
I like to think we have laser like focus on booking trends, and ensuring we are adjusting capacity as required – it is definitely one of our strengths. Whilst we have seen a later booking trend this summer, we still have a huge number of customers who like to book in advance to ensure they get the best choice of hotels and prices. You'll have seen the majority of our S25 programme is already on sale to ensure we meet our customers' needs. Having started my career in the regional airline sector, the biggest change for me now is that planning of beds is just as important as airport slots and I've become an expert in hotel facilities in my old age!
You currently have a fleet of just over 100 aircraft, the majority of which are 737-800s. However, you have started transitioning to an Airbus fleet with the first A321s now operating. How quickly will you be taking delivery of the Airbus aircraft you have ordered? From an air service perspective, what are the challenges of integrating the aircraft into the fleet and what opportunities does it create? Might we see the launch of regular US East Coast flights with the A321s?
Our order is for 146 Airbus A321neos, with 98 on firm order and 48 on option, and we are pleased to already have five aircraft in service. The order was completed during the pandemic, as we had confidence the market would return strongly, and our business has always focused on the long-term. Already we are seeing the benefits of the fantastic economics of the aircraft, with savings in fuel and reduced noise levels being so important in the current climate. The A321s with 232 seats offer over 20% more seats than our B738s, which is particularly helpful where we operate to slot constrained airports around Europe, but for the plane spotters, I'm afraid you're not likely to see them crossing the pond any time soon! Many of my industry colleagues don't realise we will have over 90 B738s in service next year, out of a fleet of 127 aircraft, so this type is still hugely important to us and will continue to be so.
With an estimated average sector length in August (derived from Cirium data) of around 2,300 kilometres, your aircraft mostly operate just two return flights per day. Is that correct? What proportion of your fleet night-stop away from the UK?
Correct, our aircraft generally fly two return services a day, as befits the nature of a holiday airline from a northern European country – very similar to Scandinavian carriers. Typically, we fly to somewhere like Italy or Spain in the morning, followed by longer sectors to Canaries or eastern Mediterranean in the afternoon, with all aircraft returning to the UK by the end of the day. In peak summer, our fleet is working very hard with over 450 flights on peak days. Often our aircraft will be operating for 18 hours a day.
What is the process regarding new route decisions? As a leisure airline what factors get taken into account that might not be considered so much for traditional airlines?
To be honest, it is not that different, given the importance of leisure travellers to all airlines now. Our planning is done jointly between our holiday and airline management, with new routes and destinations chosen for their long-term potential. We want to build partnerships with destination partners for the long-term, rather than short-term wins.
Palma de Mallorca and Tenerife are the leading destinations by weekly frequency in August and have also seen the biggest increases since last August. UK holidaymakers still can't seem to get enough of Spanish beaches it seems?
Absolutely, and no wonder. Spain has something for everyone year round – we like our traditions in the UK!
Compared with last summer you seem to have increased flights significantly to a number of 'city break' destinations such as Athens, Nice, Prague and Rome, and have resumed summer service to Krakow. Is this a reflection of how the UK holiday market is evolving?
Cities have always been important to us, and indeed our first flight was to Amsterdam, but Covid resulted in a greater scaling back of cities flying, hence some of this growth is rebuilding the network. More importantly, we are blessed with a fantastic choice of cities to visit in Europe, and our customers love city breaks, whether it be visiting the Acropolis in Athens, or taking a Christmas market trip to Cologne. Hopefully you will shortly see some new additions to our portfolio – watch this space!
Are you still operating special routes around Christmas and New Year? You used to have a few US flights around that time. What happened to them?
Yes, we operate Christmas market trips in December, as well as Discovery Breaks to Iceland, which have proved immensely popular. Next year we have launched a new set of trips to Bergen and the Fjords, and we have high hopes this will be a great success. Attending Routes Europe in Bergen helped give us the inspiration to serve this beautiful region.
Air Service Fun
All-time favourite airline livery?
Being Scottish and over 50, got to be British Caledonian!
 All-time favourite aircraft?
I was lucky enough to fly in Concorde once, and the B747 remains an all-time icon, but I have a soft spot for the Shorts 360, as it was the first aircraft, I spent time planning. Not sure that will be on many people's list!
Hardest to remember three-letter airport code(s)?
Can I say I've forgotten?
Most remote airport ever visited?
I've flown the shortest scheduled flight between Westray and Papa Westray in Orkney, but Sao Tome is probably the most remote airport I've been to.
Most unusual/obscure airline you have flown on? Where, when and why?
Pelican Air Services from Johannesburg to Vilankulo Airport in Mozambique. An undiscovered gem of a country.
Favourite sport to watch/play?
Athletics to watch, golf to (try) play.
Favourite TV show?
Anything with a Jet2 ad!
Favourite film?
Can't beat the Godfather trilogy.
Favourite singer/band?
Pass, I have a very varied taste including a lot of classical music.
Favourite unusual fact about your home base of Leeds?
Leeds Bradford Airport, where we first started flying, is the highest airport in the UK.
Favourite place to visit in the Leeds and Bradford area?
Anywhere serving an authentic curry.
Favourite place to visit outside of the UK and why?
I'm not a sun lover, so Scandinavia ticks my boxes.
Which city/country would you most like to visit (that you haven't been to yet)?
Antarctica.