Air Service One talks with John Albrecht, Aviation Marketing Manager, Port of Oakland.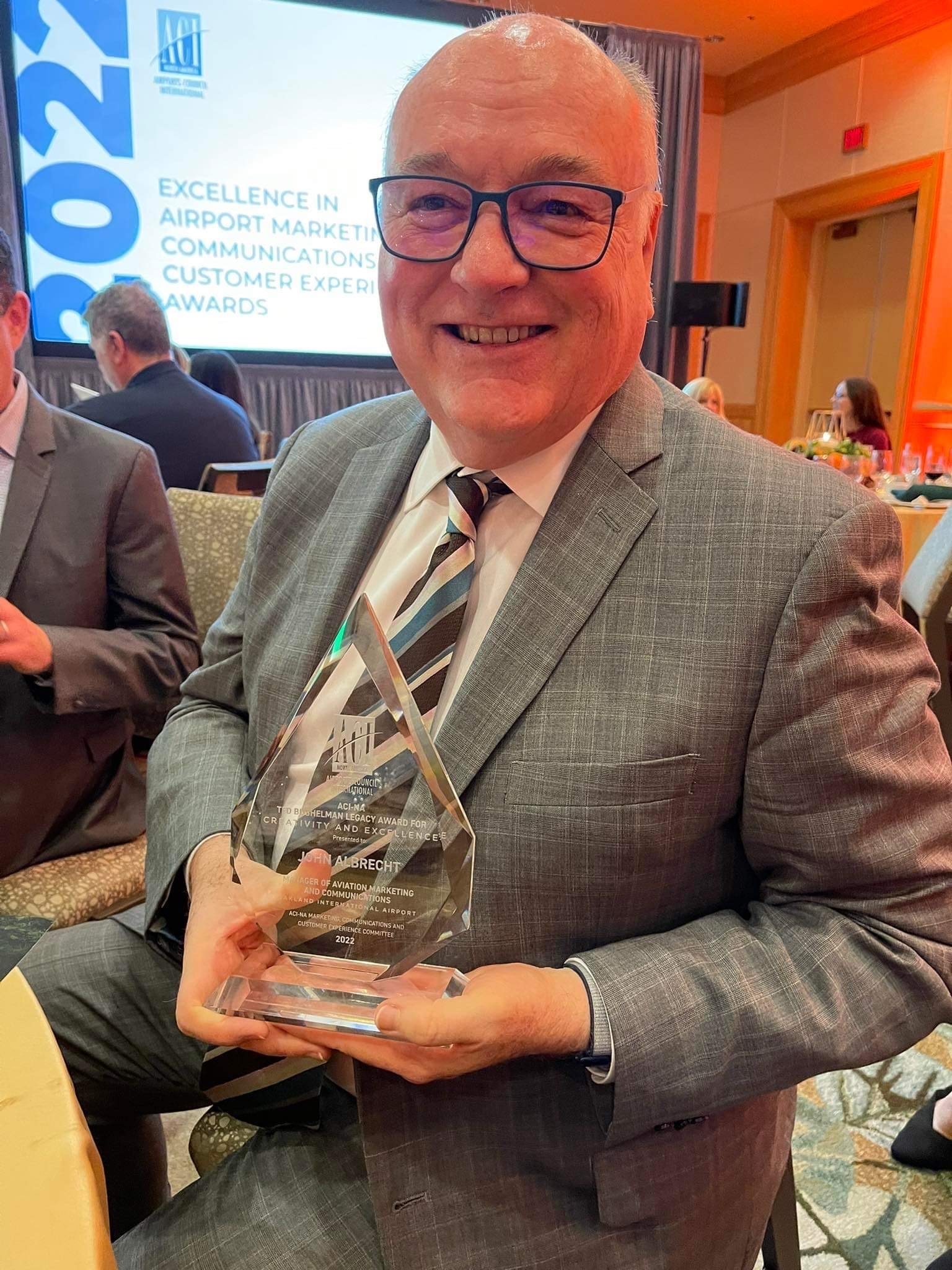 Air Service One talks with John Albrecht, Aviation Marketing Manager, Port of Oakland about the challenges faced with bringing traffic back to 90% of pre-pandemic levels, having Southwest as a dominant carrier and the quest for more long-haul flights.
But this wouldn't be Air Service One talks with, if we didn't get to know more about the industry veteran who loves Hawaii and wants to travel to the bottom of the world
What have been the particular challenges faced by Oakland Airport since the start of the pandemic?
I don't think any of our challenges, apparent as they were, were unique to OAK. Providing a safe, clean environment for our co-workers and airport patrons was at the top of the list in order to maintain some level of business continuity. The pandemic certainly disrupted the launch of our new Oakland-centric concessions program featuring some of the best and favourite Oakland brands. I'm happy to report now, thanks to the efforts of our properties team and the leadership of our Director of Aviation, Bryant L. Francis, that program is back on track and doing very well.
OAK, along with our partner City Health, was the first airport to be certified as a Trusted COVID-19 Testing Partner by the State of Hawaii. This effort was prioritized, recognizing that the flights to Hawaii are a big part of our outbound leisure passenger traffic. Also, Southwest Airlines maintained the link to Honolulu as essential throughout the pandemic crisis. We certainly witnessed the great value of that as we saw medical supplies and personnel going back and forth to Oahu on that Southwest flight. As the Hawaii flights returned to a full schedule and visitors were again permitted to arrive there, the COVID testing here at OAK – at two locations – proved to be very valuable to our recovery of that important segment of our traffic. To date we've tested over a quarter million people, and unlike other nearby facilities, did so at no charge to the consumer. Passengers departing from all three area airports were tested at no cost here at OAK. It was a great team effort, consistent with our agency's core value of being "Everyone's Port" and we're particularly proud to have made the successful effort to do this.
Your traffic recovery rate in October was around 90%. Is this still improving and how does it compare with other airports in the Bay Area/California?
Yes, it is still gradually improving. On a national basis, one can see in the data that coastal Northern California – home to more than eight million people – has recovered at a slower rate compared to the rest of the US. That said, OAK has, on a percentage basis, held onto more of our traffic than other nearby airports.
That trend continues routinely at a rate of about 10% more than we see at the other airports. One factor driving that is the clear "post-pandemic" preference by many people (myself included) to make choices that are easier, more convenient and less risky in terms of exposure. As OAK is a user-friendly, well laid out, medium size airport that is closer to most of the 7.7 million people in the San Francisco Bay Area, the airport is well situated and aligned with consumer preference to make choices that are easier and more convenient and use the "home airport".
Southwest is the biggest carrier at Oakland with almost 80% of seat capacity. Is having one dominant carrier a good thing or a bad thing for the airport?
Southwest Airlines is a fantastic partner for our airport and I'm sure my peers from airports across their network would agree with that. We're proud to have their largest California operation here at OAK and it absolutely is a great thing for OAK. They are one of the largest Bay Area employers. And when one considers that they have become the busiest Bay Area air carrier on an O&D basis and that not one, but now two, generations of residents have literally "grown up" flying Southwest, they simply have become ubiquitous to travel to/from California and especially here at OAK. The intrastate shuttle-type operation that they operate in the north/south corridor is a major component of the State's economy. Many people think of it as the other interstate freeway system – of course it's not "free" but it is very reliable and "bags fly free" on Southwest. That is a good thing, too. We truly appreciate all our carriers at OAK, but we LUV Southwest. 
Since the start of the pandemic you have lost service from American and JetBlue but welcomed Frontier. Can you share with us the reasons for American and JetBlue withdrawing and how you managed to attract Frontier?
This is a question that the air carriers involved can best answer for themselves. Losing these two carriers, with American having served OAK (in one form or another) since 1946 and Jet Blue since 2000 – and with both having been, at different times in their tenancy, among the busiest carriers at OAK, it was a difficult development for the team here. These past few years have created significant challenges for air carriers. We respect and understand that difficult choices had to be made. We also understand when there is another airport just seven nautical miles away, there will be a preference to preserve the operation where there is currently a more significant investment. We look forward to welcoming both American and Jet Blue back to their roots (and routes) here at OAK – hopefully sooner rather than later.
Frontier Airlines has a solid product that has quickly gained popularity across North America and here at OAK. We see that they have great opportunities for growth here and we have the space for them to do so. After several years of ongoing conversation, we welcomed Frontier with excitement just as the pandemic isolation period ended.
At one point you had European flights with both British Airways and Norwegian. With transatlantic traffic picking up quickly how optimistic are you of regaining long-haul flights to Europe?
The team here is very optimistic. The good part of our recent experience is that we can point to a record of 3,500+ passengers travelling between OAK and Europe daily during the peak summer periods. We're absolutely the biggest unserved US market to Europe. And what differentiates us from some others is that OAK is a market where the traffic is proven. It's not a risky projection on a PowerPoint slide, it's known and it's real. When you match that with our lower operating costs, inherent reliability and industry leading incentive program, optimism abounds.
You have international flights heading south to Mexico, but none heading north to Canada. How come?
It is difficult to say in a concise way. In short, some travel patterns are difficult to change. That said, we certainly see changes in Canadian air service with new entrants now operating. Canada service is a goal for us. We know that there is ample demand. Like Europe, OAK is the biggest unserved US market to YYZ, YVR and YYC. 
Which regions do you see as having good potential for future growth?
We're super excited that, on the first of December, Volaris El Salvador announced service from OAK to San Salvador. We think that there is great potential for more service between OAK and the Central American and South American regions. 
Do you have specific goals in terms of route development?
Everything the team here at OAK does about air service business development is goal driven and planned. In short, we've already discussed some of this: 1. Restoration of service to Europe; 2. More and new service to the US East Coast; 3. Flights to Canada; 4. Flights to Asia; 5. Flights south to more destinations in Mexico and Central and South America.
What infrastructure developments have you made in recent years and how important are these for attracting new services?
We're continually improving here at OAK. In recent years we've added an air-rail connection with a rail station here at OAK connecting to the regional rail system (BART) and to the national railway, Amtrak. We've completely rebuilt our international arrivals facility and now offer a fresh, new passenger experience that is filled with sunshine during the day – as we are on the "Sunny side of San Francisco Bay". There are new concessions throughout both terminals with more to come along with a new retail program on the horizon. New gate hold-room furniture has been installed in Terminal Two and the same, along with new carpet, is planned for Terminal One. There is a lot going on here to make the "OAK-experience" better.
What infrastructure developments do you have planned for the coming years and how will they benefit passengers?
Terminal modernization and development is ongoing for every airport, right? We see the benefit to passengers is clearly to offer fresh, new, and clean facilities that are convenient and easy to use.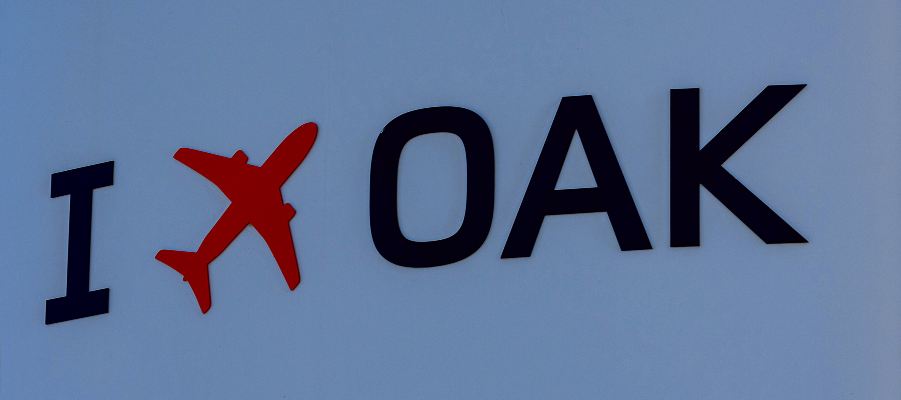 Air Service Fun
All-time favourite airline livery?
The Elegance Campaign and Ultra Look at the original Braniff International was very cool. Currently, and maybe because of the important role Hawaii has played in my life, I love Hawaiian Airlines current livery with Pualani on the tail and the Maile Lei on the fuselage. It creates an instant connection to Hawaii and is also bold and contemporary. 
All-time favourite aircraft?
Come on now: 747-400, of course. 
Hardest to remember three-letter airport code(s)?
I wish I could remember it, I would tell you. Oh, I just remembered: SFO.
Most remote airport ever visited?
In 1998 I was with my dear friend Leslie Abbott at Chikwenya Camp at Mana Pools along the Zambezi in Zimbabwe. We boarded at Lake Kariba and were dropped off on a dirt runway in the bush; that'd probably be the one. The interesting thing is that on the way out to go home, before we arrived, two people came out of the bush, pretended to be us. They boarded and the plane took off. We were almost stranded for a week! But amazingly, they sent another plane and we barely made our connection, running across the tarmac, to Air Zimbabwe at Lake Kariba.
Most unusual/obscure airline you have flown on? Where, when and why?
Let's change the descriptor from unusual/obscure to "cool" and I'll answer Air Rarotonga. I've taken their flight from Rarotonga to Aitutaki and back about a half dozen times. Always an amazing and fun experience that I'd highly recommend. (Don't get me started on my Tales of the South Pacific!)
Favourite sport to watch/play?
To watch: Premier League and Cal Bears (American) Football.
To play? Boarding a Southwest 737 and getting the exit row aisle seat – it involves both physical agility, strategy and quick thinking. I'm actually very good at it. 
Favourite TV show?
I love to start my day with CBS Mornings (and Gayle King). As for series, so far this year, The White Lotus. 
Favourite film?
This year so far, "Tar".
Favourite singer/band?
Singer: Elvis Presley. Band: U2 and The Blue Nile.
Favourite unusual fact about Oakland?
According to Outside magazine, Oakland has the best weather of any city in the United States.
Favourite place to visit in Oakland?
So, I should say that there is a trio of cities that are intertwined here consisting of Oakland, Berkeley and Emeryville. They are all connected and you're criss-crossing them all many times every day. So, all of that to say that I live on the San Francisco Bay on a small peninsula and marina in Emeryville – that's my favourite place. I know it'll sound odd, but my local grocery store, The Berkeley Bowl, is one of my favourites, too. Best grocery store in the world I bet. 
Favourite place to visit outside of California and why?
Wailea on Maui Island in Hawaii. It's the other place where I feel at home and at ease. It's where I go, even sneak off to at times, to recharge and refresh. 
Which city/country would you most like to visit (that you haven't been to yet)?
Ha! It's not a city or country – but I'd like to visit Antarctica. And hopefully, I will as I'm scheduled to – for the fourth time (thanks COVID) in January 2023.