Air Service One talks with, Laura Audarina, Route Development Manager Riga Airport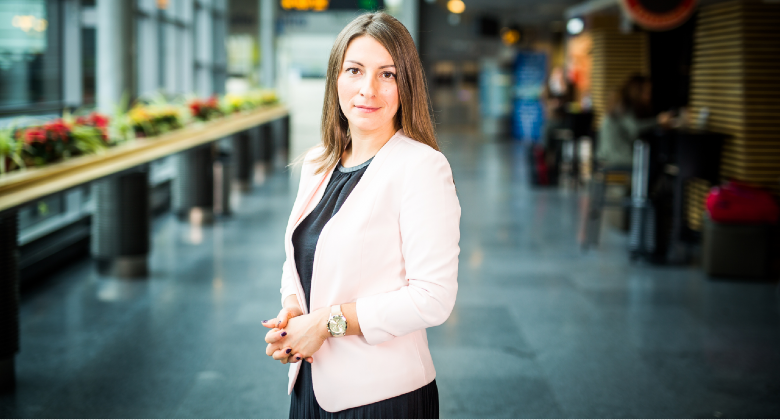 Air Service One talks with Laura Audarina, Route Development Manager, Riga Airport, ahead of Routes World in Las Vegas. We talked, low-cost carriers, network rebuild and also found out more about the friendly face representing Riga Airport.
What have been the particular challenges faced by Riga Airport since the start of the pandemic?
Riga Airport started in 2020 with the best economic performance indicators of its history, and it is forecast to reach a new record for the number of passengers served.
At one point we had a full stop to passenger flights – Riga Airport was virtually closed for two months. Of course, in 2020, the decrease in the total number of passengers handled was an unprecedented 70%. This decline would have been even higher if not for the exceptionally good results of the first few months of 2020, prior to the Covid-19 pandemic.
Despite the impact of the crisis, the airport has managed to maintain its leading position among other Baltic airports, while significantly reducing the company's expenses. With the number of passengers and flights falling due to the pandemic, the company worked on the development of those activities that were less affected by the pandemic: cargo carriage, future RIX Airport City development, as well as continuing the most important infrastructure development projects.
In autumn 2021, there were still many restrictions in force and uncertainties, therefore, we compiled our budget with 5 million passengers scheduled for this year. There were three scenarios: a pessimistic one, if the pandemic continued, an optimal one and an optimistic one. We have now reached the optimistic scenario. Last year, Riga Airport handled 2.3 million passengers. By the end of September this year, we had already handled almost 4 million. We therefore have a good expectation that we will meet this year's budget with surplus and be able to reach around 5.2 million passengers.
If we look at the Baltic States, we are different from other airports in the Baltic capitals because we are an air hub and we have an extensive route network and connectivity, with destinations complementing each other. We also have a base carrier, airBaltic, working towards the same goal of making Riga a connectivity hub. Additionally, we have the infrastructure in place that is suitable specifically for transit passengers and for transition to and from the Schengen area.
We still remain the largest airport and connectivity hub in the Baltics.
Back in the summer of 2019, airBaltic was the dominant carrier at Riga accounting for over 60% of seat capacity while Ryanair had just over 10%. This summer airBaltic has around 57% and Ryanair has almost 30% after opening a base at the airport at the start of the W21/22 season. How much of a threat is the Ryanair base to airBaltic? How much route overlap is there between the two carriers?
An increase in competition presents a very good opportunity for travellers as travel becomes more affordable. Currently, the network of both carriers overlaps in 22 city pairs/14 airport pairs. We have seen that competition can stimulate market growth and complement both sides.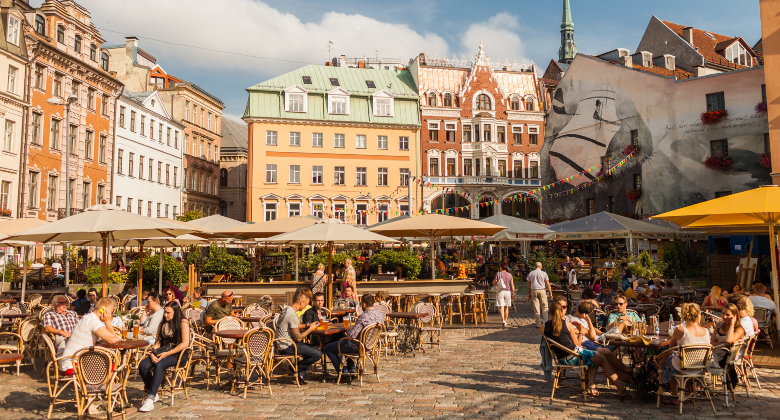 While Ryanair has grown its presence, Wizz Air has reduced its operations since 2019. Is there any particular reason for this given that Wizz Air has expanded in most other markets?
The airline chose to allocate their capacity in other priority markets while still maintaining a presence at RIX on several routes.
However, Norwegian Air has already announced plans to open a base in Riga next year. At a regional level, this means even better connection possibilities for passengers and growth opportunities for the airport.
How much has the loss of flights to Belarus, Russia and Ukraine affected traffic at the airport? What percentage of traffic did these markets account for in 2019?
Traffic between RIX and Ukraine, Russia and Belarus was 16.2% in 2019. Passenger flow to these destinations was already down during the pandemic due to travel restrictions, therefore, the actual impact of the Russian-triggered war on passenger numbers is around 10%. The most significant impact of the war in Ukraine has been on the volume of air cargo handled by Riga Airport – it was 10.97 thousand tonnes, which is less than 90% of the figures for the first half of 2021. The cargo programmes from China, which successfully commenced a few years ago, have come to a complete standstill, and air cargo volumes in the first half of the year are 17% behind the budgeted indicators.
In the first half of the year, the number of passengers handled at the airport was 30% higher than expected, reaching 2.22 million passengers, or 448% more than a year earlier. The growth in turnover was positively influenced by changes in passenger structure: a significant increase in direct passengers has compensated for the decrease in transfer passengers due to the ongoing war in Ukraine and related sanctions.
The share of the transfer passenger market at Riga Airport in the first half of this year was 17%, compared to 30% in 2019. However, the trend in this segment is also positive: despite the loss of transit passengers from Ukraine, Russia and Belarus, the number of transit passengers is gradually growing again, already reaching 22% in July.
Compared to the EU average, recovery from the Covid-19 pandemic has been more moderate for Riga Airport, which is mainly due to two factors: Latvia, unlike many large European countries, does not have a domestic aviation market, while the war in Ukraine and the related flight bans have prevented the national airline from providing planned transit passenger services.
Which regions do you see as having good potential for future growth? What destinations would you most like to see Riga add?
Although we have almost 100 direct destinations from Riga at the moment, and the widest network of direct destinations in the Baltics, there are still opportunities that have not been explored.
New York is our top unserved route. New York–Riga used to be served by Uzbekistan Airlines, but currently there are no direct flights to North America from Latvia and the Baltics, so more than 230,000 annual passengers have to fly via connecting flights.
London Heathrow is high on the wish list of the business community as well as passengers.
Connectivity between Riga and the Balkan region – for example, Sofia and Ljubljana, as well as Kazakhstan and Armenia, should be improved, and Riga would be an ideal transfer point for further travel to the Nordic region.
Bremen and Nuremberg are unserved and in high demand in Germany. Aalesund and Stavanger should be served year long.
The Asia Pacific region is popular among travellers from Latvia, so Bangkok, Singapore, Delhi and Beijing are among the top unserved destinations from the pre-pandemic period.
Do you have specific goals in terms of route development?
The vision of Riga Airport is to develop connectivity and increase the turnover of passengers and cargo, while maintaining the leading position in the Baltics to become the traffic hub of Northern Europe.
What infrastructure developments have you made in recent years and how important are these for attracting new services?
Looking to the future, several large-scale investment projects were implemented at Riga Airport in 2020, including the launch of a new specialised cargo apron, which is the centre around which the airport's cargo city or RIX Cargo City is to be developed in the future. Apron 2, which is intended for servicing business aircraft, has also been expanded, a helipad has been built and the pavement on part of the runway and taxiways has been renewed. The new rapid exit taxiway and apron centreline lights will allow the airport to become more environmentally-friendly by reducing CO2 emissions.
Riga Airport's infrastructure and well-organised work processes allow us to ensure 99% airport infrastructure punctuality. Even during this summer season, when many airports faced significant delays due to staff shortages in ground handling and aviation security, we worked steadily as we had ensured, in a timely manner, that we had the staff needed to handle the increasing passenger traffic.
What infrastructure developments do you have planned for the coming years and how will they benefit passengers?
The development of the RIX Airport City, which is part of the airport's medium-term strategy "Runway 2027", includes the development of existing traditional aviation services – passenger and cargo transport – and integration thereof with other business activities, from innovation and start-ups, e-commerce, logistics and manufacturing businesses, to various kinds of tourism, hospitality and leisure services.
A business and leisure centre will be developed, with the help of investors, on an area of 24 hectares owned by the airport and located towards Riga from the airport terminal and the future Rail Baltica station. The total area to be built will be up to 340,000 square metres and at least 10% of the area will be dedicated to parks and open public space. Hotel, office and conference centre space, retail, logistics and light industry, with a preference for aviation-related industries, cargo and logistics, e-commerce development, IT, electronics, tourism and pharmacy sectors have all been defined as the main purposes of the use of the area.
The airport's strategy "Runway 2027" also provides for the implementation of significant measures in sustainability so that the airport's long-term business success, strategic goals and tasks can be achieved by responsible and balanced actions in all aspects of sustainability: impact on climate change, effective use of resources, environmental and nature protection goals, economic impact of the airport, employment, transparent management, involvement of the local community, and reduction of noise.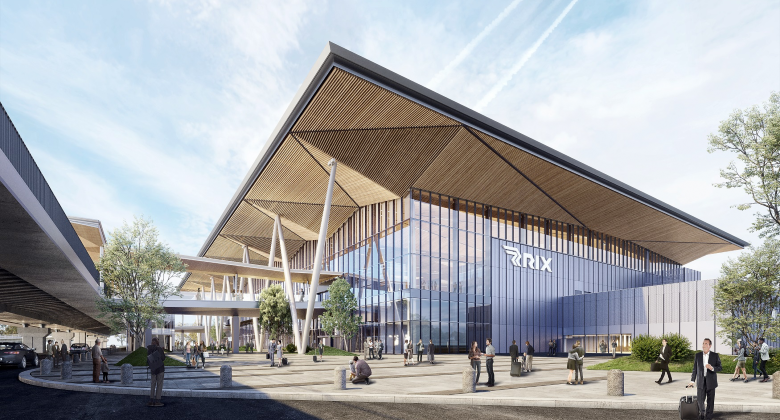 Air Service Fun
All-time favourite airline livery?
ANA and Qantas have very special, colourful liveries, but to choose one I'd have to say that it is always great to see airBaltic's Latvian flag livery, A220-300, YL-CSL.
All-time favourite aircraft?
Vintage Chrome Lockheed L-12 Electra Junior – simply pleasing to the eye.
Most remote airport ever visited?
It must have been an airport on Fiji Islands or Cape Verde.
Most unusual/obscure airline you have flown on? Where, when and why?
Some ACMI aircraft that was a replacement for a flight from Stockholm to Riga, many years ago.
Favourite sport to watch/play?
Tennis! I love attending grand slam events and am an absolute fan of the atmosphere at the Australian Open and Wimbledon!
Favourite TV show?
According to my Netflix account, it would be Peppa Pig.
Favourite singer/band?
My playlist is too diverse to call one a favourite!
Favourite unusual fact about Riga?
The first ever decorated Christmas Tree was in Riga, in 1510!
Favourite place to visit in Riga?
Strolling down the streets of the quiet city centre of Riga full of Art Nouveau buildings and taking a walk by the Riga Canal, especially in the autumn when the leaves are in beautiful colours!
Favourite place to visit in Latvia outside of Riga?
Anywhere near water! We are blessed with rivers, lakes and the Baltic Sea all within a very short drive from Riga! Watch a magical sunrise while stand-up paddling or take a late-night swim in the sea while watching the sunset!
Favourite place to visit outside of Latvia and why?
Italy is always a good idea. I used to study/live in Rome and it feels very familiar. I've done Round the World travelling for more than half a year and love to travel, so I know that each place has its own magic and one day (night) you are brave enough to party in Lapa in Rio, the next one you want to go snorkelling in Great Barrier Reef, have a spa day in Budapest or explore Champagne cellars in Epernay! Oh, my list of favourites would be long!
Which city/country would you most like to visit (that you haven't been to yet)?
Lapland during Christmas time in combination with watching Northern Lights!