Air Service One talks with Majid Khan, iGA Istanbul Airport's VP of Aviation Development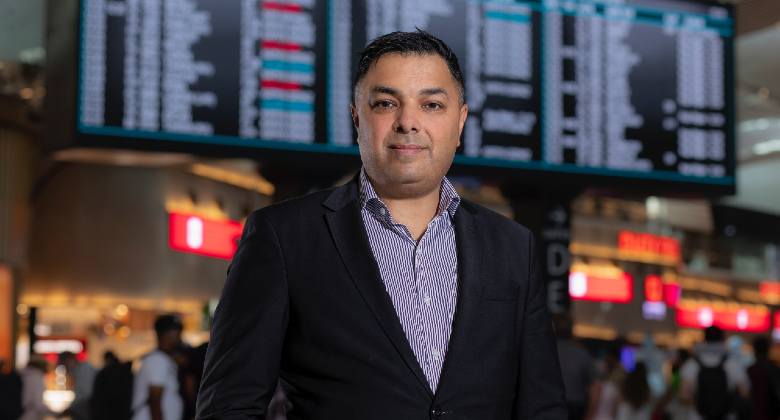 Air Service One caught up with Majid Khan, iGA Istanbul Airport's VP of Aviation Development, ahead of this year's 151st IATA Slot Conference. We talked about the challenges faced by Istanbul iGA and found out a bit more about this veteran of the air service development sector.
What have been the particular challenges faced by iGA Istanbul Airport since the start of the pandemic?
We moved to our new airport in April 2019, but an unprecedented crisis hit us in March 2020, as it did the entire aviation sector, which changed our priorities. Before the pandemic, our main target was to reach 100 million passengers within 5 years, but due to Covid-19 we turned our focus towards health and safety of our passengers.
Aviation was impacted by Covid-19 and we created our strategy accordingly. Health and safety measures were implemented, and from May 2020 we planned our route development agenda from 2020 to 2026. By this, as iGA Istanbul Airport, our goal is to be customer centric and reach 100 million passengers by 2027.
The main challenges, not only for iGA Istanbul Airport but for the entire sector was lack of communication and cooperation. Each country developed their own Covid-19 restrictions and this seeded a path for slower recovery.
Having said that, iGA had one main advantage. While all other airports have been focusing on recovery, being a new airport we had to start from scratch. We commenced route development work three years ago and have now reached 77 airlines and close to 300 destinations.
This summer iGA Istanbul Airport was the Europe's busiest airport. In July, as iGA Istanbul Airport, you handled 6.76 million passengers. It is 9% higher than July 2019's passenger numbers. How have you been able to maintain and grow operations when other European hubs such as Amsterdam Schiphol and London Heathrow have had to cap flights and passenger numbers due to staffing issues?
First of all we did not completely stop our operations during the pandemic and we always had a belief that the pandemic era is a phase, therefore we focused our operations and strategy for the post pandemic era. Due to this approach, now, we do not have any security queues, baggage problems or flight delays. This created a huge trust between our airport and passengers.
From the beginning, we have been proactive in our route development. We attracted 21 new airline companies during the pandemic. We are well developed as a hub between Europe and Asia, between America and Europe and the  Middle East, and on P2P traffic. Despite being the largest airport in Europe and the largest European Star Alliance Hub we do not yet have the presence of Thai Airways, United Airlines, Air Canada, Air China, ANA, Avianca and many more.
We have large growth from the subcontinent and GCC market mainly on P2P traffic. Istanbul is a destination that has a lot to offer as a city break and appeals to various segments like foodies, cultural tourists, and people with an interest in historical places.
On a temporary note, closure of Siberian corridor for European carriers have helped IST to drive traffic between Europe – Asia.
Furthermore, during the pandemic passenger profiles have changed a lot. Passengers are more demanding than ever, and airports do not have roles as just infrastructure providers. Passengers consider airport experience alongside airline experience. Therefore, we have a customer-centric approach and have developed products and services within various areas like "Chinese Friendly Airport" project, "Istanbul World Connect" (virtual interline), Z-generation, +65 travellers, developed all our digital signages into 12 different non-Latin languages etc. These initiatives have convinced passengers to transfer via iGA due to seamless travel experience.
Turkish Airlines accounts for well over 80% of seat capacity at iGA Istanbul and operates around 500 departures each day across a network of 250 non-stop destinations. How much is domestic point-to-point, international point-to-point, domestic-international connecting and international-international connecting? How are these market shares shifting as traffic gets back to pre-pandemic levels? Has the economic situation in Turkey impacted these trends?
Out of our total traffic, 60% of the traffic is from Europe and our total transfer share is 42%. Our domestic traffic count for 25% and mainly driven by VFR and inbound leisure. As Turkish Airlines is the main carrier with 80% market share, the largest flow is from Europe – Middle East, CIS, Africa, and Asia. We have +100 destinations in Europe and majority of our European network have more than 60% transfer beyond IST, which is according to the Hub&Spoke model of our flag carrier. As highlighted earlier, we are underserved on P2P traffic from Europe.
We have recently seen a shift in flow of passengers. Due to the war in Ukraine and closure of Russian airspace, we see an increase in traffic between Europe and Asia, as many European carriers have turned their focus westbound vs eastbound. We do see this shift as temporary, but it is definitely benefitting us for time being.
Due to the economic situation, Turkey has been an attractive market for inbound tourism compared to other southern European countries. We are aware that we are a mega hub but underserved on P2P market, therefore we have not seen market stimulation same way as many southern European destinations as we are lacking more P2P capacity into Istanbul. Living costs are cheaper in Turkey but more capacity is needed, which we are working actively on together with existing and new carriers.
After Turkish Airlines your next biggest carriers (by seat capacity) according to Cirium schedule data for September are Aeroflot, SAUDIA, Emirates, Mahan Air and Uzbekistan Airways. Turkey's other major carrier, Pegasus Airlines, which is based at Istanbul's other main airport, is conspicuous by its absence. Are they interested in serving iGA? Have you had discussions with them about serving iGA?
We welcome all airlines to our airport as IST is an under- served market. Within a two-hour drive we have  20 million people and more than 200 million people within a two-hour flight.
We are in close dialogue with all potential carriers. We have no interest in cannibalizing the traffic of our flag carrier, Turkish Airlines, but would like to stimulate the market through new and existing airlines. Personally, I would love to see a LCC based in IST.
You have welcomed several new carriers since the summer of 2019, including Air Arabia, Air Arabia Maroc, Air Serbia, flydubai and MIAT Mongolian. Tell us something about your experiences of working with these carriers and what they offer to the Turkish market.
While Turkish Airlines drive traffic from Dubai via IST to its European and Americas network, carriers like Flydubai drives P2P.
Air Arabia and Flydubai are two carriers developing our P2P potential, especially inbound tourism to Istanbul. Istanbul has a perception as a hub and less as an inbound market. These carriers are developing this untouched potential. Air Serbia is driving traffic beyond its hub in Belgrade but additionally developing P2P and beyond IST. MIAT Mongolian's main focus is to drive P2P traffic between both nations. We believe that we have a strong untouched market, therefore we are continuously exploring new routes with all potential carriers.
Which regions do you see as having good potential for future growth?
It is primarily Europe, Middle East, and CIS countries for LCC, while also attracting Star Alliance carriers that are not operating to IST. It may be a surprise for many that despite being the largest airport in Europe, we do not have presence of Thai Airways, ANA, Avianca, Air China or any North American carriers. The main reason is Istanbul Ataturk Airport, which was congested, and we could not develop our potential.
From the US and Canadian market, there is large potential within the cruise segment as we have new state of the art cruise terminal in Istanbul, Galataport. We believe that cruise is one of the key enablers to attract US and Canadian carriers to IST.
As soon as China will reopen from Covid-19, we believe there will be a large flow of Chinese traffic to/via IST. China will be one of our focus areas.
Do you have specific goals in terms of route development?
In our route development strategy, we have several goals:
Win the Hub battle as we would like our flag carrier to grow between East & West and North & South.
Win the battle of long-haul as we are working actively to attract new long-haul carriers.
Attract LCC`s mainly from Europe and Middle East.
Continue to be a customer centric airport and develop products / services, which can give our passengers seamless travel experience.
Develop belly cargo.
Keep our charges at the lowest level and help airlines on operational efficiency. Despite having 77 airlines, we do not have "one size fits all" mentality. We are doing our utmost to help each airline to customize operational processes, which can decrease their TCO (Total Costs of Operation)
Routes World 2023: To change the perception about Istanbul solely being a hub, we believe that Routes World 2023 will change the perception when decision makers will see Istanbul as a destination. And this approach will have direct effect on our route development results.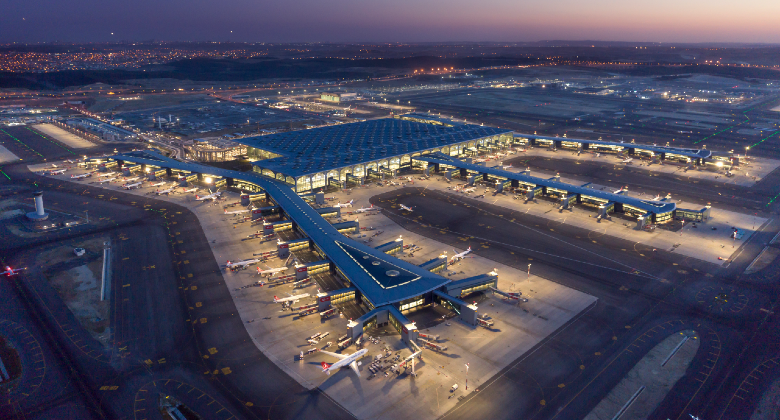 What infrastructure developments have you had to make since IGA opened in response to the pandemic and what, if any, developments are you currently working on?
This airport is built for the future; we are lucky to have a Greenfield airport without any operational issues. Despite the pandemic, we decided to complete all of Phase 1, which included completion of our 3rd parallel runway. Completion of the 3rd runway decreased our taxi times by 50% and increased landing capacity by 50%.
Our current terminal has capacity to accommodate 90million passengers yearly, and when all phases are complete, we will be in a position to accommodate up to 200 million passengers yearly.
Furthermore, in coming months we will be connected to Downtown Istanbul throughan airport train, which will help our passengers to reach the city centre within 40min for 1 Euro. These measures will improve the entire customer experience for our passengers and make Istanbul even more attractive as a market.
Air Service Fun questions
All-time favourite airline livery?
"Air New Zealand ALL BLACK Livery".
All-time favourite aircraft?
A350-1000.
 Hardest to remember three-letter airport code(s)?
CGK
Most remote airport ever visited?
Alta (ALF), Norway
Most unusual/obscure airline you have flown on? Where, when and why?
Widerøe (WF) from Svolvær (SVJ) – Bodø (BOO) in 2016.
Favourite sport to watch/play?
Football and Cricket
 Favourite TV show?
"Behind The Scenes Of The World's Busiest Airport"
Favourite film?
"Top Gun"
Favourite singer/band?
"Aqua".
Favourite unusual fact about Istanbul?
Ski destination 2 hours away from our airport.
Favourite place to visit in Istanbul?
"Princess Islands" and "Galataport"
Favourite place to visit outside of Turkey and why?
Vancouver: A bustling metropolitan, nice beaches, beautiful nature. Vancouver has it all.
Which city/country would you most like to visit (that you haven't been to yet)?
New Zealand