Air Service One talks with, Tamara Vrooman, President and CEO, Vancouver International Airport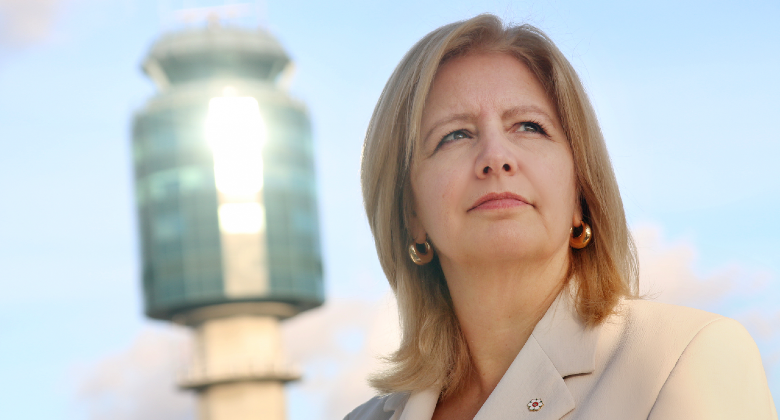 Air Service One talks with Vancouver International Airports President and Chief Executive Officer, Tamara Vrooman about the challenges that YVR has faced in rebuilding its traffic back to 80% of pre pandemic levels, its longstanding airline relationships and plans for the future.
Q: What have been the particular challenges faced by Vancouver International Airport (YVR) since the start of the pandemic?
We are moving through one of the most interesting eras in aviation history. Never before have airports had to transition to a state of being almost completely shut down to a state of being open, and to incredibly high travel demands, in such a short period of time. This unique moment presented us with many opportunities—to evaluate, test and adjust as we work to create a greener and more resilient future. Of course, it also presented a few challenges.
Most recently and like airports worldwide, YVR experienced some delays, congestion, and frustrated travellers through the summer months. With the implementation of new technologies and continued collaboration with aviation and government partners, we did not see the level of operational disruption that systemically impacted other major airports.
For example, with staffing shortages affecting all sectors but in particular aviation, YVR re-doubled efforts to attract workers to the aviation sector, and we became a Living Wage Employer earlier this year.
Since the start of the pandemic, our Vancouver Airport Authority team was on the front lines for our passengers and visitors—answering questions, managing queues, supporting our carriers and service providers with baggage throughput and delivery, and passing out water and granola bars to help improve the experience as much as possible.
We were able to get through this challenging time thanks to the efforts of the nearly 20,000 people who work at our airport. I appreciate their efforts.
Your traffic recovery rate in July was around 80%, with domestic demand at just over 90%. Where do you think you will get to by the end of the year and how much is this dependent on the Asian market, where recovery was only just over 40% in July?
As of end of September, we welcomed approximately 14 million passengers through YVR. We were able to reach this significant milestone thanks to the efforts of our entire airport community, their efforts have been an essential element of our recovery and we know there is considerable work to be done to ensure the stability of the overall aviation sector.
In Canada, the government recently removed all remaining COVID-19 related travel measures. This will improve passengers' overall experience, assist our frontline employees, and allow more people to reconnect with loved ones and tourism experiences across the province and country. With the removal of travel restrictions and our exciting new air service offerings we're confident we'll continue to see strong passenger growth at YVR.
Can you tell us how Air Canada has contributed to YVR's recovery and growth?
Air Canada and YVR's history dates back 85 years. Decades since that first flight from Vancouver to Seattle, our partnership remains strong. In 2022, Air Canada increased its capacity out of YVR by 119% and we owe 50% of our growth to Air Canada.
We are excited to continue to support them in new routes this year out of YVR: Halifax, Quebec City, Miami, Austin, Houston and Bangkok. Air Canada's Bangkok route makes YVR the only airport in North America with direct service to Thailand.
 You have welcomed several new carriers since the summer of 2019, including Air India (August 2020), JetBlue (June 2022), Lynx Air (April 2022), Singapore Airlines (December 2021) and Turkish Airlines (May 2021). That's a very diverse set of airlines. Tell us something about your experiences of working with these carriers and what they offer the Vancouver market.
As a global hub that connects people, cargo, data and ideas, it's important that we offer a diversity of routes which includes point to point as well as serving as an important connection for our airline partners' existing networks.
We're thrilled to work with new and existing airlines to understand their needs and what they're looking for out of new services. Our team works closely with our tourism partners and business communities to leverage various programs to maximize the airlines' investment in the Vancouver market.
Collectively, this allows us to help connect B.C. proudly with the world and deliver on our purpose of serving the community and the economy that supports it.
Which regions do you see as having good potential for future growth? Do you have specific goals in terms of route development?
Building on our strong offering of connectivity across Canada, in the U.S. and many popular international destinations, we will continue to focus on expanding services into the US, Latin America and Southeast Asia.
What infrastructure developments have you made in recent years and how important are these for attracting new services?
As a hub airport, we recognized the need to better accommodate domestic connections for international arrivals. In 2021, we completed construction and opened, the International to Domestic (ITD) Satellite Primary Inspection Line (SPIL) facility. It allows passengers one-stop security from applicable destinations.
We also finished construction on our expanded international terminal known as the Pier D expansion. The beautiful space reflects our unique sense of place, our commitment to reconciliation and who we are as an airport. The opening of the expansion is a milestone we're particularly proud of. It features eight new gates, a glassed-in island forest with access to the outdoors, an immersive digital experience and a yoga, prayer and quiet room.
What infrastructure developments do you have planned for the coming years and how will they benefit passengers?
Through the pandemic we learned that flexibility is critical but is difficult to achieve without the right technology. Innovation is at the forefront of everything we do. We know real-time data is the key to success and that's why we have invested in our own digital twin. It is a virtual, real time interactive representation of the airport. Now that we have the technology we're building more and more use cases including the ability to understand congestion points in the terminal and deploying our guest experience team members to assist.
To help in streamlining the United States border clearance process, preclearance hours will be extended in 2023 by 4 hours, meaning it will be operational from 0430 – 2059h. This opens up new and exciting opportunities for services to the U.S. and allows for greater connectivity and an improved passenger experience.
Air Service Fun
Most unusual/obscure airline you have flown on? Where, when and why?
Gulf Island Seaplanes. An indigenous-owned airline serving coastal British Columbia. Consists of two De Havilland Beaver Seaplanes (DHC-2s). I travel on the service regularly – from our floatplane terminal on the south side of YVR where I hop on a flight after work to travel to my cottage on Gabriola Island.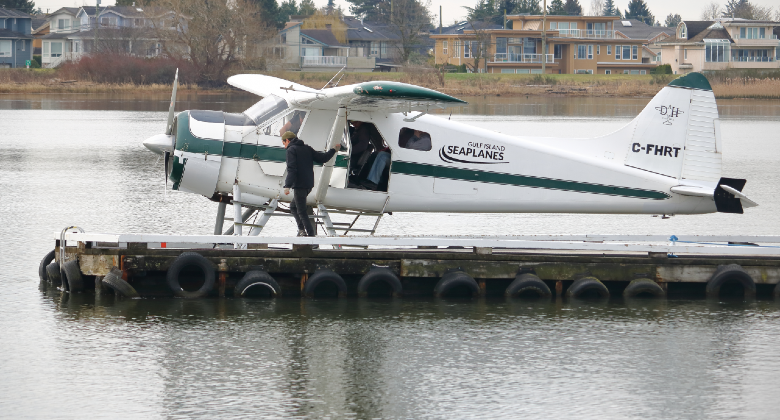 Favourite unusual fact about Vancouver?
Vancouver International Airport was originally planned to be built very close to the heart of Vancouver on English Bay. A full terminal and runway extending into the ocean was designed on the north side of the University of BC on what is now one of Vancouver's most popular and iconic beaches (Spanish Banks). However, those plans were wisely rejected in favour of Sea Island in Richmond BC – the home of present day YVR.