airBaltic to open Canary Islands base; Riga top base with 66% of capacity; 22 airports have joined network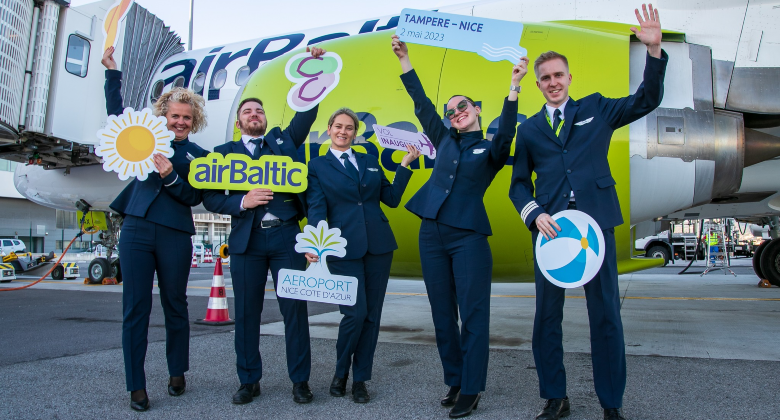 airBaltic carried 3.3 million passengers in 2022, down by more than a third versus 2019. Aside from using wet leased aircraft in the summer, the carrier's own fleet comprises of A220-300s. It has 42, with the 50th due next summer. It anticipates up to 100, many of which will be based outside the Baltics while others will be wet leased out. Its first base outside the Baltics opened in Finland last year, while a new winter base in the Canarias begins this year.
Gran Canaria winter base is coming
Following in the footsteps of Norwegian and others, airBaltic will open a new winter base at Las Palmas, Gran Canaria, to which it only started flying last year. The island is particularly popular among Scandinavians looking for winter sun. The carrier will station two A220s and will have 10 routes, not all using based aircraft.
Its Gran Canaria winter network is as follows. According to Cirium schedules information, airBaltic will be the only carrier on four routes, as highlighted with an *.
1 November 2022: Riga (3-weekly; already served)*
1 December 2023: Bergen (2-weekly)
1 December 2023: Billund (2-weekly)*
2 December 2023: Oslo TRF (2-weekly)
2 December 2023: Vilnius (weekly)
3 December 2023: Aalborg (2-weekly)
3 December 2023: Oslo OSL (weekly)
4 December 2023: Copenhagen (weekly)
5 December 2023: Tampere (weekly)*
7 December 2023: Tallinn (weekly)*
Riga remains by far the largest of four year-round bases
airBaltic has 4.2 million available seats this summer, 20% more than S22 and 7% below S19. Then as now, Riga – one of four year-round bases – remains number one. It has 2.8 million Riga seats, which accounts for two-thirds of capacity, down by 20 percentage points versus a decade ago. Tallinn and Vilnius have grown, responsible for 14% and 17% of S23 capacity, respectively.
Tampere, first served by airBaltic in October 2008, became a base in May 2022. It has one aircraft stationed there, along with one aircraft overnighting from Riga. It has eight summer routes – Amsterdam, Copenhagen, Malaga, Milan MXP, Munich, Nice, Riga and Rhodes – while more start this winter:
29 October 2023: Tallinn (daily); last served in 2010
1 November 2023: Tenerife TFS (2-weekly)
5 December 2023: Gran Canaria (weekly); see above
22 December 2023: Kittilä (2-weekly); last served in 2010-2011
Not everywhere has worked, with Frankfurt and Oslo, both launched last year, no longer served from Tampere. airBaltic was attracted to the Finnish city – which has one million+ people in its catchment – as it is underserved. It is the only airline other than Ryanair (from London STN), and Finnair now serves its Helsinki hub by bus.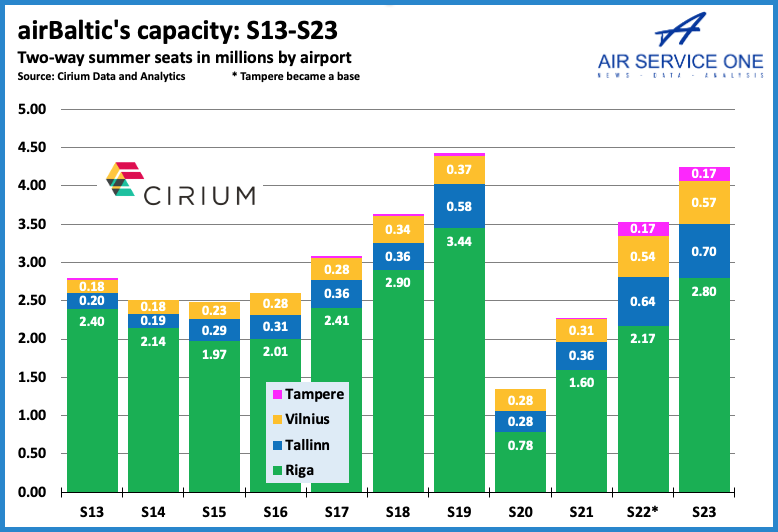 Intra-Baltics lead the top 10 routes
airBaltic has 71 Riga routes, 16 from Tallinn, 12 from Vilnius and eight from Tampere. Its summer network stretches as far east as Dubai, although its longest route is Riga-Tenerife South (4,510 kilometres) while the shortest is Riga-Palanga (205 km). However, hub-feeding intra-Baltics Riga-Tallinn and Riga-Vilnius are the most served, just as they have been for years. It is, of course, the only airline in both markets.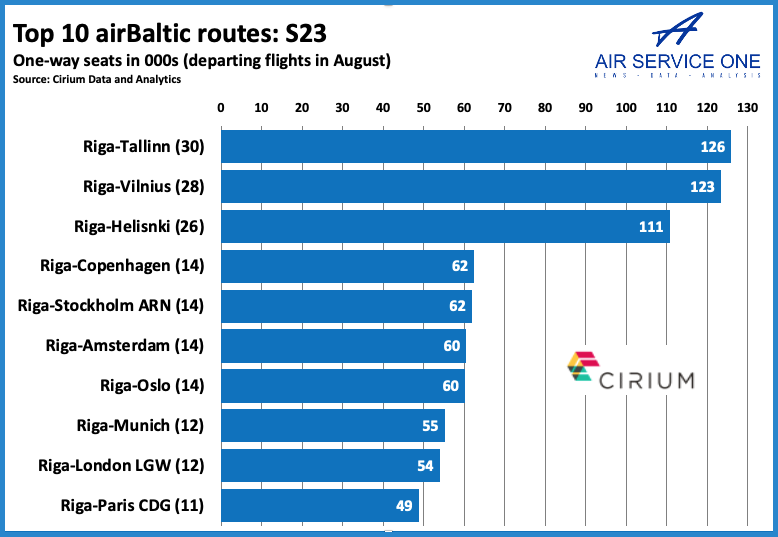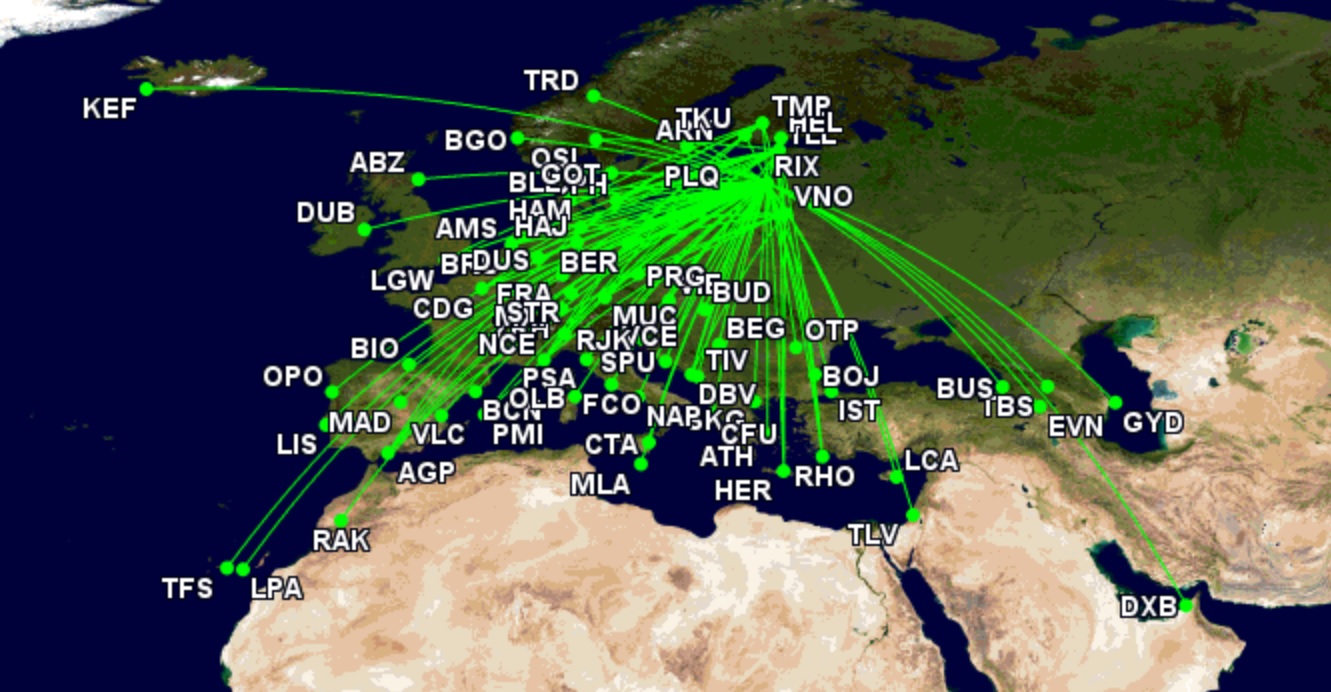 22 airports have joined its network but 20 have exited
airBaltic's S23 network involves 72 airports, two more than in S19. Some 22 are served that were not, offset by the loss of 20. They include nine in Belarus, Russia and Ukraine, which cannot be served at this time.
In: Batumi, Belgrade, Berlin BER (replaced TXL), Bergen, Bilbao, Bucharest, Burgas, Corfu, Dubai, Gran Canaria, Hannover, Heraklion, Istanbul IST, Marrakech, Naples, Pisa, Porto, Tenerife TFS, Tivat, Trondheim, Valencia, Yerevan
Out: Abu Dhabi, Almaty, Berlin TXL (closed), Bordeaux, Gdansk, Geneva, Kaliningrad, Kazan, Kos, Kyiv KBP, Liepāja, Lviv, Menorca, Minsk, Moscow SVO, Odesa, St Petersburg, Stavanger, Sochi, Warsaw