Routes Americas 2021: Airline CEO Heavyweights with Spirit, Frontier and the US Travel Association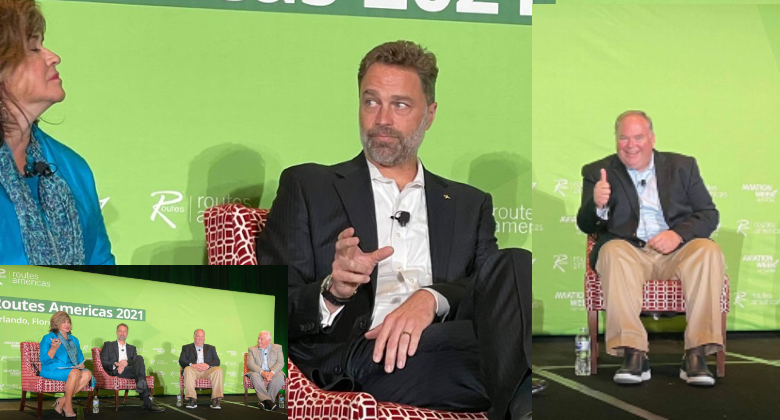 The Airline CEO Heavyweights session at Routes Americas 2021 yesterday brought together leaders from Spirit Airlines, Frontier Airlines, and the US Travel Association to discuss some of the challenges brought by the pandemic and how they have managed to remain in a relatively favourable position to weather the crisis.
Sharing some of the key lessons learned from the past year, Ted Christie, President & CEO, Spirit Airlines, said: "This year has been the most challenging in my career. We have all been through a very unusual period. What I am most proud of over the last year is how our team reacted to that. We were really forced to unwind the airline completely and develop new tools to figure out how to put it back together again in abbreviated periods of time. But that has helped us develop real processes and tools that help with planning."
Barry Biffle, President & CEO, Frontier Airlines, echoed Christie's sentiment about how the business has adapted and shared: "We have been on this rollercoaster of constantly adding flights, taking them back out and one of the things we too had to do is get our processes together. Ultimately, one of the takeaways is that we had to change our business and we're much more modular now. We're opening more and more crew bases as a result and that makes us a lot more flexible. This will also make us more desirable for pilots and flight attendants as well." Indeed, the airline recently opened its new crew base at Tampa International Airport (TPA) and shared its intention to open a base at Hartsfield-Jackson Atlanta International Airport (ATL) in late 2021.
As the two leading low-cost carriers in the US, Spirit and Frontier have big plans to resume 2019 capacity this year. But with the region displaying a positive growth trajectory, the panellists also expressed concerns that current workforce shortages might present some challenges for the industry recovery and future growth. Biffle explained: "We have around 5 million people that still haven't come back to the workforce. That's creating a lot of challenges industry-wide. We're trying to stay away from permanent changes, but we're introducing bonuses for the summer period through September."
When quizzed on Spirit Airlines' recently announced decision to start flying from Miami International Airport (MIA) with a total of 30 routes taking off later this year, Christie explained that the carrier will fly to a number of domestic and international routes from Florida's second-busiest airport, without compromising its existing service from its Fort Lauderdale hub. "There's a separate distinct market that we can serve out of Miami Airport in addition to what we do out of Fort Lauderdale which will always be our biggest base," he said.
Waiting for Canada and UK markets to open up
Meanwhile, for the US Travel Association the biggest focus right now is opening international routes, especially from the UK. "We have been working very hard with the airlines and the whole travel industry and administration to open up the UK corridor, because our feeling is that if we can open up the UK, the rest will follow quickly," shared Roger Dow, President & CEO, US Travel Association. "Canada is the other challenge we have. To put it into perspective, 22 million Canadians come to the US every year."
As for their outlook for the future, both Christie and Biffle are optimistic that they will double their services over the next five years with Spirit planning to grow its fleet with another 160 planes, while Frontier already has an existing order of 150 A320 aircraft.