Limoges welcomes Volotea in July as Ryanair serves five UK airports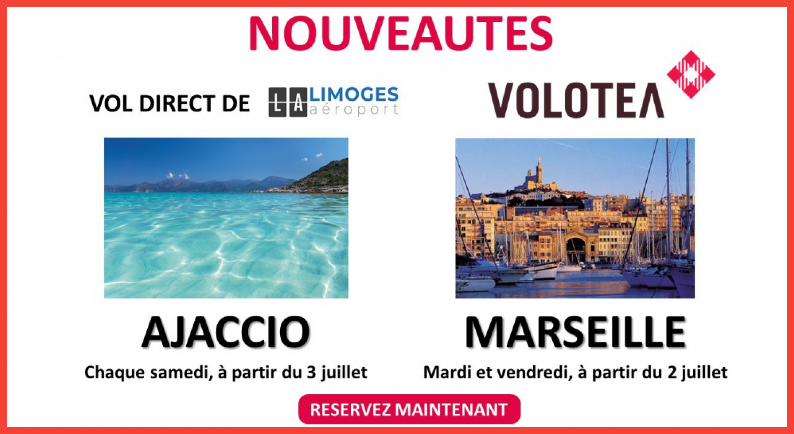 Located in the Nouvelle-Aquitaine region of France, Limoges is just slightly south-west of the geographical centre of France. It is a member of UNESCO's City of Crafts and Folk Arts thanks to its history of ceramics, enamel and glass-making, and more recently its porcelain industry.
Passenger numbers at the airport grew rapidly from 130,000 in 2001 to almost 400,000 in 2007, thanks to an increase in international flights. This was driven primarily by Ryanair offering daily flights to London STN (launched in 2003), 6-weekly service to Liverpool (launched in 2005) and 4-weekly service to East Midlands (launched in 2006). Also contributing was Flybe, with 5-weekly service to Southampton, 2-weekly service to Manchester and weekly service to Newcastle.
Domestic traffic declines
The subsequent decline in total traffic after 2007 has mostly been driven by the reduction in domestic services. Air France used to serve Lyon and Paris ORY with multiple-daily flights, but in 2019 Chalair was operating these routes with reduced frequency and much smaller aircraft. The rail service to Paris now takes just over three hours and costs from just €15.
With the demise of Flybe, British Airways has taken over the Southampton route this summer (starting hopefully later this month), while Volotea started serving the airport in early July, offering 2-weekly domestic service to both Ajaccio on the island of Corsica and Marseille. Ryanair continues to serve Limoges from five UK airports this summer; Bristol, East Midlands, Leeds Bradford, London STN and Manchester.