Rzeszów welcomes Wizz Air in 2021; Lufthansa swops Munich for Frankfurt; Ryanair still #1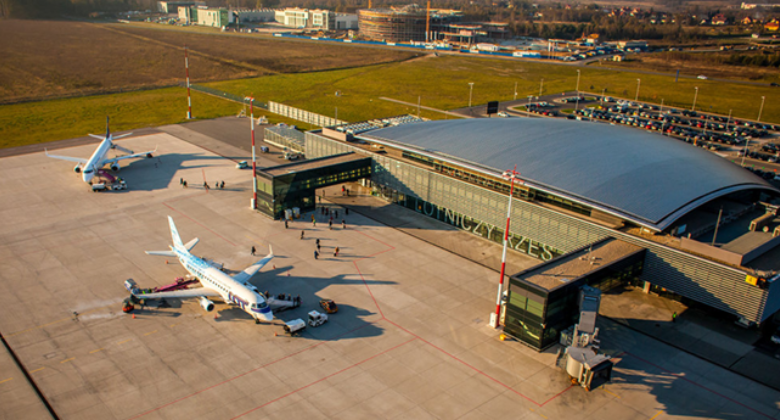 Rzeszów in south-east Poland is only 150 kilometres west of Lviv in Ukraine and lies 160 kilometres east of Krakow. It is the eighth biggest city in Poland with a population of around 190,000. The airport serving Rzeszów is located 10 kilometres north of the city. A new terminal was completed in May 2012 in time for the UEFA Euro 2012 football tournament, hosted jointly by Poland and Ukraine.
Ryanair is leading carrier
The leading airline at the airport in 2019 was Ryanair which operated year-round flights to Bristol, Dublin, East Midlands, London LTN, London STN and Manchester, as well as seasonal service to Athens. Glasgow PIK service was discontinued during 2019. Previously the airline had also served Rzeszów from Berlin SXF, Birmingham, Bourgas, Corfu, Frankfurt HHN, Girona, Liverpool, Oslo RYG and Trapani.
LOT and Lufthansa offered hub connections
Around one-third of all seat capacity was provided by LOT Polish Airlines on its 240-kilometre domestic route to Warsaw WAW, which it operated with up to 5-daily flights using a mix of Q400s, Embraer jets and 737-800s. The Polish flag-carrier also offered a weekly service to both New York EWR and Tel Aviv during the summer of 2019. The other flag-carrier serving Rzeszów was Lufthansa, which was offering up to 2-daily service to its Munich hub using CRJ 900s operated by Lufthansa CityLine.
Wizz Air welcomed
Last year Wizz Air announced plans to serve Rzeszów from Eindhoven. A few flights appear to have operated on the route over the Christmas and New Year period. However, regular service looks set to start at the end of October. A 2-weekly service to Oslo TRF did launch on 15 September, with London LTN flights currently set to commence on 24 September. Rival Ryanair is still serving Rzeszów this winter from the same six airports as in 2019. Lufthansa resumed service at the airport in late July, but now offers flights to its Frankfurt hub instead of Munich.
Latest traffic figures published by the airport show that it welcomed 47,458 passengers in August. That is 44% more than in August 2020 but still 45% fewer than in August 2019.