Airport of the Day (2 July 2021): Guernsey in the Channel Islands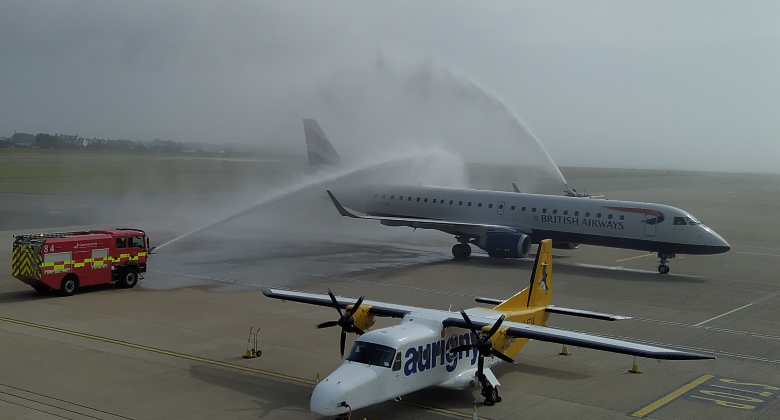 Guernsey is an island in the English Channel, closer to Normandy in France than the coast of southern England. Although not technically part of the UK, the UK is responsible for the island's defence and international relations. Travel restrictions to the island were relaxed earlier this month, allowing BA CityFlyer the opportunity to begin two new routes to the island, from Edinburgh and London LCY, on Friday 2 July. Both routes will be served 2-weekly (Mondays and Fridays) using the carrier's Embraer E190s.
What they said
Tom Stoddart, MD of BA CityFlyer, said: "We're confident our new route from London City Airport to Guernsey will be popular this summer with customers looking for a UK getaway. And, it's an honour to be launching the only direct service between Guernsey and Edinburgh this summer."
Ross Coppolo, COO at Guernsey Ports, said: "London City offers passengers good connections to the BA CityFlyer network, with services from there to many popular European destinations. We are also delighted with the return of the direct Edinburgh link, which prior to COVID-19, proved popular with islanders as well as passengers from Scotland wanting to visit the Bailiwick."
Almost 900,000 passengers in 2019
In 2019 Guernsey handled over 880,000 passengers according to UK CAA statistics, with August being the busiest month with 93,000 passengers. At that time Aurigny (IATA code GR) and Flybe accounted for more than 99% of capacity. Aurigny's service to London LGW was the single busiest route followed by flights to nearby Jersey, another Channel Island.
With the collapse of Flybe in early 2020, Aurigny is now the dominant carrier, followed by Blue Islands and BA CityFlyer. Based on Cirium Data and Analytics schedule information for July, Southampton would appear to have overtaken Gatwick as the airport's busiest route.
Aurigny set to add Dublin service in 2022
Aurigny's fleet currently comprises eight aircraft according to planespotters.net, one 122-seat E195, four 72-seat ATR 72s and three 19-seat Dornier DO-228s. The airline's website lists 12 destinations as being bookable from Guernsey, of which nine are in the UK (Birmingham, Bristol, East Midlands, Exeter, Leeds Bradford, London LGW, Manchester, Norwich and Southampton). The other three destinations are Alderney (another of the Channel Islands), Dublin (a new route set to start operating 2-weekly at the end of March 2022) and Grenoble, a winter-only service.