Airport of the Day (4 August 2021): Rapid City in South Dakota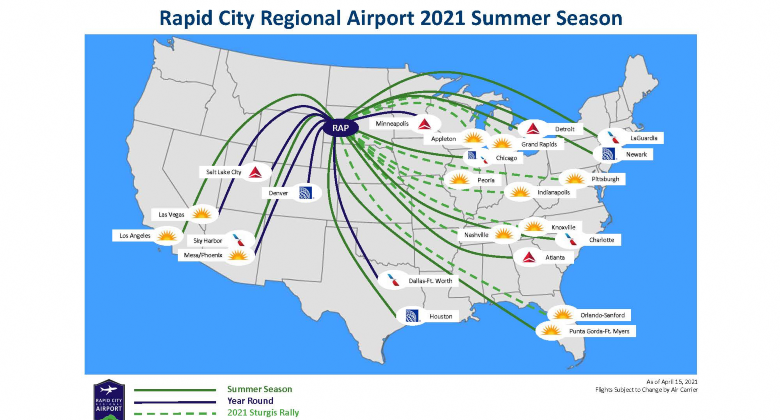 This week has seen the launch of several new routes operated by Allegiant Air to/from Rapid City in South Dakota. These routes will all operate just four times during the next two weeks. This unusual situation is down to the Sturgis Motorcycle Rally, an annual event for motor bike enthusiasts, which this year runs from 6 August to 15 August. The event is based in and around Sturgis in South Dakota and the nearby Black Hills. Rapid City is the nearest significant airport. The event typically attracts around 500,000 visitors and is a major contributor to the local economy.
Year-round daily flights to several major hubs
Rapid City Regional Airport (IATA code RAP) lies around 15 kilometres southeast of Rapid City. There are year-round daily flights to Dallas/Fort Worth (with American), Denver (United), Minneapolis/St. Paul (Delta) and Salt Lake City (Delta). During the summer these are complemented by further daily flights with American to Charlotte-Douglas, Chicago ORD and Phoenix, and with United to Chicago ORD and New York EWR. Allegiant has year-round, low-frequency flights to Phoenix AZA and Las Vegas, plus seasonal flights to Los Angeles and Punta Gorda in Florida. Now, for the Sturgis Motorcycle Rally, it has added eight routes that just operate for the period of the event; to Appleton, Grand Rapids, Indianapolis, Knoxville, Nashville, Orlando SFB, Peoria and Pittsburgh.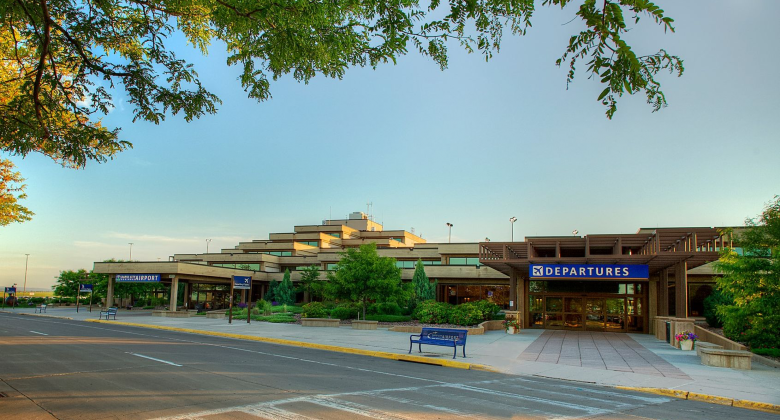 Record passenger numbers in June
The airport recently reported that it handled 87,249 passengers in June. This beat the previous record for any June, which previously stood at 80,761 in June 2019. However, the passenger load factor this June was 69.2% compared with 82.7% two years ago. In the first half of 2021 passenger numbers reached 263,756 compared with 298,356 in the same period of 2019. With scheduled airline capacity currently forecast to be 18% higher than in 2019, the airport could have its busiest year ever.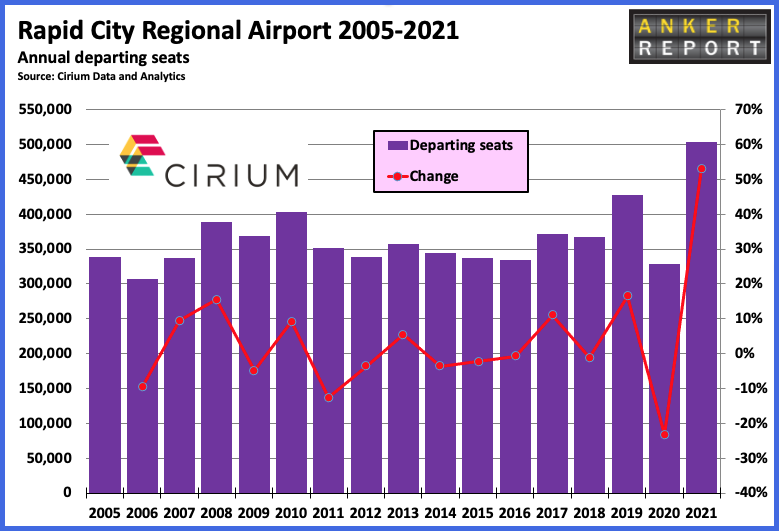 For any aviation enthusiasts visiting the area, the South Dakota Air and Space Museum looks worthy of a visit. It is located on the edge of Ellsworth Air Force Base, located about 15 kilometres north-east of Rapid City.