'Airport of the Year' rides out pandemic turbulence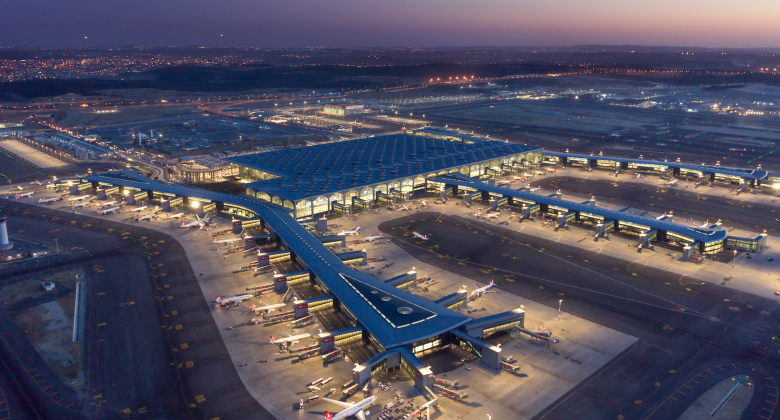 It's been a good year for Istanbul Airport.
Not only was it crowned 'Airport of the Year' at the 2021 Air Transport Awards, but data revealed that it was Europe's busiest airport for passengers last year — a sign that confidence in the hub is surging with the easing of Covid restrictions.
More than 37 million passengers travelled through IST last year, which compares favourably to the 52 million passengers it handled before the pandemic. According to ACI Europe the next busiest airports in Europe last year were Moscow Sheremetyevo (30.9 million), Paris CDG (26.2 million) and Amsterdam Schiphol (25.5m).
In terms of flights, ACI Europe data shows that Istanbul also topped the rankings handling 276,000 flights, almost 10,000 more than its nearest rival, Amsterdam Schiphol with 267,000.
Part of the airport's success is down to Turkish Airlines, which is using the ultra-modern hub as a base to take on the Gulf carriers.
However, it's not just the national flag carrier that senses opportunity in IST, which has more airlines touching down on its tarmac than before the pandemic — 71, compared to 66 in 2019.
More than a dozen carriers announced new routes from the airport in 2021, including FlyOne, flydubai and Air Arabia. This means Istanbul Airport now serves 269 international destinations. The top five? Tehran, Dubai, Amman, Beirut and Moscow VKO.
Airlines flying out of IST will likely have been buoyed by the news that the Air Transport Research Society named it the 'Most Efficient Airport in Europe' over the 40 million passenger category.
Encouragingly, IST also retained its '5-Star Airport' rating and '5-Star Covid-19 Airport' rating from Skytrax in 2021. The latter is especially reassuring given the pandemic is still proving a drag on international travel.
IST's cargo business is also booming. It recorded more than 13,000 cargo flights in 2021, with FedEx Express and UPS Airlines becoming the first airlines to operate scheduled freight flights. In total, 1.7 million tonnes of cargo were transported last year. IST aims to more than treble that by 2023.