Ajaccio and Bastia in Corsica saw rapid traffic recovery in 2020 and 2021 thanks to French holiday traffic
When the COVID pandemic struck, governments were quick to impose severe restrictions on international travel in an attempt to minimise the spread of the virus. This meant that during the summer of 2020, holidaymakers were encouraged to plan domestic holidays rather than travelling abroad. For people in mainland France this meant that the Mediterranean island of Corsica was still a viable option. As a result, traffic at the island's two main airports of Ajaccio and Bastia saw traffic recovery of between 60% and 95% between July and October 2020.
The following year, the airports performed even better with recovery rates of between 90% and 110% for most of the second half of 2021. In 2022, the recovery rate at both airports has been in excess of 80% every month. Incidentally, the reason that data for December is not plotted is that Ajaccio Airport was shut for over a week in December 2019 (the base year) as a result of flooding at the airport. This resulted in many services being diverted to Bastia, which distorted the figures for both airports that month.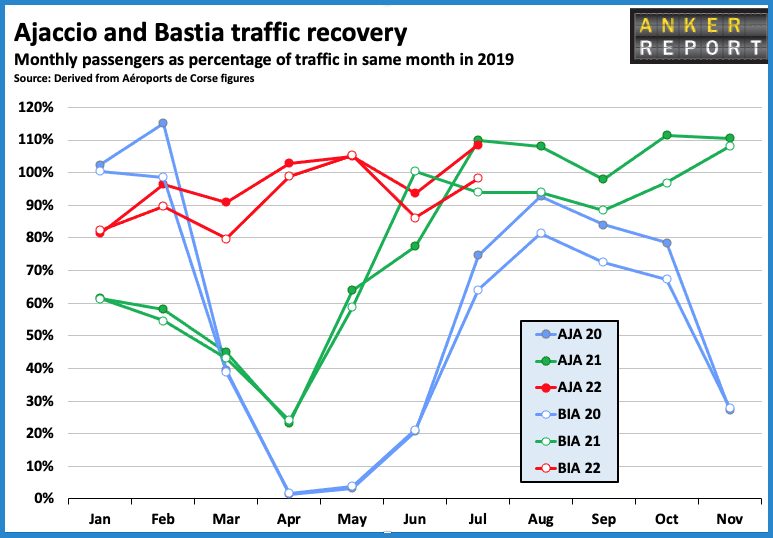 In addition to Ajaccio and Bastia, Corsica has two other airports offering scheduled services, Calvi and Figari. Latest traffic data for July shows that while international traffic is growing this summer versus 2021, domestic traffic has declined at three of the four airports, as French consumers are once again able to book international vacations with a higher degree of confidence:
Ajaccio: domestic down 7.3% to 217k, international up 52% to 40k, total down 1.4% to 257k
Bastia: domestic down 3.1% to 174k, international up 45% to 49k, total up 4.5% to 223k
Calvi: domestic up 17.3% to 63k, international up 37% to 15k, total up 20.7% to 79k
Figari: domestic down 0.4% to 158k, international up 44% to 31k, total up 5.0% to 189k
All Corsican airports: domestic down 2.2% to 612k, international up 45.8% to 136k, total up 4% to 748k
Air Corsica is leading airline
Across the four airports, Air Corsica (IATA code XK) was the leading airline handling 244,468 passengers (32.7% of total), ahead of Volotea with 153,692 passengers (20.5%), easyJet with 153,352 passengers (20.5%) and Air France with 125,669 passengers (16.8%). These four carriers carried just over 90% of all passengers travelling by air to/from Corsica in July. Looking at only international services, easyJet (56,299 passengers) is bigger than Air Corsica (31,369).
Ryanair was the next biggest carrier with 17,161 passengers. The Irish ULCC only serves Figari with a total of five routes, three domestic (Bordeaux, Paris BVA and Toulouse) and two international (Brussels CRL and Rome FCO). Eurowings, Norwegian and Transavia also all have limited operations to Corsica.
Volotea is fastest-growing carrier
Cirium schedule data for August shows that while seat capacity across all Corsican airports is up 13%, flights are only up 4%. This is primarily due to Air Corsica operating more services using its A320s rather than the smaller ATR 72s. The airline which has increased capacity most between August 2019 and August 2022 is Volotea (an additional 6,282 weekly seats) followed by Air Corsica (2,990), easyJet (2,802) and Transavia (2,174). The latter was not serving Corsica in August 2019.
International connections in August 2022 which were not operated in August 2019 include:
Air Corsica: Ajaccio-Rome FCO, Ajaccio-Zurich, Bastia-Gothenburg, Figari-Brussels CRL
Norwegian: Ajaccio-Oslo
Ryanair: Figari-Rome FCO
Transavia: Bastia-Rotterdam
Volotea: Ajaccio-Luxembourg