Alaska Airlines is leading airline in Seattle and fifth biggest in US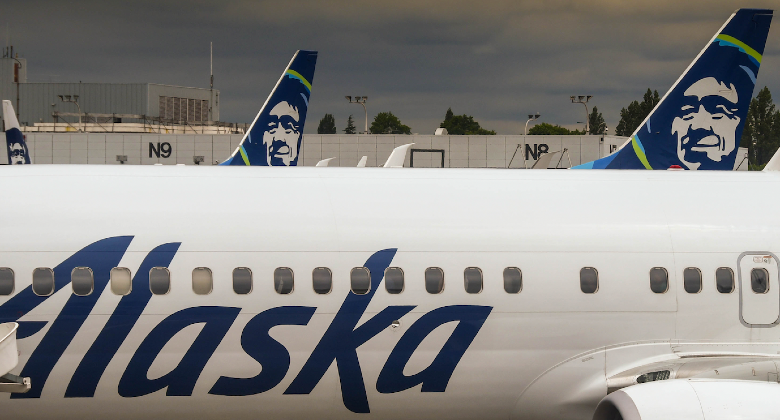 With its origins dating back to the early 1930s, Alaska Airlines (IATA code AS) is now the fifth biggest carrier in the US behind American, Delta, United and Southwest (based on departing seats from US airports) and bigger than JetBlue and Spirit. It accounts for around 5% of all seats departing from US airports in July. The airline and its regional subsidiary Horizon Air (IATA code QX), have a combined fleet in excess of 300 aircraft. These are now all part of the oneworld alliance, which Alaska joined in March 2021.
Alaska has around 190 Boeings 737s (a mix of -700s, -800s, -900s, -900ERs and MAX 9s) as well as over 40 Airbus A320-series aircraft, the latter inherited when it acquired California-based Virgin America in 2018. These are gradually being phased out in favour of more 737s which have been ordered. Horizon Air operates a fleet of 30 76-seat Embraer E175s and 32 76-seat Q400 turboprops, while a further 40 E175s are operated on the airline's behalf by SkyWest Airlines, according to planespottters.net.
Seattle is the airline's #1 airport
Alaska is the leading airport at Seattle-Tacoma International Airport. Before the pandemic, it accounted for just under half of all seat capacity at the airport. Now it offers just over half of all seats, with second ranked Delta offering around half as many, giving it 25% of the Sea-Tac market. Lagging much further behind are American, Southwest and United, each with between 4% and 6% of seats.
Not surprisingly, Seattle is also Alaska's leading airport for departing flights in July 2022. The oneworld carrier is set to operate almost 10,000 departures from the airport next month. That is four times as many as at its next busiest airports in Portland and San Francisco. Overall, Alaska Airlines will still be operating 13% fewer flights this July compared with pre-pandemic July 2019. However, at Seattle the reduction is just 3%. At second-placed Portland the reduction is almost 50%. Alaska is also the leading airline in Washington State, well ahead of Delta. In California, Alaska is now ranked fifth for seats and third for flights, behind Southwest and United.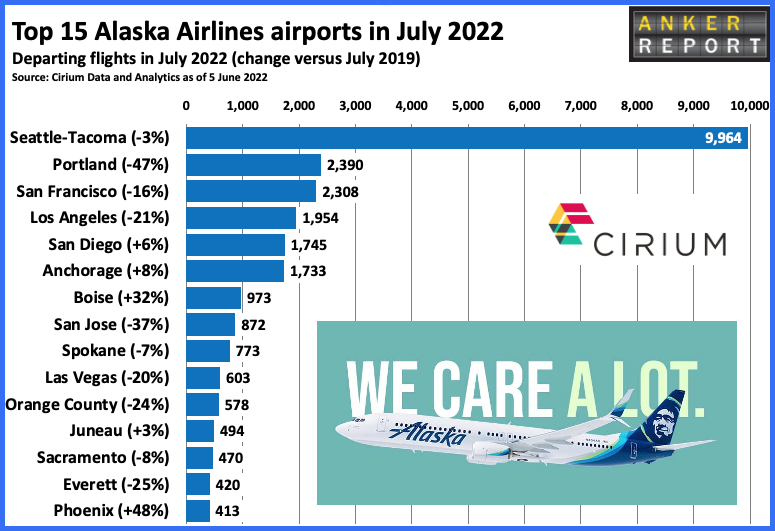 Nine new airports added since 2019
In July, Alaska will be offering flights from 122 airports, up from 113 in the same month of 2019. Nine airports have been added to the airline's network during the last three years of which seven are in the US. These were Cincinnati, Cleveland, Fort Myers, Idaho Falls, Jackson Hole, Miami and Redding, with Belize City and Cancun being the new non-US airports. Alaska also operates to 16 airports outside of the US. Of these nine are in Mexico, five are in Canada, with one each in Belize and Costa Rica.
Now serving 97 destinations from Seattle
As Seattle's leading airline, Alaska is now offering non-stop service to 97 destinations this July. That is up from 87 in July 2019, thanks to the addition of new routes from the Washington airport to Cancun, Cincinnati, Cleveland, Fort Myers, Idaho Falls, Miami, Monterey, Puerto Vallarta, Redding and San Jose del Cabo.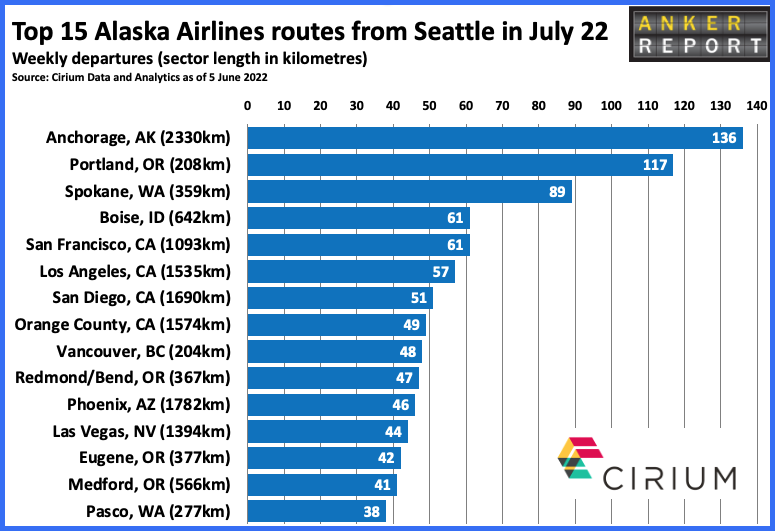 Two destinations, Anchorage in Alaska and Portland in Oregon, are served with over 100 weekly flights from Seattle. Out of the airline's top 15 Seattle routes, Anchorage is the longest at 2,330 kilometres. Miami is the airline's longest route from Seattle at 4,384 kilometres, one of 11 routes that is over 4,000 kilometres in length. Five of these are in Florida and four are in Hawaii.