Alaska Airlines becomes second US carrier to join oneworld alliance; fifth largest US domestic carrier launched 50 new routes in 2020
On 31 March 2021, Alaska Airlines became the 14th member (and second in the US after American Airlines) of the global oneworld alliance. This was a historic day for the airline, which can trace its origins back 89 years and is the only major US carrier based on the west coast, with its corporate headquarters in Seattle.
Rapid growth since 2009
Alaska Airlines (IATA code AS) is now the fifth biggest carrier in the US domestic market by flights, seats and ASKs. In 2019 it offered over 55 million seats on US domestic flights. It carried 46.7 million passengers in 2019 at a load factor of 84.1%. Its mainline fleet comprised 237 aircraft with a further 93 aircraft operated by its regional partner airlines, including fully- owned subsidiary Horizon Air (IATA code QX), which operates a fleet of 32 76-seat Q400s and 30 76-seat E175s.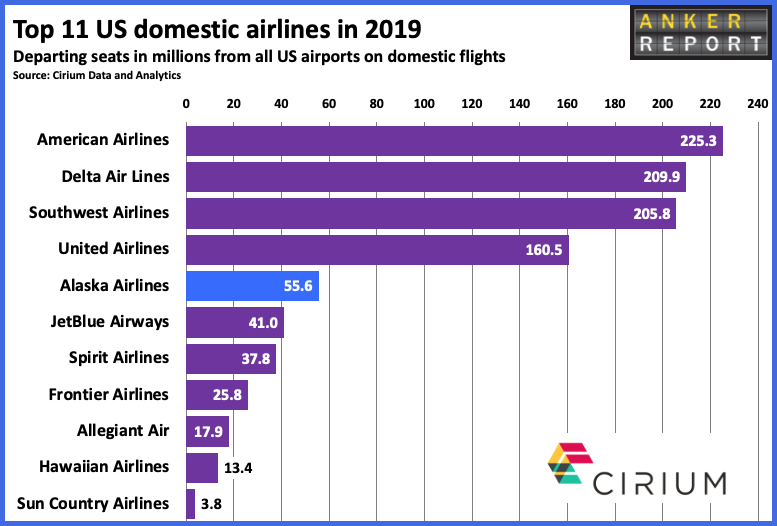 After the US economic recession of 2008/09, Alaska Airlines has grown relatively rapidly with ASK growth of 6% to 10% between 2010 and 2017. In 2018 the airline completed the acquisition of west coast based Virgin America, resulting in a 30% increase in ASKs that year.
According to Cirium Data and Analytics figures, between 2004 and 2019, Alaska Airlines flights increased by a relatively modest 33%, seats offered by 77% and ASKs by 165%. Average seats per flight grew from 94 to 126, while average sector length rose by 50% from 1,225 kilometres to 1,836 kilometres.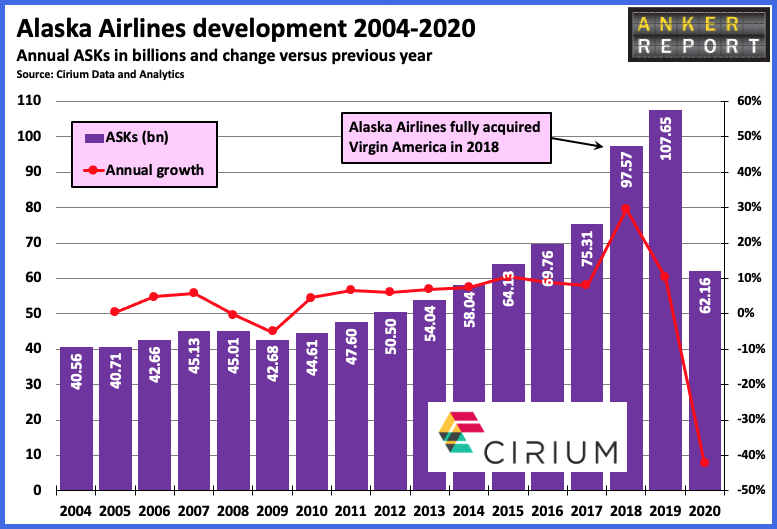 Load factor of 55% in 2020
Passenger numbers fell by almost 62% in 2020 to 17.93 million, while average load factor fell dramatically from 84.1% in 2019 to 55.2% in 2020. In Q4 of 2020, load factor was 45.3% down from 83.7% in Q4 of 2019. After generating a net income of $769 million in 2019, Alaska Airlines reported a net loss in 2020 of $1.3 billion.
Seattle-Tacoma is biggest base by far
Alaska Airlines has five main operating bases, but by far its largest base is at Seattle-Tacoma, where, in 2019, it offered 15 million departing seats, accounting for 50% of the airport's total seat offering. The second biggest carrier at the airport is Delta with 24% of seats.
In 2020, Alaska Airlines offered non-stop service from Seattle-Tacoma to a total of 93 destinations (two more than in 2019), including five in Canada and three in Mexico. Its busiest routes by seat capacity were to Anchorage, Portland PDX, Los Angeles, Phoenix, San Francisco and Spokane. In terms of flights, Portland was the most served route.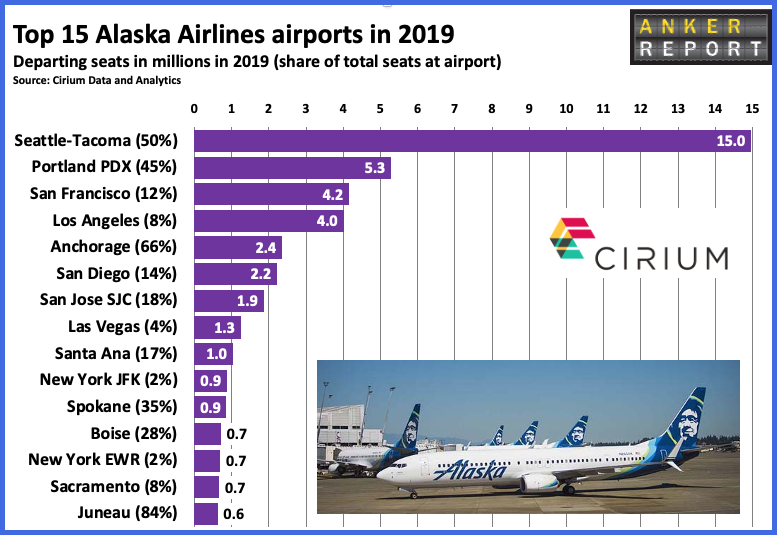 Almost. 50 new routes 2020 with 20 more in 2021
According to analysis of Cirium Data and Analytics schedules, Alaska Airlines launched almost 50 new routes in 2020, with the three biggest (by seats) being from Los Angeles to Spokane (Washington), Boise (Idaho) and Redmond (Oregon). Completely new destinations in 2020, not served in 2019, were Cold Bay (Alaska), Fort Myers (Florida) and Jackson Hole (Wyoming). New airports planned for 2021 are Cincinnati (from 20 May), Idaho Falls (from 17 June) and Redding in California (also from 17 June) which will all be served from Seattle-Tacoma. In total, Alaska Airlines has already announced over 20 new services that will start in 2021, with Los Angeles-Austin (competing with six other carriers!) and San Diego-Missoula already launched.