Algeria-Europe passes 2019 capacity; Air Algerie has 56% of the market; Brussels BRU welcomes TUI fly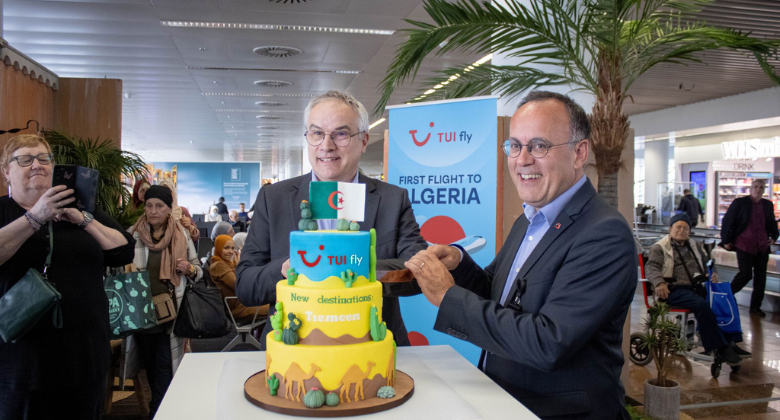 Algeria has 1.1 million one-way Europe seats this April-June (Q2), according to Cirium data. Primarily revolving around Algerian diaspora, which totals around five million people in France alone, it is smaller than Morocco (3.0 million), Egypt (2.0 million) and Tunisia (1.3 million), each partly influenced by strong inbound tourism. While Algeria-Europe has surpassed Q2 2019 capacity by 0.3%, Egypt is +39.6%, Morocco +15.2% and Tunisia +13.4%.
Air Algerie remains number one; Volotea has entered
Algeria-Europe capacity is up only very slightly over its pre-pandemic level. However, it is notable when it is recalled that Aigle Azur – previously the second-largest operator – no longer exists. The backfill has mainly been achieved by the December 2021 entry of Volotea and considerable growth by Transavia France (1,300%+), albeit obviously from a low base.
Volotea is now the third-largest carrier with 8.2% of seats. That is despite 'only' having nine routes in Q2. All are from France – mainly Marseille, but also Bordeaux and Lyon – and are to seven Algerian airports. Most of the routes were previously served by Aigle Azur, and now Volotea competes directly with flag carrier Air Algerie on them all.
With more than 612,000 one-way Europe seats – more than all other carriers combined – Air Algerie has 55.6% of the market, up by nearly three percentage points versus 2019. You can tell from this that, unlike Morocco with an open skies agreement, Algeria retains an historic bilateral system. Cirium informs that it the flag carrier has 71 Europe routes this quarter. These are from 12 Algerian airports, including El Oued and Jijel, from which it has the only European flights. The carrier serves 23 airports across Europe.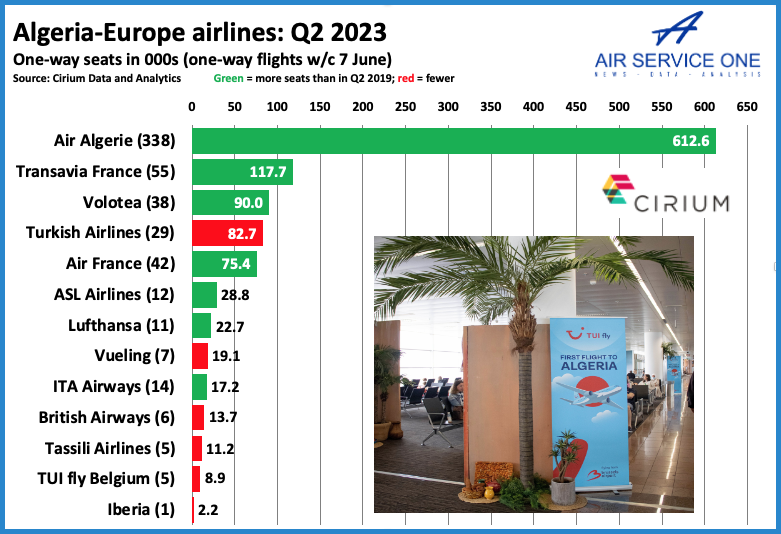 85 airport pairs in Q2 2023
When all airlines are combined, they have 82 Europe airport pairs in these three months. They involve 12 Algerian airports, 28 in Europe and 11 European countries. Obviously, France has by far the most seats (three quarters of the total), six times greater than number two, Türkiye (12.4%). Some 14 airports in France are served. These include Perpignan, with ASL Airlines resuming Oran on 27 June (mainly weekly), starting just in time to be included in this analysis.
The top 10 markets, shown below, are so significant that they account for more than one in two available seats (52.4%). Eight of the 10 involve France, with Paris CDG-Algiers the most served. It has 64 weekly departures in the week starting 7 June across Air Algerie (38-weekly; 11 by the A330-200), Air France (21), and ASL Airlines (5).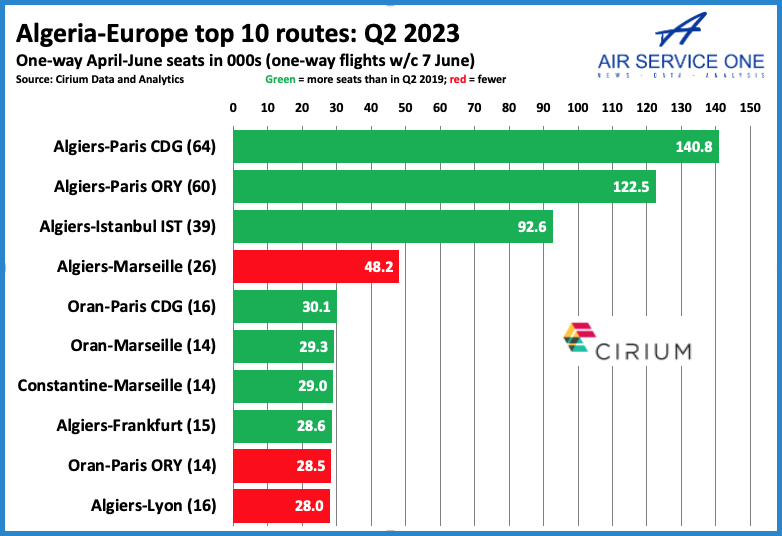 Multiple new routes in 2023
The following will launch this year. They include by TUI fly Belgium's first Algeria service from Brussels BRU. In previous years, the leisure carrier served the North African nation exclusively from Brussels CRL. While Algiers remains at that airport, it will simultaneously be served from Brussels BRU. It will be joined by Oran (served from CRL until May 2023) and Bejaia, Constantine and Tlemcen (served from CRL until 2020).
6 April: Volotea, Bordeaux-Oran (2-weekly)
15 May: TUI fly Belgium, Brussels BRU-Oran (2-weekly); including triangularly with Tlemcen (weekly)
17 May: TUI fly Belgium, Brussels BRU-Bejaia and Constantine (triangular; weekly)
26 June: ASL, Lille-Bejaia (2-weekly)
28 June: ASL, Lille-Tlemcen (weekly)
30 June: ASL, Lille-Setif (weekly)
4 July: Transavia France, Strasbourg-Algiers (2-weekly)
5 July: Transavia France, Nantes-Constantine (2-weekly)
5 July: Transavia France, Strasbourg-Constantine (weekly)
5 July: Transavia France, Lyon-Tlemcen (weekly)
7 November: TUI fly Belgium, Brussels BRU-Algiers (2-weekly)