Alicante is Spain's fifth busiest airport; Ryanair is top carrier; easyJet to open base in S24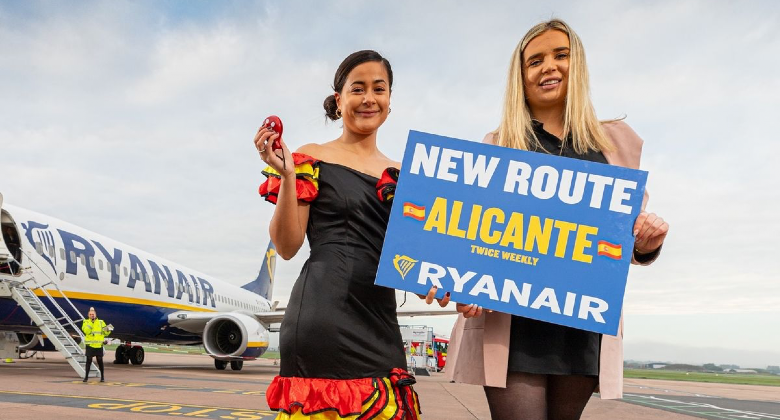 Alicante ended 2022 with 13.20 million passengers, data collected by Air Service One shows, making it Spain's fifth-busiest airport. Traffic was -12.3% below 2019, marginally less recovered than Spain as a whole (-11.5%).
Serving Costa Blanca, Cirium schedules information tells that Alicante – among the country's biggest cities – to still be down in S23, with departing seats -4.3% versus S19. However, they have virtually recovered in the all-important July-September (Q3). Further ahead, the airport will benefit from easyJet's new summer seasonal base opening next year.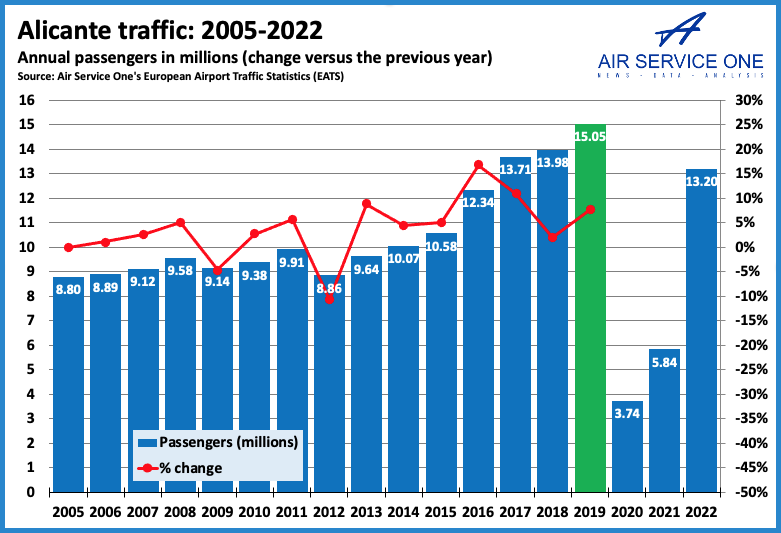 easyJet's new Alicante base to open in 2024
Despite serving Alicante since 1999 – nearly a quarter of a century ago – easyJet has not based aircraft or crew at the airport. That changes in S24 when it will station three A320s there. Seasonal Spanish bases have become important to the LCC. Alicante will be its fourth base in the country and the third to be seasonal, joining Malaga and Palma. Only Barcelona is year-round.
The carrier says that it will grow S24 capacity to 810,000 departing seats, +16.7% over the 694,000 that Cirium shows that it has in S23. In the present summer, easyJet's 11-strong route network is all international, just as it always has been. It serves Amsterdam, Basel, Belfast BFS, Bristol, Edinburgh, Geneva, Glasgow, Liverpool, London LGW, London LTN and Manchester.
easyJet is Alicante's second-largest international carrier. It has a 13.0% share of Alicante's international capacity, the lowest proportion (excluding hard-hit S20) in many years. When the new base opens, easyJet should become Alicante's second-largest operator overall, usurping primarily domestic operator Vueling as number two.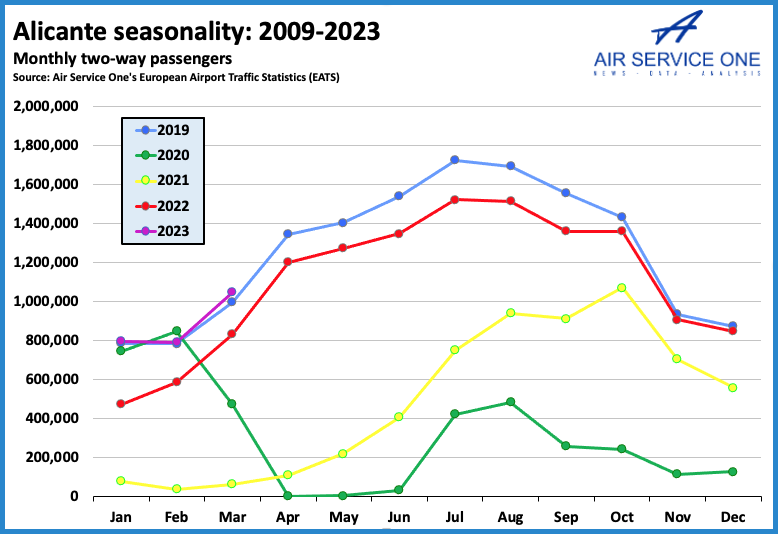 Ryanair remains Alicante's leading airline
When the domestic market is added, the Irish ULCC has 2.4 million departing seats and a fifth of Alicante's total. It originally opened its Alicante base 15 years ago in 2007. Now it has 71 international and nine domestic routes, and has introduced or reinstated six:
26 March 2023: Klagenfurt (2-weekly)
26 March 2023: Santander (2-weekly) – last served in October 2011
28 March 2023, Belfast BFS (3-weekly) – last served in October 2021
28 March 2023, Paderborn (2-weekly)
29 March 2023, Warsaw WAW (4-weekly) – exists alongside existing Warsaw WMI operation
1 May 2023, Turin (2-weekly) – last served in September 2015
Only one flag carrier – SAS – is in Alicante's top 10 operators list. It serves the Costa Blanca airport from eight airports in Denmark, Norway and Sweden. Spain's flag carrier, Iberia, ranks 11th. Fully using its regional unit, it has six routes – Gran Canaria, Ibiza, Madrid, Nador, Palma, Tenerife TFN – some of which are served very infrequently. Naturally, its Madrid hub link accounts for nearly eight in ten seats.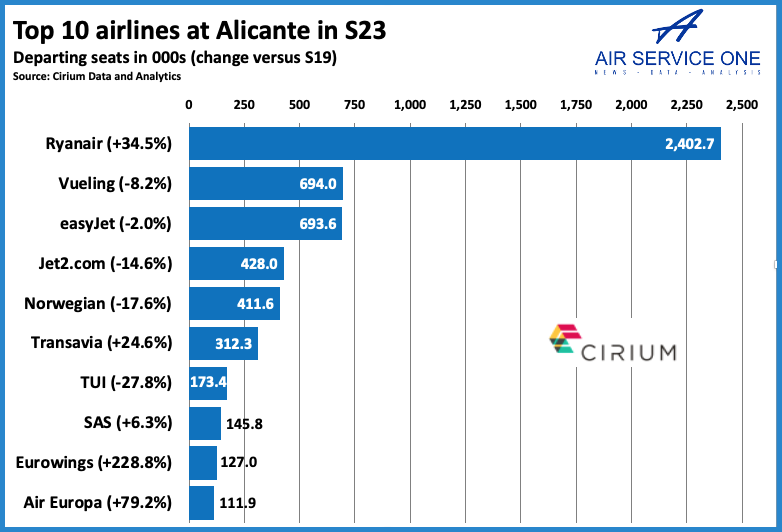 Manchester is the top route
Cirium data informs that Alicante has more than 120 non-stop destinations this summer, of which 109 are international. With more than a third of capacity, the UK is the airport's largest country market. It has twice as many seats as the domestic market and five times more than the second-largest international country, Germany.
In the first week of August, Manchester has 52 departing flights by Ryanair (22-weekly), easyJet (18), Jet2 (10) and TUI (2). Notice that, while Palma and Barcelona appear in the top 10, Madrid does not. Relying on transfer traffic due to being barely 150 minutes by train, the Spanish capital ranks 15th.
Using Cirium to compare Alicante's network in S24 versus S19 shows that 18 destinations are now served. In contrast, 14 are no longer served. Note that numbers exclude airports which have closed and those in Ukraine/Russia. Some additions have simply switched airports for the same city.
In: Bari, Bern, Dortmund, Fez, Frankfurt HHN, Klagenfurt, Lanzarote, Lodz, Luxembourg, Marrakech, Paderborn, Prague, Santander, Teesside, Tetouan, Turin, Venice TSF, Vitoria
Out: Algiers, Bodo, Casablanca, Harstad/Narvik, Liege, London SEN, Malaga, Norwich, Oran, Tenerife TFS, Tlemcen,Tromso, Venice VCE, Vigo