All Nordic & Baltic countries reached 50% traffic recovery in December; Ryanair seats up 20% in W21
The countries comprising the Nordic and Baltic region of Europe have seen significant variations in their rate of traffic recovery since the start of the pandemic. Norway, with its geography making domestic air travel the only viable means of connecting some regions, saw significant travel demand during the first year of the pandemic, at least compared with other countries. While Norway was achieving traffic levels of between 20% and 35% of 2019 levels between June 2020 and June 2021, Finland's traffic recovery was hovering around the 10% mark, which was among the lowest in Europe.
Since June, all the Nordic and Baltic countries have seen a rapid improvement in traffic recovery. At different times, Lithuania, Norway and most recently Estonia have led the way for the best recovery rate. By December, all eight countries had reached at least 50% of their 2019 traffic, with Iceland, Lithuania and Norway at over 60%, and Estonia (represented by Tallinn) the only country market to have reached 70% recovery. Finland, which had been lagging considerably behind the other seven countries between May and November, finally caught up with its neighbours in December when it passed the 50% recovery mark for the first time.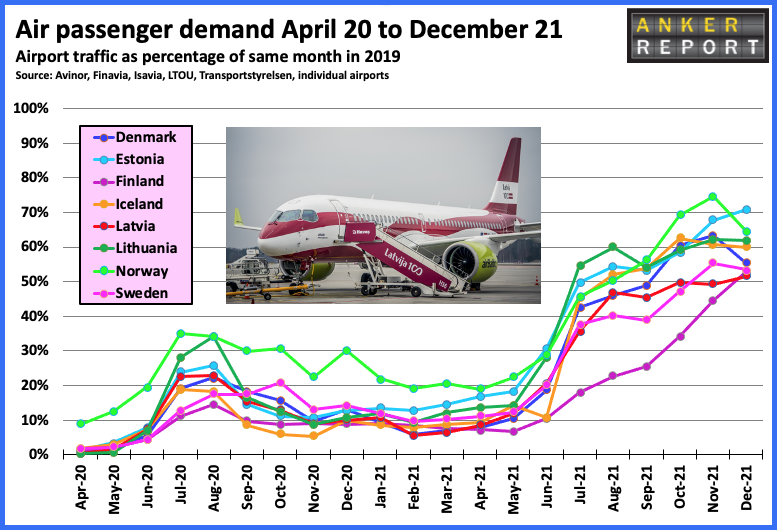 SAS, Norwegian and Finnair winter capacity down 30% to 40%
Analysis of planned airline seat capacity for this winter (November 2021 to March 2022) may still be subject to changes as a result of the ongoing spread of the Omicron variant. However, compared with W19/20 (November 2019 to March 2020), the leading airlines in the region (SAS, Norwegian and Finnair) are all expecting to see capacity reductions of between 30% and 40%.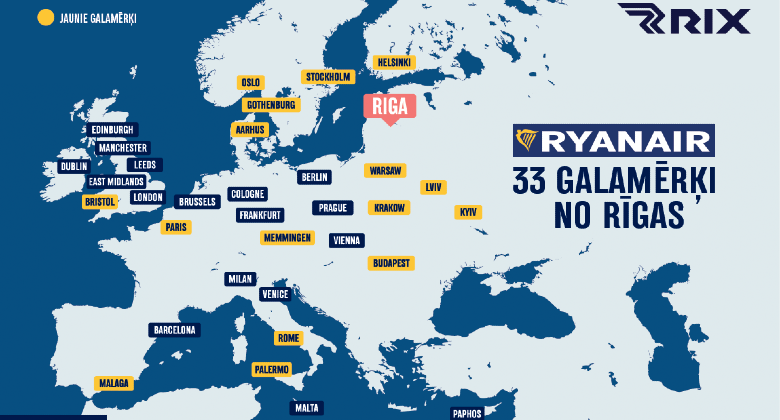 Conversely, Ryanair's capacity in the region is up over 20% compared with two winters ago. Seat capacity is up by over 500,000 seats across the five winter months. While the shift from Stockholm NYO to Stockholm ARN has added almost 60,000 seats, there have been bigger increases elsewhere. The airline's new base at Riga has seen capacity grow by almost 150,000 seats, while Billund capacity is up by over 110,000 seats and Helsinki capacity has gone from 0 to just over 100,000 seats. Tallinn (an extra 73,000 seats), Gothenburg (60,000), Kaunas (40,000) and Malmö (40,000) have also all seen significant capacity growth by Ryanair in the last two years. However, Ryanair's leading airport in the region, at least for now, remains Copenhagen, where capacity was reduced by almost 20%, or 90,000 seats.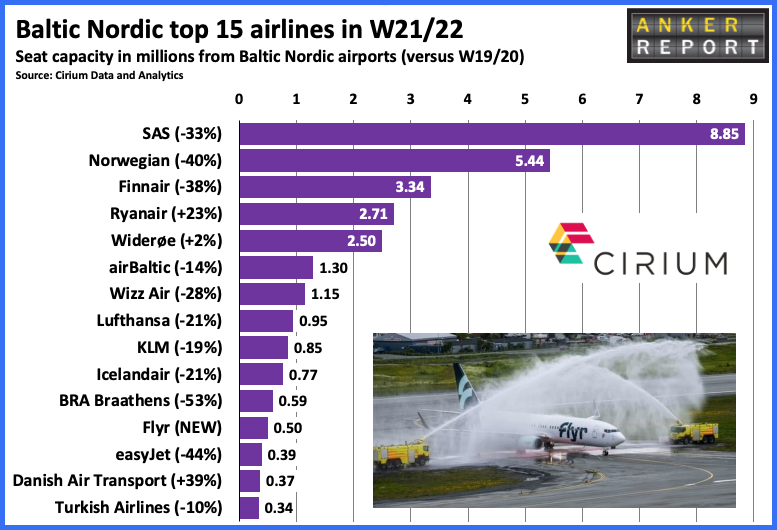 Wizz Air, which has been expanding aggressively elsewhere, suffered a setback when its Norwegian bases and domestic operations proved sufficiently unprofitable that they were dropped within a matter of months. Overall, the airline's capacity in the region is down 28% compared with two years ago, similar to the overall average. Vilnius, Stockholm NYO, Oslo TRF and Malmö are the only airports in the region at which Wizz Air is offering over 100,000 seats this winter. The only airport at which it has significantly increased capacity is Tallinn, where seat capacity has doubled from 25,000 to over 50,000.