Allegiant added 10 airports in 2021, launched 135 new routes; has ordered 50 new Boeing MAXs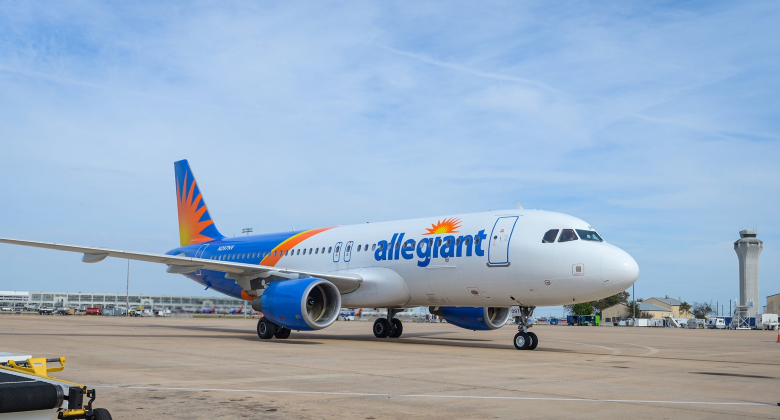 Allegiant surprised many industry observers last week by announcing an order with Boeing for brand new aircraft. It will purchase 50 737 MAX aircraft (a mix of 737-7s and 737-8-200s) and has an option to purchase 50 more. This marks an evolution of the airline's fleet policy which has previously been based around using older, cheaper to purchase, aircraft and using them only on days of the week when there is sufficient, profitable demand. Originally this was with McDonnell Douglas MD-80-series aircraft, in particular the MD-83. These exited the fleet in 2018 since when the airline has been operating A319s and A320s. It will continue to add A320s until the Boeing deliveries start in 2023.
Served 133 airports in 2021
In 2021, Allegiant was the ninth biggest carrier in the US domestic market, offering just over 20 million seats, representing 2.5% of the total. Last year it served a total of 133 airports, all in the US. In recent years it has added plenty of new airports, summarised below:
2016: Albuquerque, Baltimore/Washington, Dayton, Denver, Destin/Ft. Walton Beach, El Paso, Evansville, Flint, New York EWR, Ogdensburg, San Juan, Santa Rosa, Trenton,
2017: Cleveland, Gulfport/Biloxi, Louisville, Milwaukee, Norfolk, Providence
2018: Albany, Charleston, Nashville, Sarasota/Bradenton, St. George, Tucson
2019: Anchorage, Redmond/Bend, State College, Traverse City, West Palm Beach
2020: Boston, Chicago MDW, Houston HOU
2021: Amarillo, Jackson Hole, Key West, Melbourne MLB, Minneapolis/St. Paul, Orange County, Phoenix PHX, Portland PDX, Spokane, Washington IAD
The airline's busiest airport for flights in 2021 was Orlando SFB with almost 10,000 departures. Las Vegas was second with just over 9,000 flights. Highlighting the airline's focus on leisure travellers, six of the airline's top 10 airports are in Florida (shown in red).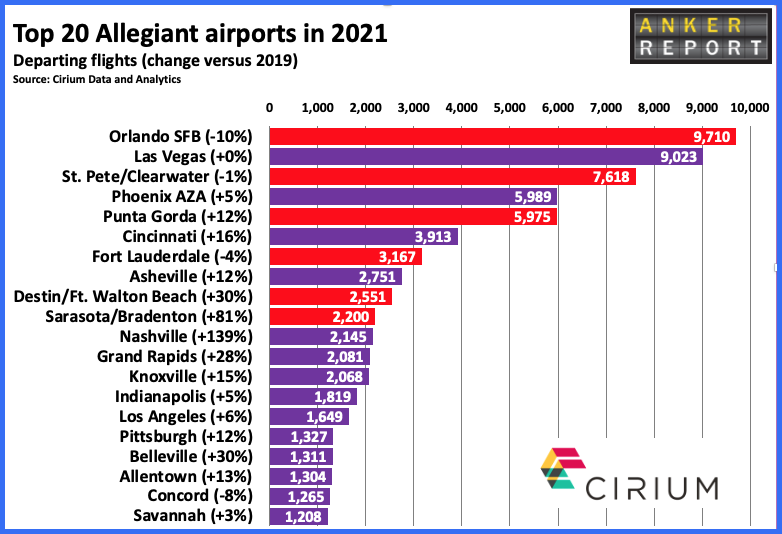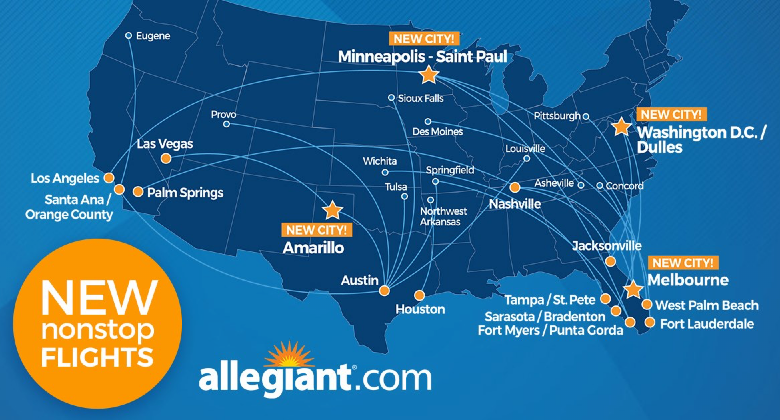 In total, Allegiant launched 135 new routes in 2021, beaten only in North America by Southwest (183 new routes) and American (145). Almost all of the new routes began with 2-weekly flights, with the only exceptions being San Diego to Phoenix AZA, and New York SWF to Savannah/Hilton Head, both of which launched with 4-weekly flights. Only 22 of the routes launched faced direct competition.
Florida rules, Texas grows
Airports in Florida welcomed more than three times as many Allegiant flights as any other state, with Nevada (dominated by Las Vegas) a distant second. Arizona was third, thanks to flights to Phoenix AZA. Nearly all of the top 15 states have seen their flights increase in 2021 compared with 2019, with the exception of New York. Texas showed the biggest increase in flights, driven by the launch of operations in 2020 from Houston HOU and the expansion of services from Austin, which became a crew base for the airline in November.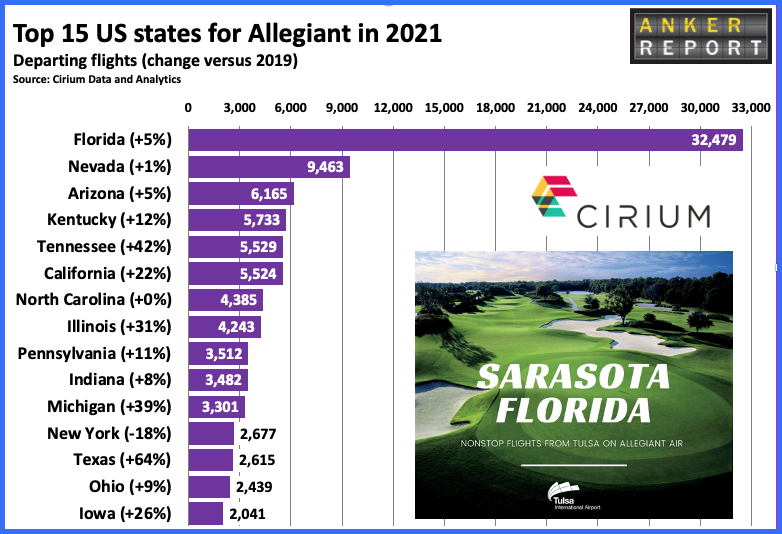 Significant day of week variation
Analysing Cirium data for a peak week in August 2013, 2015, 2017, 2019 and 2021 shows how the airline's operations vary significantly by day of week. In 2013, 92% of flights operated on just four days of the week; Mondays, Thursdays, Fridays and Sundays. However, in the other four years examined those four days consistently accounted for between 75% and 80% of the airline's flights. With the arrival of new aircraft in 2023, it will be interesting to see if the airline feels obliged to work them more during the off-peak days.