Allegiant's airport network reaches 125 this winter; Orlando SFB still first for most flights and routes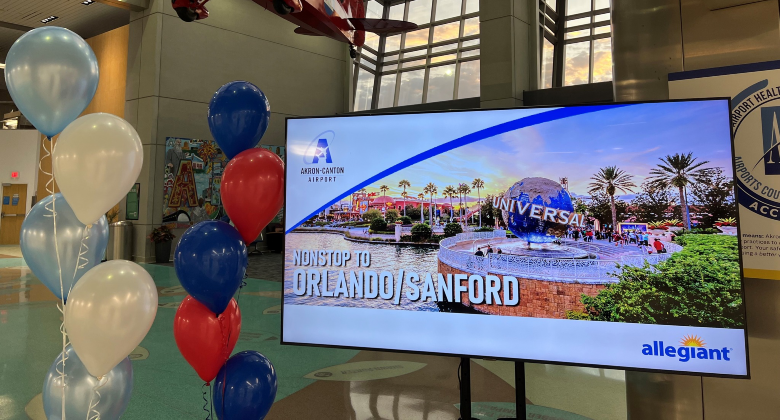 Allegiant has flights to 125 airports in W22. It added Akron/Canton in March, building on eight that materialised in 2021: Orange County and Spokane in February, Portland (Oregon) in April, Key West in June, Minneapolis and Phoenix Sky Harbor in October and Orlando MLB and Washington IAD in November.
Inevitably, not everything has gone smoothly. Cirium schedules information data shows that Allegiant ended service to Tucson in November 2021, while Cleveland was chopped in January 2022, Ogden in April, Albuquerque, Redmond and State College in May, Gulfport Biloxi in August and Raleigh/Durham in October.
Orlando SFB remains Allegiant's leading airport
Through it all, Orlando SFB – one of 10 airports Allegiant serves in Florida this winter – remains the carrier's foremost airport. The airline's next busiest airports this winter are Las Vegas, St. Pete/Clearwater, Punta Gorda and Phoenix AZA. The only US airline at Sanford, it has 648,000 departing seats this winter, lower than in W17, W18, W19 and W21.
Its Sanford capacity remains down by 18% versus W19, a 137,000-seat shortfall. In contrast, Allegiant's entire capacity this winter is up by 0.5%. As Florida overall remains down by 7%, other states were responsible for the growth.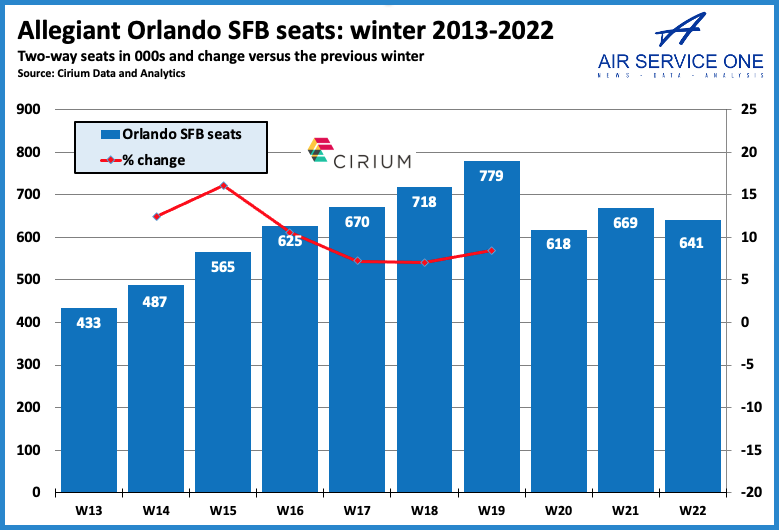 64 winter routes from Sanford
Allegiant's 64 Sanford routes is down from 70 in W17, 68 in W18, 67 in W19 and 65 in W21. It has flights to 27 states from Sanford this winter, with Tennessee, Pennsylvania, New York, Michigan, and North Carolina receiving the most capacity. With seven routes from Sanford, it serves more airports in New York State than any other (Albany, Elmira, Niagara Falls, Plattsburgh, Rochester, Stewart, Syracuse).
Among the 27 states is Utah, marking the first time it has had Sanford flights. It is because of the new route to Provo, south of Salt Lake City, whose 2-weekly service starts on 15 December. That is Allegiant's only new Sanford route this year.
44% of Sanford routes served from Orlando MCO
Analysis of Cirium schedules data indicates that 28 of Allegiant's 64 Sanford routes (44%) are also served from Orlando MCO. That has risen from 40% in W19. MCO now has more thinner routes, such as Akron/Canton, Fayetteville (Arkansas) and Tulsa by Breeze. Avelo's growth at Orlando's primary airport will impact it too.