Allegiant's capacity falls; Memphis & Las Vegas among the most impacted; Nashville grows strongly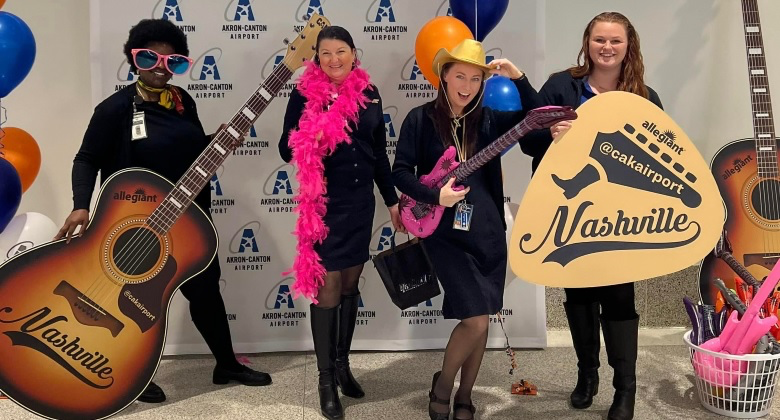 ULCCs are renowned for fast growth, but that is not presently the case for the USA's Allegiant. Data supplied by the airline to Cirium for April-September (Q2/Q3) shows that it has 10.48 million available seats, -2.6% versus the same six months in 2022. In contrast, US domestic seats are +9.1%.
While Allegiant has far exceeded its pre-pandemic capacity (+10.5%) than the US domestic market (+2.2%), it is curious that its year-on-year offering has reduced. It comes despite announcing strong Q1 2023 financial results. The lower capacity suggests it will benefit from higher yields in what is a buoyant demand market.
The only airline in the top 10 to be smaller than last year
Allegiant is the USA's ninth largest domestic operator this Q2/Q3. Only operating domestically, it is famed for thin routes, minimal direct competition, infrequent use of aircraft (as they are older and do not have to be used intensively) and linking small and medium-sized cities to major tourist destinations.
According to Cirium schedules information, Allegiant is the only airline – of the USA's top 10 domestic carriers – to have shrunk YOY, as shown below. Only JetBlue comes close (+2.3%). Notice the double-digit advances of ULCCs Spirit and Frontier, both of which have far outpaced 2019 capacity.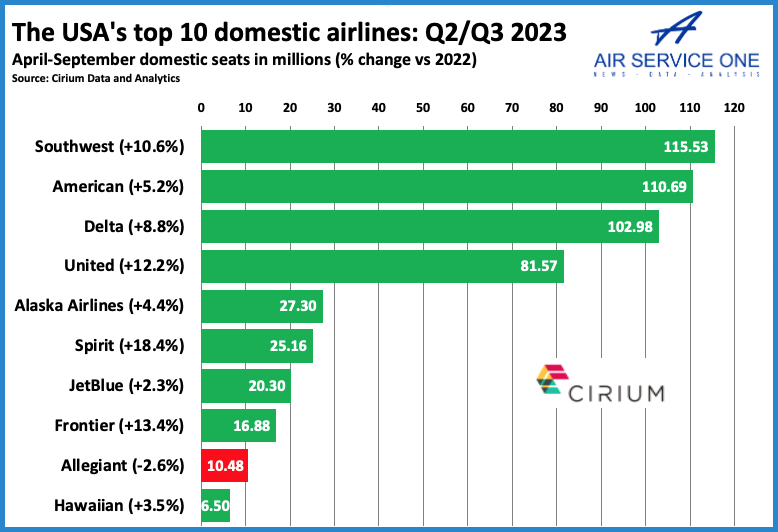 79 airports have fewer Allegiant seats
Allegiant serves 125 airports this April-September, six fewer than in 2022. Albuquerque, Amarillo, Ogden, Raleigh Durham, Redmond and State College have exited its network. They were tiny: they had less than half a percent of its capacity last year. It serves 41 states, down by one following the end of New Mexico.
Some 80 airports have fewer Allegiant one-way seats YOY, of which Owensboro (Kentucky) is the most affected. Capacity by the ULCC has fallen by more than half (-55.5%), as its sole route there (Orlando SFB) ends on 29 May. Owensboro ranks 125th out of 125 in Q2/Q3, so its loss to the ULCC's network is not great. Obviously, that is not the same as the impact of its withdrawal on the small airport and community.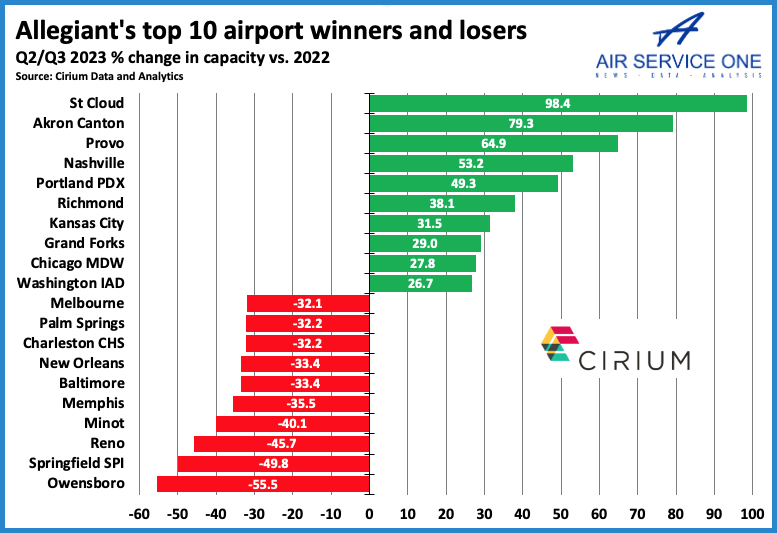 Memphis and Las Vegas among the most impacted bigger airports
Of airports with a good amount of Allegiant capacity, the most impacted include Memphis (-35.6%), Savannah (-22.2%) and Austin (-16.9%), Las Vegas (-14.9%) and Orange County (-13.7%). Memphis joined the carrier's network in May 2015, and it has six routes this April-September. The airport ranks 40th out of 125, down 12 places YOY. It is from the loss of Austin and, more importantly, big across-the-board capacity cuts. Allegiant is now Memphis' sixth-largest carrier, down one place.
On an absolute seat reduction basis, Las Vegas is especially affected: it has 117,000 fewer one-way seats than last April-September. This has contributed to its falling to the airline's third-largest airport. As its Las Vegas network has only reduced from 64 to 62 routes, it is mainly because of cuts to remaining destinations. More than this, Cirium informs that its Las Vegas capacity is -8.1% versus 2019, in distinct contrast to the carrier's whole operation (+10.5%).
Nashville jumps to the sixth most-served airport
Nashville stands out among Allegiant's fastest growing airports. It has 364,000 one-way seats in these six months, +53.2% YOY. It is now the airline's sixth most-served airport, up from 11th. It is behind only Orlando SFB, Tampa PIE, Las Vegas, Punta Gorda and Phoenix AZA. The Tennessee city only joined its network in April 2018, and it now has 30 routes.