Ambitious London Luton to grow; top 3 carriers have 98% of seats; Amsterdam leading destination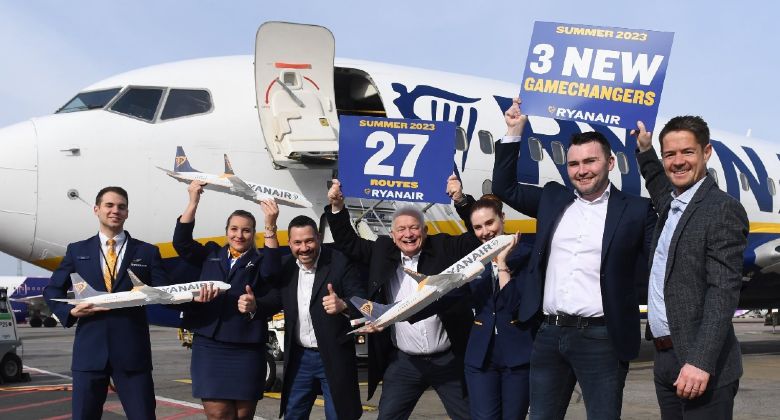 Just over 30 minutes by train from central London and minutes from the important M1 motorway, London Luton is the UK's fifth-busiest airport by passenger traffic. Well positioned geographically, it was constrained by an 18 million passenger cap and was full in 2019. However, it now has permission to handle 19 million passengers annually, which will not take long to fill given traffic is not far off pre-pandemic figures. Influenced by this and London's chronic shortage of capacity, ambitious Luton hopes to grow to 32 million passengers a year by the 2040s and become London's third-busiest airport.
Wizz Air overtakes easyJet; 98% of capacity is by three airlines
Ever since easyJet's first flight took off to Scotland in 1995, it has been Luton's dominant carrier. Analysis of Cirium data shows it was first in 2019 too, although the gap between it and fast-growing Wizz Air shrunk rapidly.
While easyJet's Luton capacity in 2023 is a tenth below that of 2019, Wizz Air is up by 5%, helping the ULCC to overtake easyJet. Wizz Air now has 45% of departing seats, against 40% for easyJet and 13% for Ryanair. While always heavily dominant, the trio account for 98% of Luton's capacity this year, the highest on record.
El Al, FlyOne, SunExpress (leaving soon) and TUI account for the remaining 2%. 'Other carriers' have 225,000 departing seats in 2023, down by nearly sixfold versus the peak of 2016. It was when Atlasjet, Blue Air, La Compagnie, Monarch, TAROM, Transavia France, Vueling, and more, served the airport.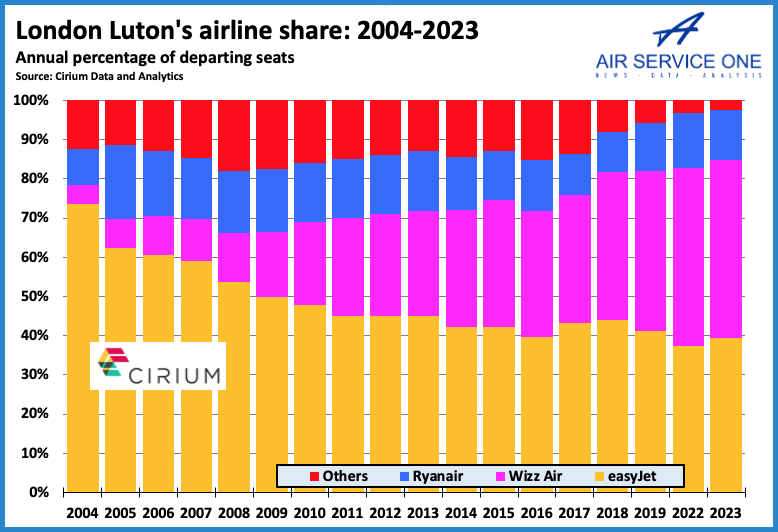 Non-stop flights to 38 countries this year; Romania is first
Analysis of Cirium schedules information shows that Luton has flights to 38 countries in 2023, which includes Finland for the first time since 2019. It is because of easyJet, which will introduce Rovaniemi – previously unserved from Luton – on 9 December (2-weekly).
Europe accounts for 95 in 100 seats, with the rest to the Middle East (3%; Tel Aviv and Amman) and Africa (2%; Agadir, Cairo Sphinx, Enfidha, Hurghada, Marrakech and Sharm El Sheikh). easyJet begins Enfidha on 30 October (3-weekly) and Cairo (3-weekly) on 31 October. It is slightly pipped to the post by Wizz Air, which starts Cairo (3-weekly) the day before.
Entirely because of Wizz Air, Romania has more seats than any other country, although very little separates it from number two, Poland. Twelve Romanian destinations are served, including the brand-new airport at Brasov, introduced by Wizz Air on 2 August (3-weekly).
Four of the top 10 nations are in Central and Eastern Europe, with 43% of Luton's capacity there. Cirium tells that Bedfordshire airport has more CEE seats than any other European airport outside the region after Istanbul IST. There are 4.1 million departing seats, the most to date and 2% above the previous record, held in 2019.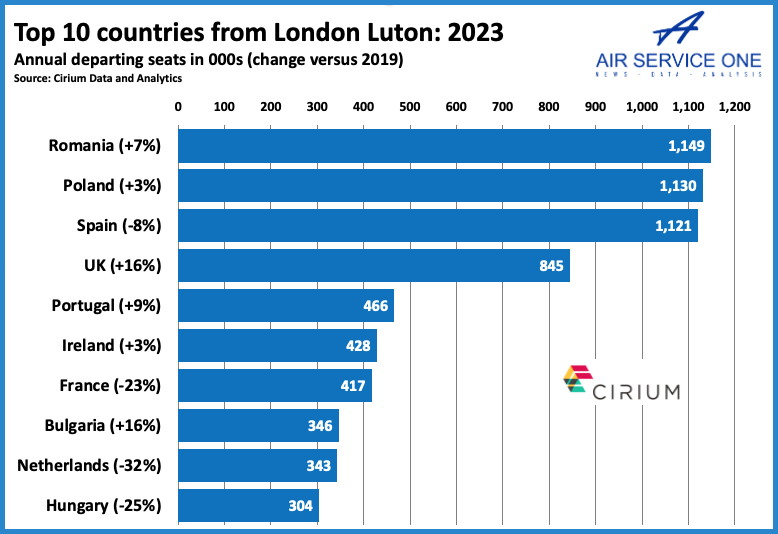 Amsterdam is the most-served destination
Continuing the trend of previous years, Amsterdam has more Luton seats than anywhere else, despite being down by about a third versus 2019. In the first week of November, there are 43-weekly departures, all by easyJet.
While some of the top 10 destinations have changed order, only Tirana has entered, replacing Barcelona. The Albanian capital has about 158,000 additional Luton seats this year, a phenomenal rise, with 21-weekly November flights – up from just five in 2019. Luton is now Tirana's fifth-largest destination and the number one outside Italy.