American Airlines remains the world's largest airline; serves 335 airports in July with 1,000+ routes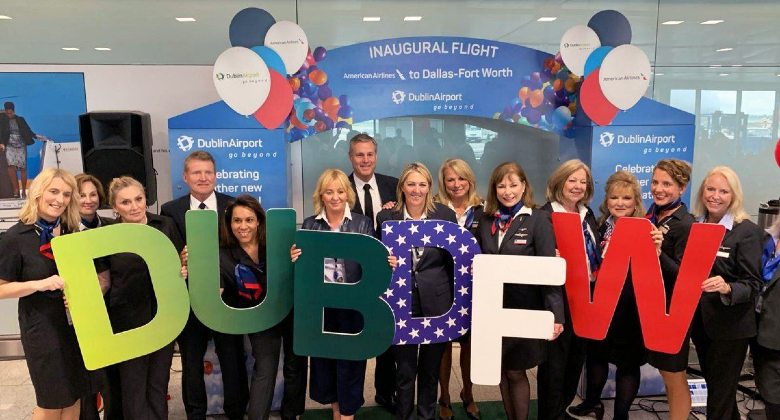 American Airlines is the world's largest airline by multiple measures, including fleet. According to Planespotters.net, the carrier and its regional partner have nearly 1,400 aircraft (not all active). Using these, they have more than 24,000 weekly one-way flights in July, based on Cirium information data (one-way avoids double counting). Its July offering is at 85% of what it had in 2019, more recovered than Delta (82%) but marginally less than United (85%). But notice in the following figure that it is lower than in 2021, with this capacity restraint helping with pricing alongside buoyant demand.
American is the leading US domestic operator by flights and ASKs but not seats, which is held by Southwest. Indeed, American has more domestic services than any carrier in any country. It is also the leading international operator serving the US.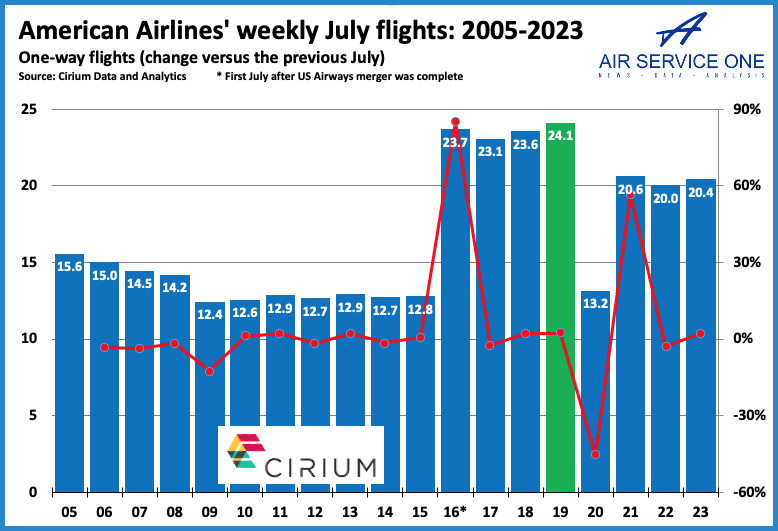 Network comprises 335 airports in July
Analysis of American's July network reveals some that some 335 airports are served. This is driven by 222 destinations in the US across 52 states and territories, more than United (217) and Delta (209).
Inevitably, Dallas DFW is by far the number one. It ended 2022 as the world's second busiest airport, up from tenth in 2019 because of the pandemic. American has over 5,700 weekly DFW flights, and the carrier accounts for 83% of the airport's total – a real fortress hub. It serves 230 destinations non-stop from its Texas hub, 25 more than Delta does from Atlanta but 36 fewer than global behemoth Turkish Airlines from Istanbul IST.
American's DFW flights are at 92% of what they were, in distinct contrast to much slower recoveries at its much smaller Chicago ORD, Philadelphia and Los Angeles hubs.  Of the carrier's busiest airports, only Washington DCA and New York JFK have exceeded pre-pandemic capacity. This July, JFK is American's fifth largest international gateway, behind Miami, DFW, Charlotte and Philadelphia, with these airports assisted by strong short-haul international networks. JFK ranks second behind DFW for long-haul flights.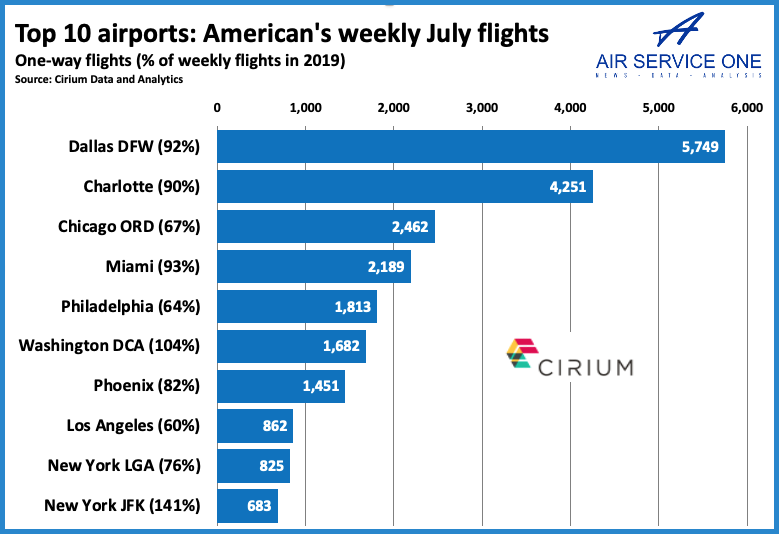 American has 1,000+ July routes; two are joint first
American has over 800 domestic routes in July, along more than 250 international. With 93-weekly flights, DFW-Austin and Los Angeles are its joint most-served routes – and two of eight from DFW in its top 10. While no international route is in the top list, Miami-Havana is number one in July with 55-weekly flights.
At just 306 kilometres, Austin obviously revolves around transfer passengers via DFW, and DOT data for 2022 tells that 88% of passengers connected. In contrast, it was 37% for Los Angeles. While American is the sole carrier between DFW and Austin, it is one of three to Los Angeles, joining Spirit (21-weekly) and Delta (14-weekly).