American is the third largest US-Europe carrier; has 46 routes this summer; five more are coming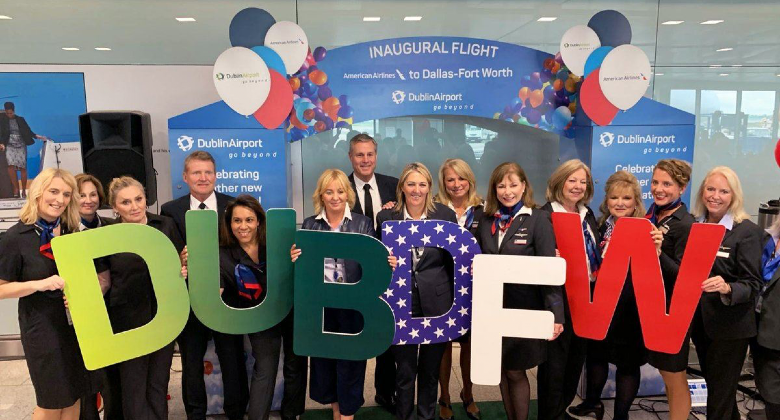 Despite being the world's largest airline, American is only the third largest operator between the US and Europe. Cirium schedules information shows that it has 3.41 million available seats in S23, behind United (4.59 million) and Delta (4.53 million). Curiously, while United and Delta have both exceeded their S19 capacity by healthy amounts, American remains down by 3.1%, mainly from big network contraction. Still, when American's seats are added to its various transatlantic joint venture partners, they collectively have more than one in four Europe seats in S23 (27.4%).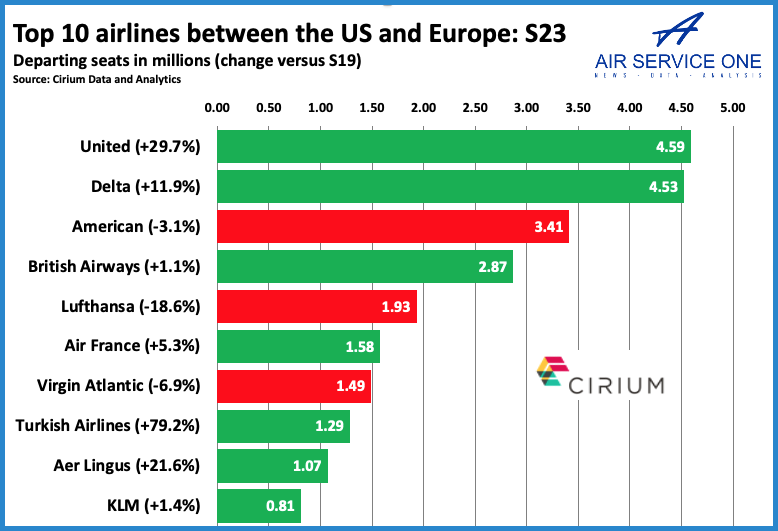 American has 46 Europe routes
Looking specifically at American, the oneworld member has 46 Europe routes in S23. The most recent launches were Seattle-London LHR on 21 March 2021 (new to the carrier), Boston-London LHR on 3 June 2021 (last served in 2013), and New York JFK-Athens on 3 June 2021 (new to the carrier). Various others resumed having last been served in 2020, such as Dallas DFW-Dublin on 5 May 2022.
Most of American's 46-strong network are from its East Coast hub of Philadelphia (11 routes). Then it is Charlotte (7), Dallas DFW (7), New York JFK (7), Chicago ORD (6), Miami (3; a fourth returns at the end of summer), Boston (1), Los Angeles (1), Phoenix (1), Raleigh Durham (1) and Seattle (1). American has Europe routes from more US airports (11) than United (8) and the same as Delta.
Given American's relationship with British Airways and the importance and size the US-UK market, seven of its top 10 routes – shown below – are to London LHR. Dallas DFW-LHR is the most served this summer. In August, it has a 4-daily operation, supplemented by BA's daily flight. While American has the same frequency on ORD-LHR and JFK-LHR, it now only uses higher-capacity 777-300ERs from DFW, its busiest hub, pushing up seats per flight and therefore in total.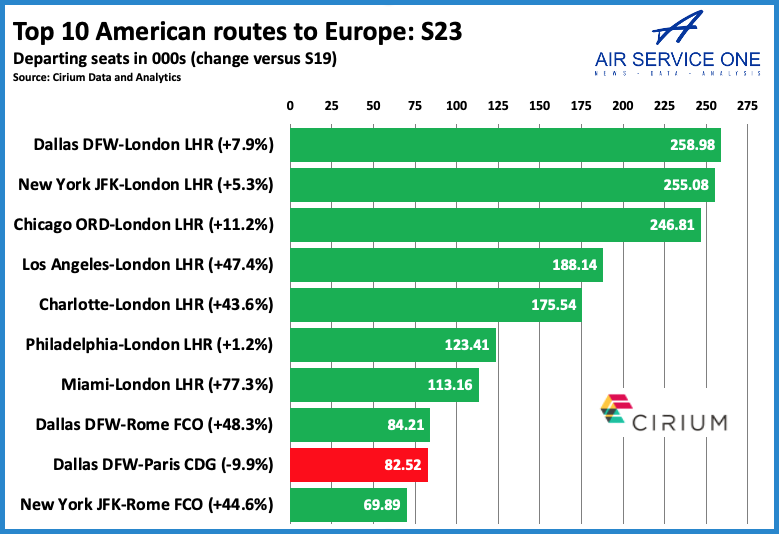 Serves 14 European airports this summer, but nine have been cut
American's network comprises 14 European destinations in 10 countries. It has flights to one airport in all nations except Germany and Spain (two each) and Italy (three). Inevitably, London LHR is its most served European airport – it continues to be larger to the US than Virgin Atlantic.
With more than a quarter additional seats than in S19, American's LHR growth is beaten only by Lisbon, to which it has nearly 27 times less capacity. The carrier's LHR route network has increased by two – the previously mentioned Boston and Seattle – along with the densification of many others. It now has 22.4% of all LHR-US seats, up by two percentage points.
American's Europe network has shrunk significantly versus the pre-pandemic S19, when 23 destinations were served. No more does the airline's own metal fly to Berlin, Bologna, Budapest, Dubrovnik, Edinburgh, Keflavik, Manchester, Prague and Shannon.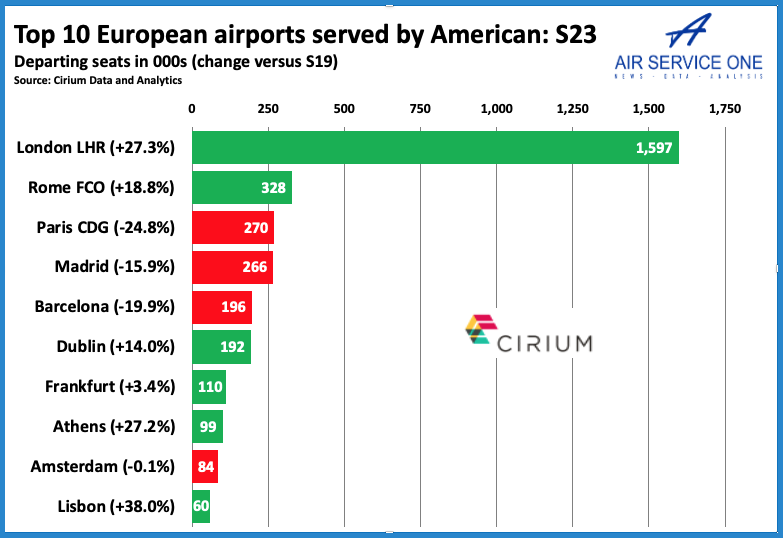 Adds five Europe routes in S24, including three new airports
American has added Philadelphia to Copenhagen, Naples and Nice, Dallas DFW-Barcelona and Chicago ORD-Venice VCE. All will be daily and all except ORD-VCE are brand-new; they have never been served by any carrier. American operated ORD-VCE between May 2018 and October 2019. Many will be helped by cruise demand.
Significantly, the carrier has never flown to Copenhagen, Naples or Nice before. Subject to further changes, it means that American will serve 17 European airports in S24 on a network of 52 routes. While Miami-Paris CDG is not operated this summer, it will be next year.