Amsterdam faces government imposed 440,000 movement limit despite growing demand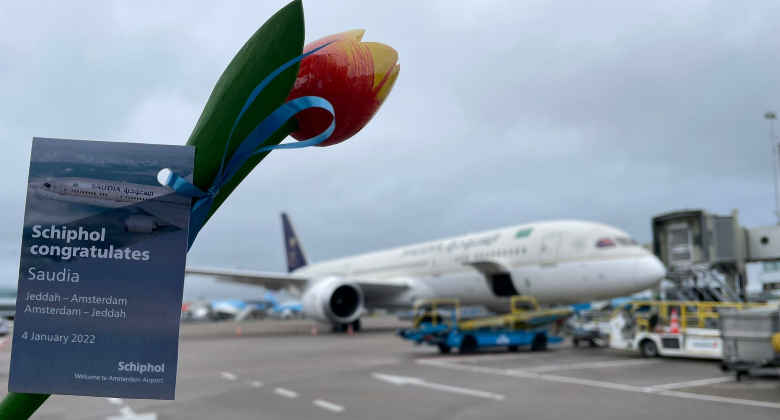 The recent announcement by the Dutch government that it plans to limit Amsterdam Airport Schiphol's annual aircraft movements to 440,000 has come as a shock to just about everyone, not least the airport itself. The government is justifying this decision on environmental (noise and pollution) grounds, though negotiations involving the airport are expected to continue as the full economic impact of such a decision has not been fully calculated. This news comes on top of a recent decision to limit the number of passengers passing through the airport from 7 July until the end of August. The airport has identified the issue as being a shortage of security employees to perform the necessary checks on all the travellers wanting to fly this summer.
72m pax and 500k flights in 2019
In 2019, the airport handled 71.7 million passengers, of which 25.9 million (36%) were transfer passengers, connecting between two flights. The number of flights operated that year was 496,826. At the time, a movement limit of 500,000 annual flights was in place.
Ironically, the airport has been a victim of its own success. For several months in 2021, Amsterdam was western Europe's busiest airport, beating Frankfurt, London Heathrow and Paris CDG. Across all of 2021 the airport welcomed 25.5m passengers, compared with 26.2m at Paris CDG, 24.8m at Frankfurt and 19.4m at Heathrow. This year it was forecasting around 60 million passengers, showing how rapidly demand has recovered.
Some country markets above 2019 levels
Analysis of Cirium schedule data for June 2022 and June 2019 reveals that among Amsterdam's top 20 pre-pandemic country markets, the recovery rate varies considerably. China, which was the airport's leading Asian country market in 2019 (ranked 16th overall) is only at 3% of its June 2019 seat capacity. Of the top 20 markets, 17 are already at over 75%, while six are already at over 100%. Leading the way are popular summer leisure destinations, Greece (+39%) and Turkey (+26%). Portugal (+14%) and Ireland (+11%) are also showing double-digit growth, with the third ranked Spanish market showing a solid 8% increase in seats. Among markets outside the top 20, Saudi Arabia (+159%), Colombia (+67%), Croatia (+57%), Aruba (+48%) and Latvia (+31%) have shown impressive growth. Across all country markets in June, the recovery rate is 88%.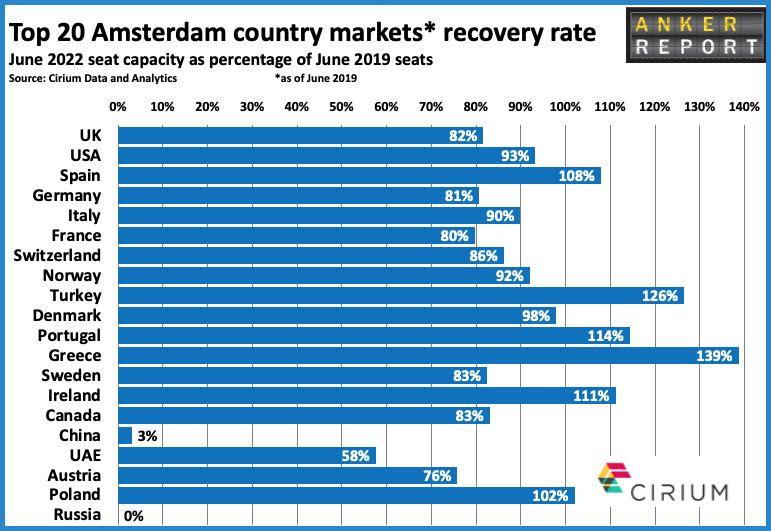 Several new carriers welcomed
Despite the pandemic, Amsterdam has welcomed several new airlines since the start of the summer 2019 season. These include Amelia (taking over the Strasbourg route from Air France under a PSO contract from the French government), Blue Air (operating flights from Bucharest and Cluj-Napoca), FlyOne (recently launching flights from Chisinau in Moldova), Kuwait Airways (flying twice-weekly from Kuwait City) and Saudia (which began passenger service from Jeddah in January). In addition, the reborn Flybe returned with four routes from the UK; Belfast City, Birmingham, East Midlands and London Heathrow.