Amsterdam gains JetBlue; Delta the biggest carrier to US; flights to 18 destinations in September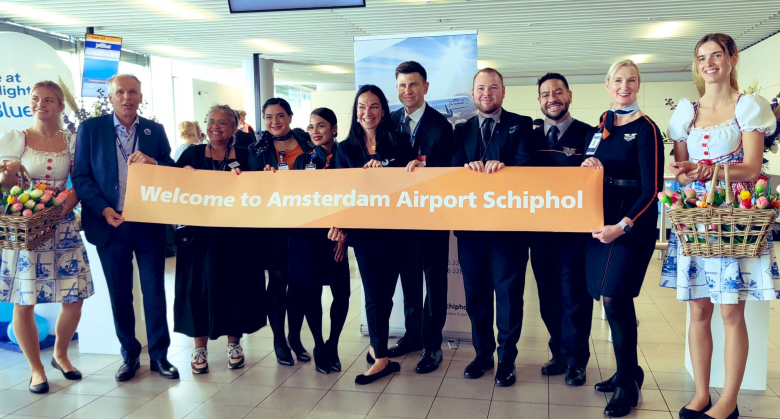 Amsterdam is one of 53 airports with non-stop United States flights in September, based on Cirium schedules information data. With about 309,000 departing seats, it ranks fourth, behind London LHR, Paris CDG and Frankfurt. However, with available capacity 10.0% below that of September 2019, Amsterdam remains less recovered than the three larger airports and Europe-US generally (-0.3%). More interesting still is that capacity has reduced year-on-year – despite welcoming its latest transatlantic carrier.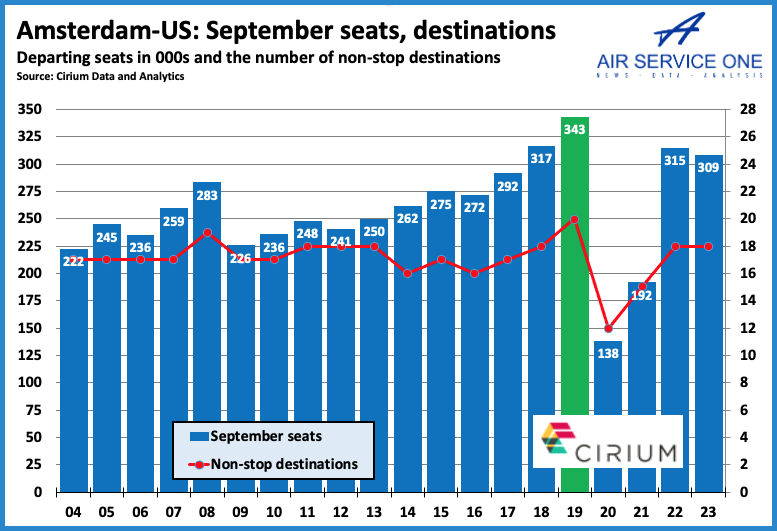 JetBlue launches Amsterdam flights; second route begins soon
JetBlue arrived in the Netherlands – its third European country – on 30 August 2023, two years after its first transatlantic service took off. The only operator to use narrowbodies between the US and Amsterdam, JetBlue operates between New York JFK – its main airport – and Schiphol (daily). When JFK is combined with Newark, JetBlue is one of four carriers at the city level, and the only one that is not part of a global alliance. It is the first unaffiliated airline since Norwegian ceased JFK in 2020, the year it ended long-haul flying.
In keeping with JetBlue's long-haul network strategy, a second Amsterdam route – from Boston, the airline's second-busiest airport – will begin on 21 September (daily). It will be the first time that the 5,560-kilometre market has had three carriers.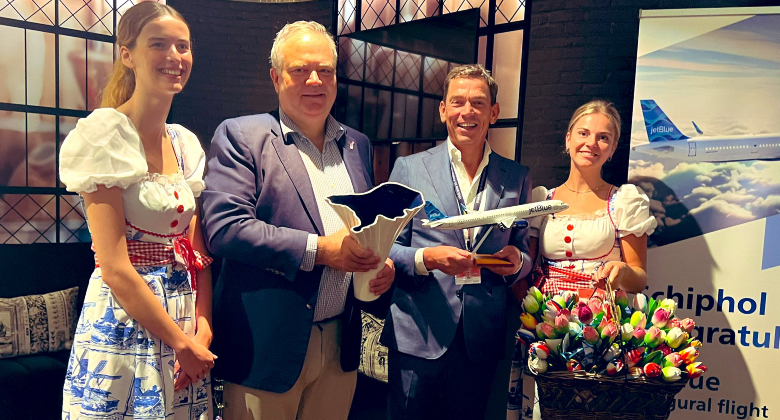 Five airlines operate to the US, with Delta number one by seats
The arrival of JetBlue means that Amsterdam has five airlines to the US. In 2019, there were six, when Norwegian (to New York JFK) and TUI fly Netherlands (to Orlando SFB) operated. Nearly two decades ago, Cirium informs that there were nine carriers: KLM, Northwest Airlines, Delta Air Lines, Continental, United Airlines, Martinair, US Airways, Singapore Airlines and Kuwait Airways. Of course, some no longer exist.
In September 2023, it is Delta – not KLM – that has the most seat capacity. When combined, the two SkyTeam airlines have a considerable 82% of non-stop capacity. That is much more than alliances from other major European airports. For example, oneworld has 59% of Heathrow-US capacity (British Airways and American Airlines), SkyTeam has 72% from Frankfurt (Lufthansa, United Airlines and Singapore Airlines) and SkyTeam has 77% from Paris CDG (Air France and Delta).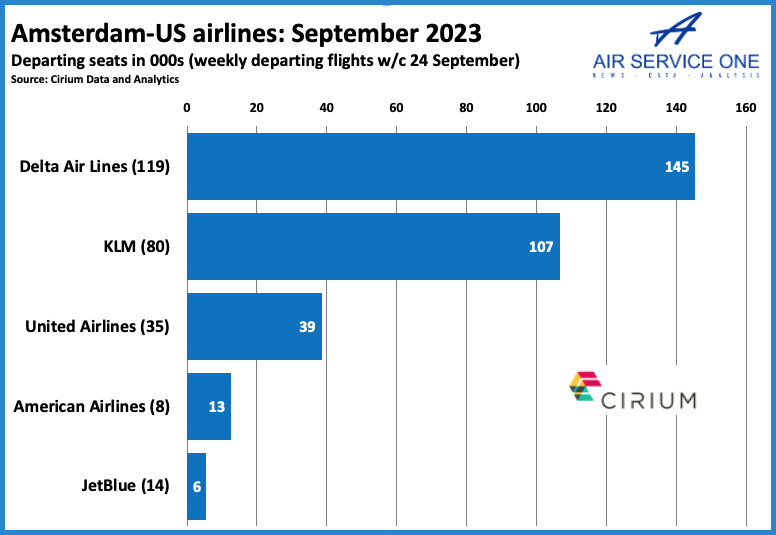 KLM has the most routes
While Delta has the most seats, KLM serves the most destinations (12). Delta has eight, United five, American two, and JetBlue two. KLM and Delta both serve Atlanta, Boston, New York JFK, Minneapolis and Salt Lake City – key Delta hubs. (KLM has not flown to Detroit since 2009.) Delta is the only carrier to Detroit, Portland and Seattle, while KLM is the only operator (of the pair) to the non-SkyTeam-related but large and ever popular Austin, Chicago ORD, Houston IAH, Las Vegas, Los Angeles, San Francisco and Washington IAD.
18 destinations are served in September
Amsterdam has non-stop flights to 18 US destinations in September, two fewer than in 2019. Then, Orlando MCO, Orlando SFB and Tampa were served, with their loss partly offset by the launch of KLM to Austin on 28 March 2022 (now 3-weekly), the first time the Texas airport had Amsterdam service. Note that Orlando MCO and Miami return in W23, just outside the scope of this article.
As would be expected, New York JFK is Amsterdam's leading US – and long-haul – market. In mid-September, there are 38-weekly flights: KLM (17), Delta (14) and JetBlue (7). When all of Amsterdam's routes are considered, JFK is only its joint 32nd most served destination in September, such is the high frequency nature of many short-haul services.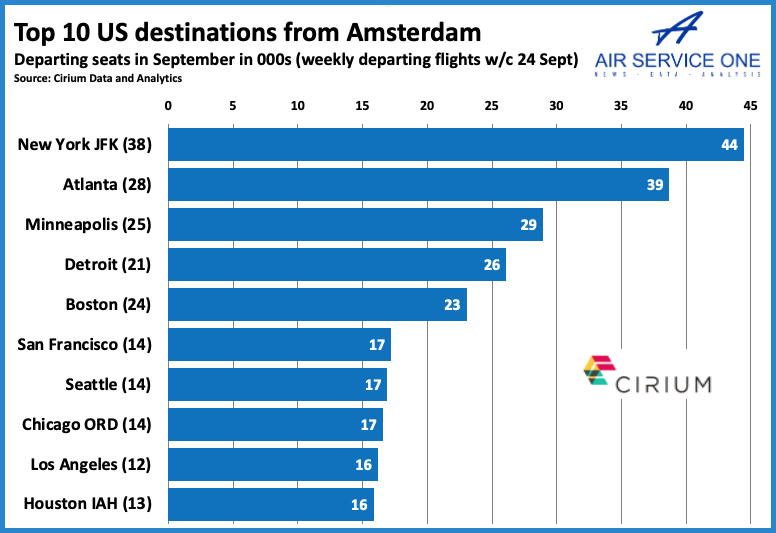 Six destinations have been cut in the past two decades
Using Cirium to examine schedules tells that Amsterdam has lost flights to Hartford (served by Northwest until October 2008); Cincinnati (by Delta until August 2009); Memphis (Delta until October 2012); Oakland (TUI fly until October 2013); Orlando SFB (TUI fly until March 2020); and Tampa (Delta until October 2019).