Amsterdam now western Europe's leading airport; PLAY will become latest new airline in December
For the last three months Amsterdam Schiphol has been western Europe's busiest airport in terms of passenger numbers, only beaten across all of Europe by airports in Russia and Turkey. The latest statistics for October show the airport having handled 3.75 million passengers, down 42% compared with October 2019. This compares with Frankfurt (3.40m, down 47%), Paris CDG (3.23m, down 51%) and London LHR (3.04m, down 57%). For the period January to October, Schiphol has welcomed 19.54m passengers, which also puts it ahead of Paris CDG (19.36m), Frankfurt (19.20m) and Heathrow (just 13.21m), but well behind Istanbul IST (29.42m).
After the global recession of 2008/09, passenger numbers at Schiphol grew by 65% from 43.6 million in 2009 to 71.7 million a decade later. Last year traffic fell by 71% to just under 21 million. That made it Europe's fourth busiest airport last year behind Istanbul IST (23.3m), Paris CDG (22.3m) and London LHR (22.1m). In terms of movements, Amsterdam was top with over 227,000.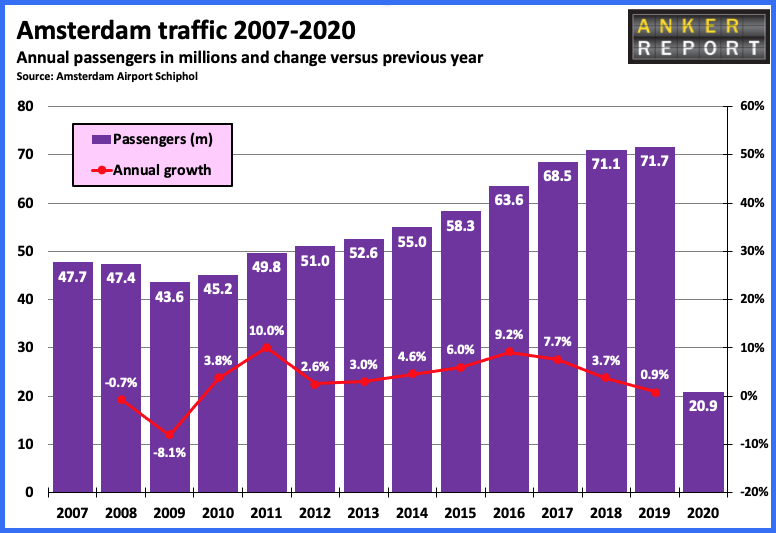 Blue Air, Kuwait Airways and WestJet welcomed in last 18 months
Prior to the pandemic the airport had a very clear seasonality profile with traffic peaking in July and August. In 2017 August traffic was 57% higher than in February. In 2018 it was just 44% higher and in 2019 41% higher. Despite the pandemic the airport has been able to welcome some new airlines in the last 18 months. This included Romanian carrier Blue Air beginning service from Bucharest and Cluj-Napoca, WestJet of Canada with service from Calgary (August 2021) and Kuwait Airways from Kuwait City (September 2021).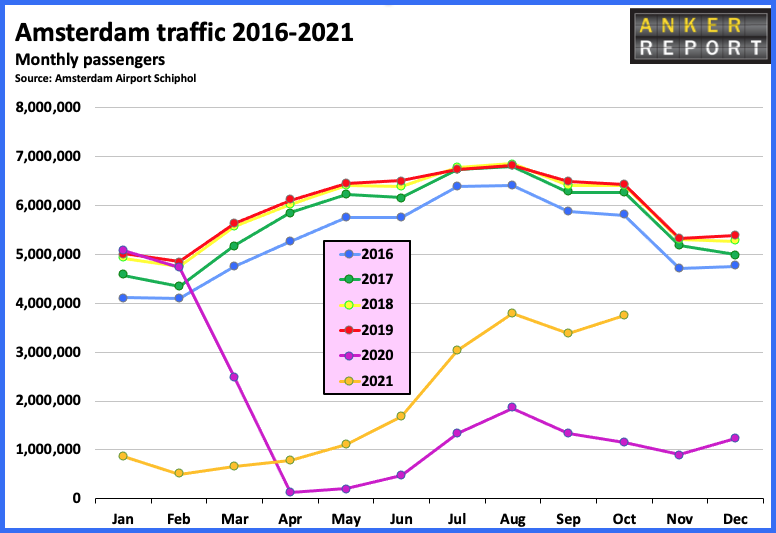 71 airlines and 256 destinations this winter
With the W21/22 season now well under way, the airport is reporting that the addition of four new destinations, eleven new services and two new airlines means that this winter, 71 different airlines will be providing a direct passenger connection from Schiphol to 256 destinations worldwide. The four new destinations for Amsterdam this winter are Bridgetown (KLM), Port of Spain (KLM), Cluj-Napoca (Blue Air – though the route started in May) and Skelleftea (Transavia, operating as a pure charter service and not bookable on the airline's website). The 11 new services include KLM beginning flights to Cancun and Mombasa, easyJet starting flights to Marrakech, Sharm El Sheikh and Innsbruck, and Vueling introducing service to Gran Canaria, Lanzarote, Tenerife TFS and Prague.
In addition, American Airlines is now operating its Dallas/Fort Worth route year-round (rather than just in summer) and Jet2.com has added Birmingham as a new destination this winter, operating 2-weekly and competing with KLM (3-daily) and easyJet (4-weekly). In addition, PLAY (Reykjavik) and Kuwait Airways (Kuwait City) are new airlines this winter. PLAY's new Icelandic route is set to start on 3 December and will compete directly with Icelandair and Transavia.
Heathrow still #1 for flights
Analysis of Cirium Data and Analytics flight data for November shows that the leading route from Amsterdam is still London LHR even though the number of flights is down 35% compared with November 2019. A total of 16 destinations will be served with at least six daily flights. Of these, three are in Germany with two each in Spain and Switzerland. The remaining nine routes are all in different countries. The top destinations with the smallest reduction in flights are Warsaw (+0%), Lisbon (-4%), Barcelona (-9%) and Madrid (-13%). However, Heathrow flights are still down 35%, with Frankfurt and Zurich flights down 33%.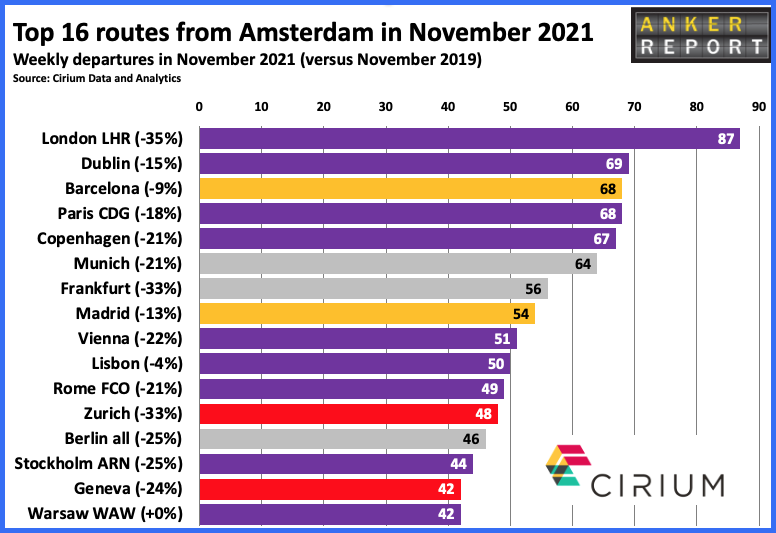 Looking at a country level, the UK is still top, but flights are down 54%. Impressively, three of the top 15 country markets are showing an increase in service with Turkey (+10%), Spain (+3%) and Poland (+2%) all growing and Portugal (-1%) not far behind. Asian markets are still heavily hit by travel restrictions. China flights are down over 90% to just four per week and those are probably operating primarily as cargo flights. Indian flights have been reduced by 60%.