AnadoluJet continues to grow Istanbul SAW network; Odessa in Ukraine is seventh new route of 2021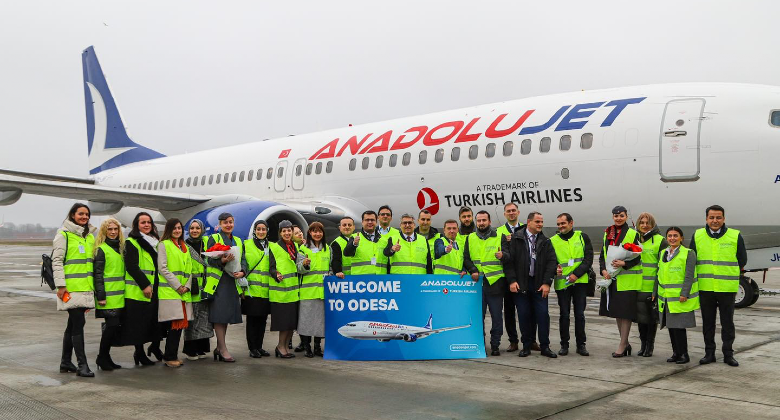 AnadoluJet is a brand of Turkish Airlines and is favoured by the Turkish flag-carrier when it comes to operating from Antalya and also Istanbul SAW. Unhelpfully from an analyst's perspective, it also shares the same "TK" code as its parent company. Although Pegasus Airlines is the biggest carrier at Istanbul's second airport, Turkish Airlines has increased its share of annual seat capacity at the airport from 14% in 2013 to 36% in 2021. The two local carriers now share 97% of capacity at the airport.
While the airport, located on the eastern side of the Bosporus Strait (which cuts through Europe's most populous city), ranked as Europe's 13th busiest airport in 2019 (with 35.47 million passengers), its ranking improved to 8th in 2020 (with 16.98 million passengers) as a result of a relatively strong domestic market.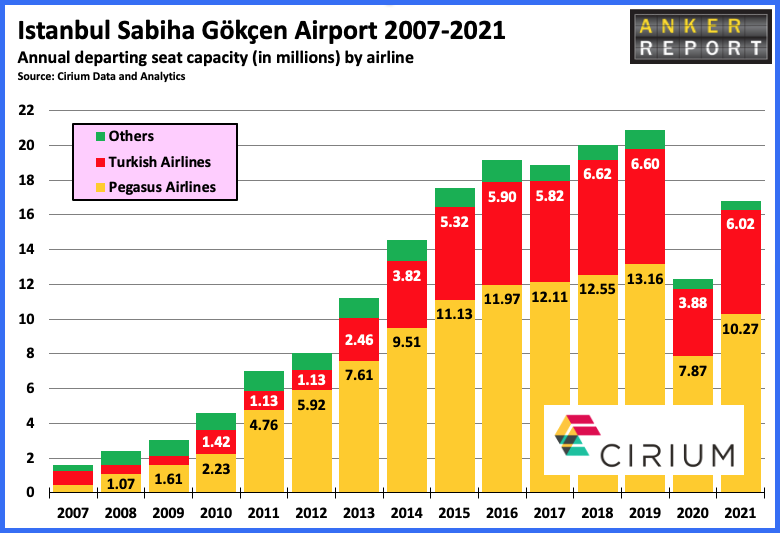 Leading routes by ASKs are a mix of domestic and international
Analysis of Turkish Airlines' busiest routes at Istanbul SAW ranked by weekly ASKs (Available Seat kilometres) in August 2021 reveals a mix of eight domestic routes (shown in red) and seven international routes among the top 15. The seven international routes include three in Germany and one each in Bahrain, Belgium, France and the Netherlands.
A total of 58 destinations were being served in August 2021, only one fewer than in August 2019. The number of weekly flights was down around 9% compared with two years earlier.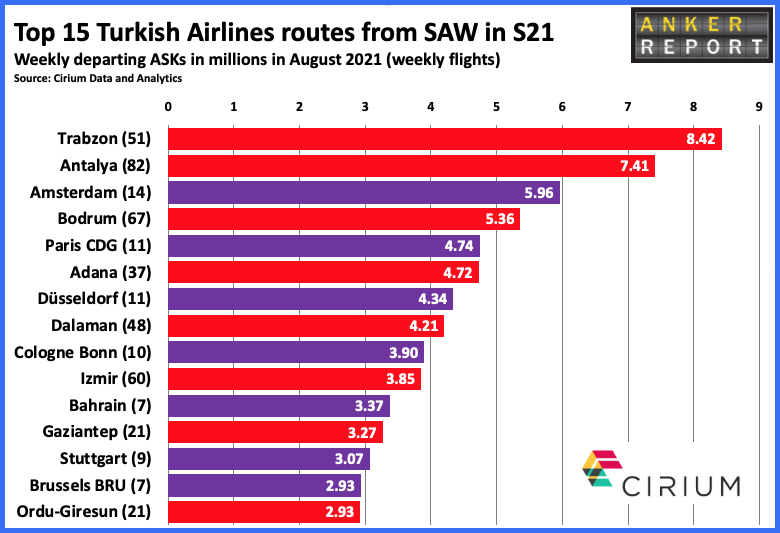 Seven new routes added in 2021
During this year, Turkish Airlines has used AnadoluJet to launch seven new routes from Istanbul SAW. These are:
Urmia – 11 March 2021
Zurich – 28 March 2021
Basel – 1 April 2021
Lyon – 13 May 2021
Hannover – 14 May 2021
Pristina – 19 May 2021
Odessa – 16 December 2021
With the resumption of several routes that were operated before the start of the pandemic, Turkish Airlines is planning to serve 64 destinations from Istanbul SAW this winter, a new record. International routes that were served in February 2020 but are not served this winter include Barcelona and Rome FCO, while Berlin flights have moved from Tegel to the new airport, and London flights have switched from Gatwick to Stansted.