AnadoluJet is Turkiye's #3 airline; international has grown fast, 82%+ of S23 capacity is domestic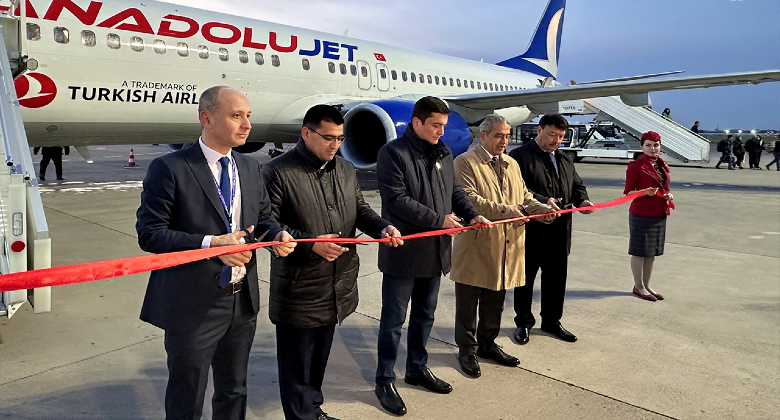 AnadoluJet is the lower-cost unit in the Turkish Airlines Group. Focusing on markets away from Istanbul IST, AnadoluJet is expected to be spun off by Turkish Airlines. Yet the budget brand's ambition is clear. It is expected to have 200 aircraft by 2033, up from the present 75. While more than half of its current fleet is the 737-800, planespotters.net shows that it also has A320ceos (operated by SmartLynx), A320neos, A321ceos (SmartLynx), A321neos and 737 MAX 8s.
AnadoluJet has almost a fifth of Turkiye's short-haul market
According to Cirium schedules information data, AnadoluJet has 13.82 million one-way seats in S23, more than half of which (62.6%) is from Istanbul SAW and Ankara (its original airport). The LCC has a 17.8% share of Turkiye's short-haul market. It remains smaller than primary competitor Pegasus (20.4%) but much bigger than SunExpress (9.4%).
The following figure shows how quickly AnadoluJet has grown. Capacity has increased by a nearly a quarter versus the previous record, held in S18. Comparing S23 to S18 indicates that the domestic capacity has risen by a very modest 3.3% and – although from very small bases – international Europe and the Middle East have grown enormously.
AnadoluJet has only recently started flying to Central Asia. Its third route to the region, from Ankara to Tashkent, lifted off on 17 April 2023 (1-weekly). It marked its first service to Uzbekistan. It is its third Central Asia route from the Turkish capital, alongside Nur-Sultan (began on 26 March 2023; 2-weekly) and Almaty (28 March; 2-weekly). They will be joined by Bishkek (starts 2 June; 4-weekly).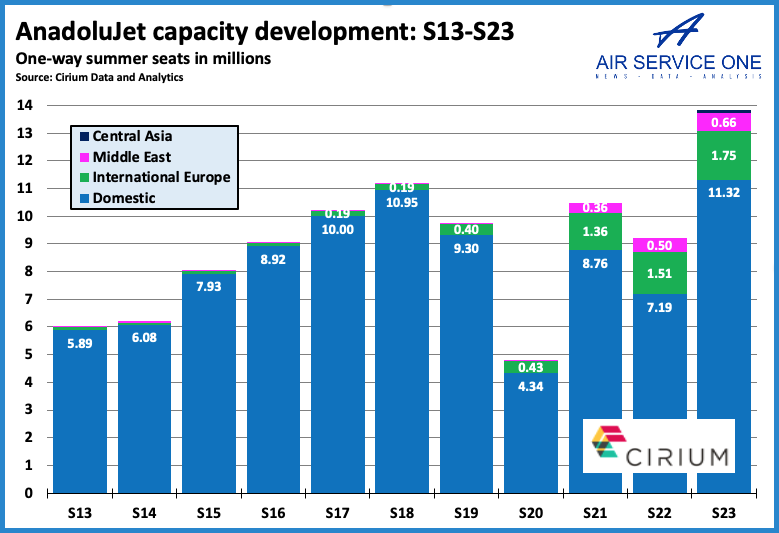 The domestic market remains the foundation
As the above figure shows, Anadolujet has a record 11.32 million domestic seats in S23. AnadoluJet's domestic operation now involves 42 Turkish airports and 74 domestic routes. The budget carrier was originally set up to operate within Turkiye, initially from Ankara. It is bigger domestically than Pegasus (36 airports, 49 routes) and SunExpress (16 airports, 24 routes). However, Turkish Airlines' own domestic network is more extensive (47 airports, 85 routes).
All AnadoluJet's top 10 routes are domestic, as shown below. They are led by Istanbul SAW to Antalya, the country's seventh populous city and a crucial tourist destination. Cirium informs that it is Turkiye's most-served domestic airport pair this summer. In the week starting 25 July, AnadoluJet has 65 departures, while Pegasus has 87. (Turkish Airlines has 119 from Istanbul IST.)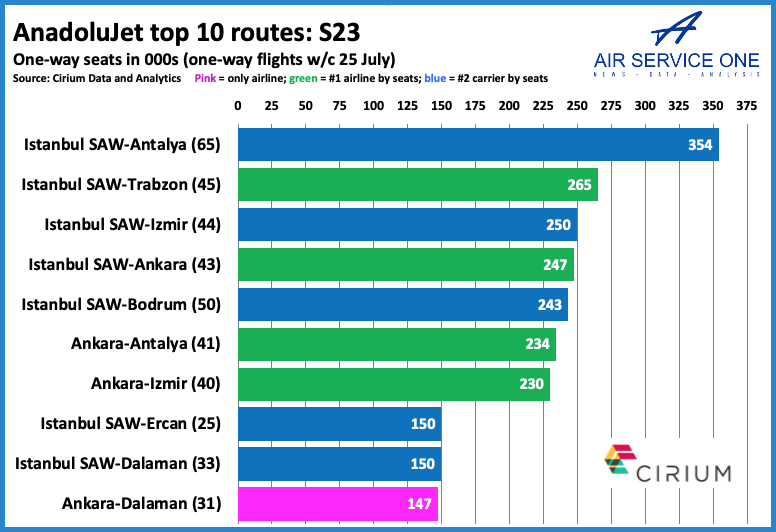 International capacity has grown strongly
AnadoluJet's recent development has revolved around international Europe and the Middle East. These two regions now account for 2.41 million seats in S23 (17.4% of its capacity). In previous peak season S18, just 216,000 seats were deployed to the regions (1.9%). Recent route additions include:
15 February 2023: Istanbul SAW-Dubai (2-weekly)
26 May 2023: Istanbul SAW to Rome FCO (daily)
11 June 2023: Bodrum to Baku (4-weekly, later daily)
18 June 2023: Izmir to Baku (3-weekly)
While AnadoluJet has made big strides in these regions, it remains significantly smaller to them in S23 than Pegasus (7.11 million) and SunExpress (4.61 million).