Ankara sees growth in international traffic; domestic demand impacted by completion of Istanbul HSR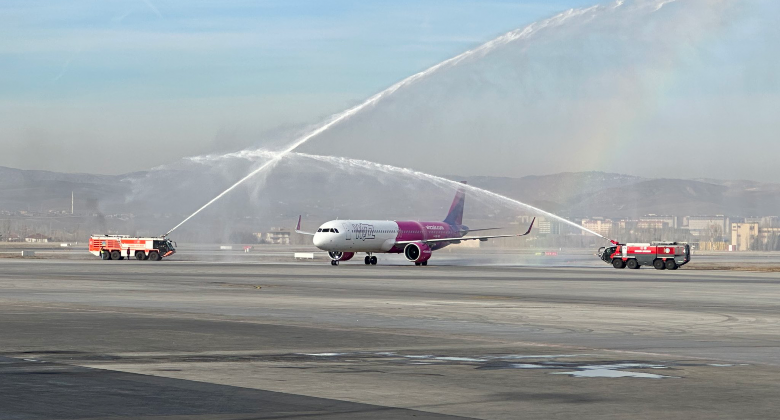 Turkey's capital and the country's second-biggest city, Ankara, saw its airport welcome 8.6 million passengers in 2022, based on statistics from airport operator TAV. That was just 62% of its 2019 traffic. The airport is dominated by AnadoluJet, a unit that is supposedly to be spun off from Turkish Airlines to operate independently. According to Cirium schedules information data, AnadoluJet had 49% of Ankara's ASKs in 2022. In comparison, Pegasus, Ankara's number two carrier, held 21%, while SunExpress, in third, controlled 11%.
Ankara remains heavily domestic
Data from TAV reveals that nearly eight in 10 Ankara passengers were domestic last year. Despite the domestic market being utterly vital, that was a lower proportion than in any year since 2009 and five percentage points lower than in pre-pandemic 2019. Looking at Cirium tells us that 36 airports across Turkey had Ankara flights, one fewer than Istanbul SAW and nine fewer than Istanbul IST.
Currently, Ankara's domestic market is in the hands of AnadoluJet (34 routes), Pegasus (five), and Turkish Airlines (one). The latter is the air bridge to Istanbul IST, served up to 16-daily, including by 777s, A330s, 787s, and A350s. With such high frequency and widebodies at times, no wonder it was definitively Ankara's top route by ASKs. The fall in domestic traffic can be explained in part by the completion of the high speed railway link between Ankara and downtown Istanbul, which was completed in 2019. Analysis of Cirium data shows that in September 2018 there were 284 weekly flights between Ankara and Istanbul (IST and SAW). In September 2022 this had fallen by 40% to 162 weekly flights.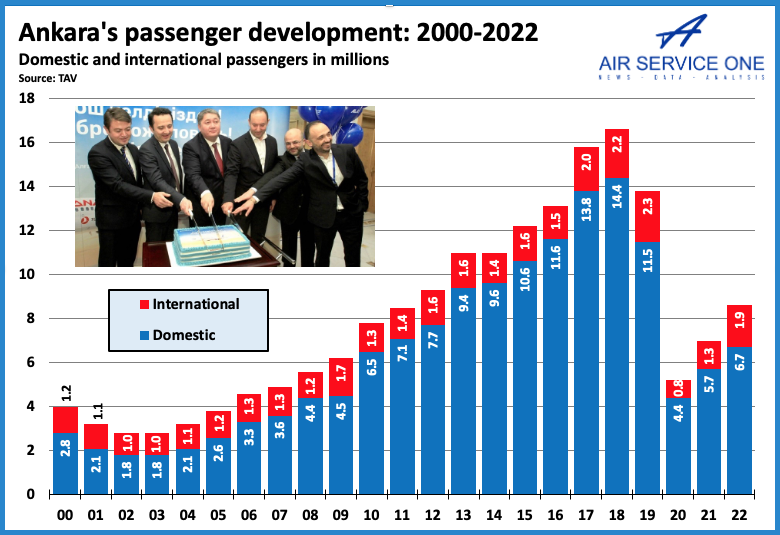 22% of seats were international
In 2022, more than a fifth of Ankara's passengers were international, the highest proportion in 13 years and far above the 17% recorded in 2019. Non-Turkey grew so greatly proportionally because such traffic was at 82% of 2019 figures, against just 58% domestically. Thanks to Germany's large Turkish diaspora, that country was Ankara's leading international market. A total of 10 airports were served, with Düsseldorf predictably having the most capacity. It was Ankara's seventh most served route.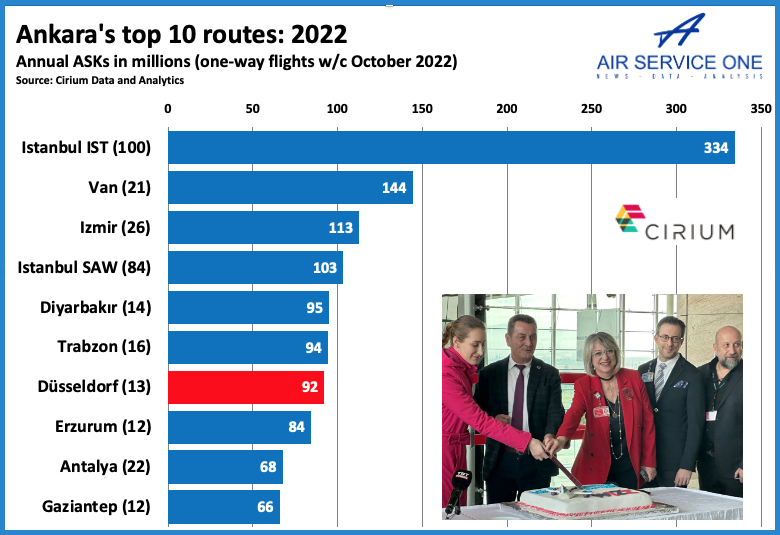 15-plus new international routes
The following lists example international routes introduced since last summer, many of which are brand-new markets from Ankara. They included the airport's only long-haul service (from Seoul), albeit charter flights, and first flights to both Kazakhstan and Abu Dhabi. In comparison, the Georgian capital of Tbilisi, 1,020 kilometres from Ankara, was previously served by AnadoluJet until early 2020. Now it is in the hands of Pegasus – and soon SunExpress too.
10 July 2022: Transavia France, Paris ORY (2-weekly)
4 August 2022: Pegasus, Bucharest (2)
27 August 2022: Air Premia, Seoul ICN (1); charter flights
1 November 2022: Pegasus, Almaty (2)
2 November 2022: Pegasus, Tbilisi (2)
6 November 2022: Iraqi Airways, Kirkuk (2)
19 November 2022: AnadoluJet, Almaty (2)
4 December 2022: AnadoluJet, Nur-Sultan (2)
7 December 2022: Pegasus, Jeddah (1)
7 December 2022: Pegasus, Medina (1)
19 January 2023: Wizz Air Abu Dhabi, Abu Dhabi (3)
15 February 2023: AnadoluJet, Dubai (2)
28 March 2023: Air Serbia, Belgrade (4)
5 June 2023: SunExpress, Tbilisi (1)
6 June 2023: SunExpress, Stockholm ARN (2)
Last week saw the first ever scheduled service operated by Wizz Air to Ankara, in this case flown by the airline's Abu Dhabi based subsidiary. For now this is Wizz Air's only route to the Turkish capital.