Antalya's Q3 2023 capacity +19% versus 2019; 160+ destinations served; five new airlines are starting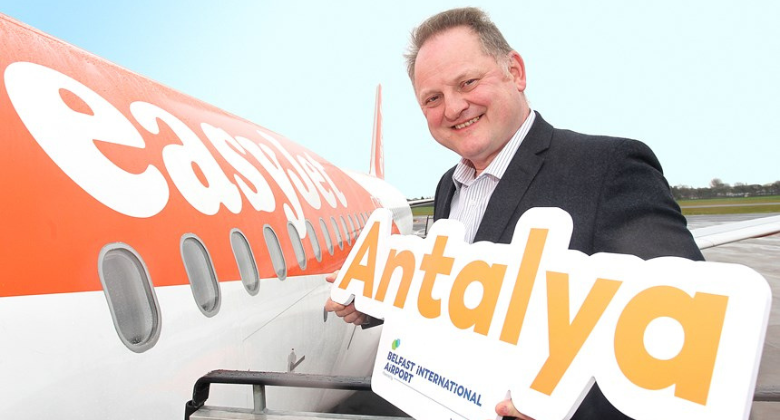 The renowned resort area and big city of Antalya was Europe's 10th busiest airport in 2022. The airport's figures shows that it had 31.2 million passengers, fewer than half a million above Istanbul SAW and surpassing the likes of Rome FCO. Despite the significance of leisure travel during the pandemic, Antalya's traffic was 12.6% lower than in 2019, when it ranked 11th Europe-wide. But things are changing.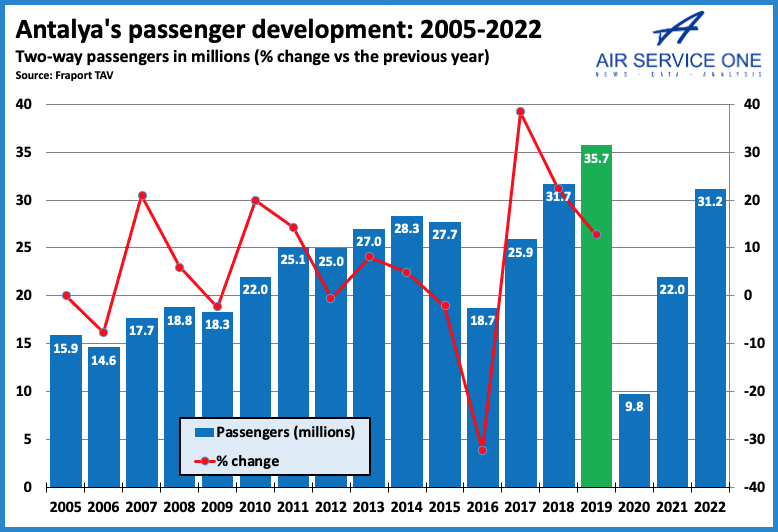 Antalya's Q3 2023 seats are 19.1% above 2019
According to Cirium schedules data, airlines filed 6.2 million one-way seats in the crucially important July-September (Q3). This is Antalya's highest yet and is up by nearly in one in five over Q3 2019. The increase is entirely because of the international market (+25.5%), as domestic Türkiye has yet to recover (-5.2%). Many already-served countries have seen considerable capacity increases, including the UK (+83.2%), Austria (+82.7), Switzerland (+52.8%) and Russia (+31.9%). The latter was influenced by the EU being off-limits due to sanctions.
July-September accounts for a huge 38.0% of Antalya's 2023 capacity, much more than other holiday hotspots, such as Paphos (14.5%), Palma (19.9%) and Faro (36.6%). Antalya's Q3 capacity as a share of the total is one percentage point lower than in 2019, reflecting seasonality changes.
Looking at international capacity, examination of Cirium data informs that airlines have especially grown October-December. Such seats are up by half versus 2019, although it is far away and may therefore reduce, especially in December. However, it does continue the trend seen in 2022. While Antalya's total capacity in Q4 2022 was +15.6% versus 2019, international was +81.2% and by far the fastest growing quarter. It seems that airlines are increasingly viewing Antalya as a shoulder season destination too.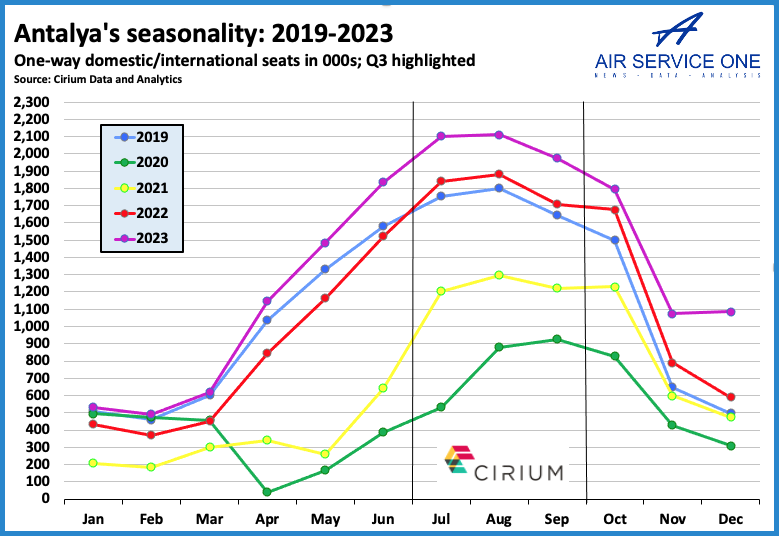 SunExpress is the largest carrier
Turkish leisure carrier SunExpress is Antalya's leading airline, as the figure shows, just as it was in the pre-pandemic. However, while it has grown considerably, Turkish Airlines (including lower-cost unit AnadoluJet) has more than doubled in size in Antalya, narrowing the gap to almost nothing. The pair provide nearly one in two Antalya seats in Q3, up by more than 13 percentage points versus 2019.
SunExpress' Antalya routes in the peak season have risen from 40 to 59. Its network spans 25 countries in Europe, the Middle East and the Caucasus. The domestic market accounts for just one in ten available seats, nearly half what it was in 2019 as fast international growth took over. Additional routes include Pristina (starts 27 May; up to 10-weekly), Dublin (28 May; 2-weekly), Tbilisi (28 May; 2-weekly), Tirana (2 June; 6-weekly) and Dresden (last served in 2018 but back on 16 September, 2-weekly).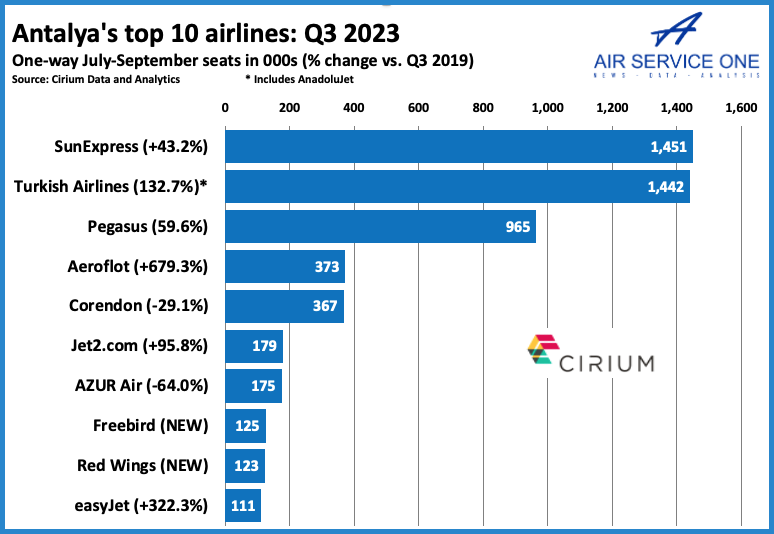 Five new airlines begin in 2023
Transavia France returned in April having last served the airport in 2015. It has three routes: Lyon (started 10 April; weekly), Nantes (15 April; weekly) and Paris ORY (17 April; up to 3-weekly). It is the only carrier to Orly and Nantes, the latter last served in 2019 by defunct Onur Air.
On 1 June, Kuwait Airways will launch Antalya (2-weekly), becoming the third non-stop operator on the airport pair. On 17 June, HiSky is to begin charter flights from Brasov, the brand-new Romanian airport (weekly). It will join a 2-weeky operation by Animawings, which will take off the day before before. On 21 June, Saudi Arabia's flynas will start Riyadh-Antalya (4-weekly), followed on 23 June by Fly Baghdad from its namesake (4-weekly).
Istanbul SAW is the top destination in Q3
Examination of Cirium schedules informs that more than 160 destinations have non-stop Antalya flights in Q3. This encompasses more than 45 countries, of which Germany is – not surprisingly – number one, then Russia. A quarter of Antalya's seats are from Germany, rising to almost half when Russia is included.
Due to Russia's growth and the domestic market's slow recovery, Türkiye has fallen to third place. It still has over one million one-way seats, with 11 airports served.  Three of these – Istanbul SAW, Istanbul IST and Ankara – are in Antalya's top 10 destination figure, as shown below. When combined, Antalya has 264-weekly Istanbul flights in August. These are with Turkish Airlines to its global hub at IST (119-weekly, 21 by the 777-300ER), Pegasus to SAW (80) and AnadoluJet to SAW (65)