Appleton welcomes new Allegiant flights to Colorado and Florida; American, Delta, United serve hubs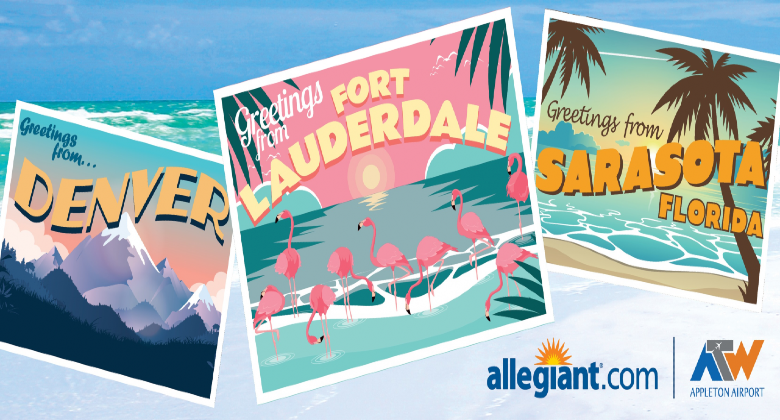 Appleton International Airport (IATA code ATW – which must make it a favourite with our colleagues at Air Transport World) is Wisconsin's third busiest airport after Milwaukee and Madison. Located around 160 kilometres north of Milwaukee, Appleton lies on the Fox River which is connected to nearby Lake Winnebago. The airport is just 40 kilometres from Green Bay Airport (IATA code GRB). The city has a modest population of around 75,000. Last year, the airport welcomed 672,000 passengers, which included 77,000 in August, which was a new monthly record, beating the previous record of 75,000 in March 2019. Prior to the pandemic, almost 800,000 travellers used the facility in 2019, the busiest year ever for the airport, before falling to 380,000 in 2020.
Four airlines offer service
Delta was the leading airline at the airport in 2019 handling 384,000 passengers across three routes to its hubs at Atlanta, Detroit and Minneapolis/St. Paul. United was the second busiest carrier with 175,000 passengers, offering non-stop service to its hubs at Chicago ORD and Denver. American, with 80,000 passengers was, at that time, just serving Chicago ORD. It has since added service to Charlotte.
However, the airline offering the most routes is Allegiant. In 2019 it carried 145,000 passengers to and from the airport on five routes to Las Vegas, Orlando SFB, Phoenix AZA, Punta Gorda and St. Pete/Clearwater. According to Cirium data, Nashville flights were added in February 2020, while earlier this month a further three new destinations were added; Denver, Fort Lauderdale and Sarasota/Bradenton. All three of these new routes will be served just 2-weekly.