Armenia is latest country to sign Common Aviation Area Agreement with EU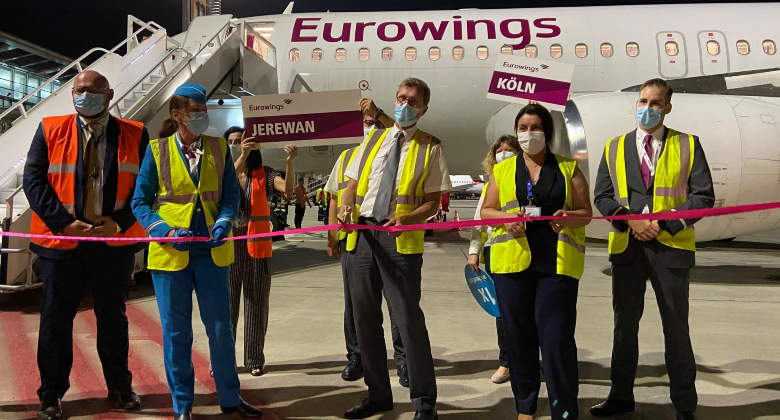 Having recently concluded a
Common Aviation Area Agreement with Ukraine
, the EU finalised a similar agreement with Armenia on 15 November. Similar agreements have been signed with Georgia, Israel, Jordan, Moldova and Morocco. According to an EU statement:
The benefits include new air transport opportunities, more direct connections and economic benefits to both sides:
All EU airlines will be able to operate direct flights from anywhere in the EU to any airport in Armenia, and vice versa for Armenian airlines.
All limitations and restrictions on flights between Armenia and the EU will be removed and the provisions on open and fair competition will guarantee a level playing field.
Unlike Ukraine, which has a population of over 40 million people and almost a dozen airports with scheduled commercial flights in 2021, Armenia (officially the Republic of Armenia) has a population of around three million people and just two airports with scheduled flights; Zvartnots International Airport (IATA code EVN) serving the capital Yerevan and Gyumri Airport (IATA code LWN). Unlike Ukraine, it has also never won the Eurovision Song Contest.
Over three million passengers in 2019
Pre-pandemic, Yerevan's airport handled just over three million passengers, an increase of 13% on the 2018 figure. In July and August, the airport welcomed over 350,000 passengers. According to analysis of Cirium Data and Analytics schedule information, the leading airlines at Yerevan in 2019 were Aeroflot, S7 Airlines, Nordwind Airlines, Ural Airlines and Ukraine International Airlines. Then came Aircompany Armenia, a private local carrier that was formed in 2015 after the collapse of Armavia in 2013.
Traffic to Russia dominates
Analysis of the leading country markets from Armenia in 2019 shows that flight to Russia dominate, accounting for over 60% of the market by seat capacity. The leading EU country markets are Poland and Austria, with France, Greece and Romania all making the top 10. However, EU countries only accounted for 10% of all Armenian traffic in 2019.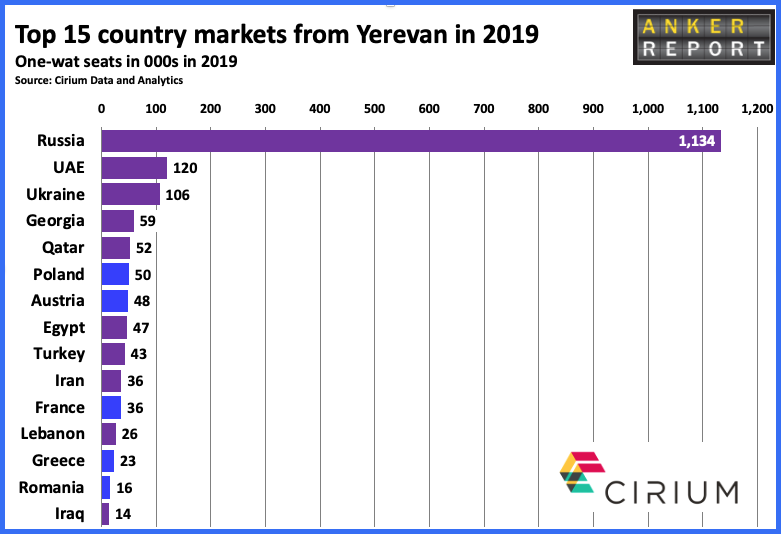 (U)LCCs taking tentative steps into the market
Unlike in Ukraine, where Ryanair and Wizz Air had already made significant inroads into the local market, Europe's leading LCCs have so far had little presence in Armenia, though that could be set to change. While
Eurowings started serving Yerevan from Cologne Bonn
with a weekly service in August, neither easyJet nor Ryanair have yet shown any interest in the market. However, Transavia plans to introduce 2-weekly service from Paris ORY on 30 March 2022. Wizz Air has already launched its first service to Yerevan from Europe, when it began 2-weekly service from Vienna on 7 July. This route is operating over Christmas and New Year before resuming 2-weekly from the end of March. Wizz Air is also planning to launch three further European routes to Yerevan starting with Vilnius (on 19 December for Christmas and New Year flights) and then Larnaca (2-weekly from 27 March 2022) and Rome FCO (2-weekly from 26 September 2022).
Links to Frankfurt, Paris and Vienna hubs
This December, five EU flag-carriers are serving Yerevan according to Cirium Data and Analytics. Other EU routes are provided by Condor and local carrier Aircompany Armenia.
Aegean Airlines: 2-weekly to Athens with A320
Air France: 2-weekly to Paris CDG with A320
Aircompany Armenia: 2-weekly to Lyon with B737
Austrian Airlines: 4-weekly to Vienna with A319/A320
Brussels Airlines: weekly to Brussels with A320
Condor: weekly to Frankfurt with A320
Lufthansa: 3-weekly to Frankfurt with A319s (launched on 12 August 2021)
Looking ahead to next summer, LOT Polish Airlines plans to resume service from Warsaw, while airBaltic will launch a new, 2-weekly service from Riga in Latvia using its A220-300s.
FlyOne Armenia launching shortly but just one route to EU
A new carrier, FlyOne Armenia (IATA code 3F), a subsidiary of Moldovan carrier FlyOne, is planning to launch flights from Yerevan in mid-December. However, among its eight planned routes, only one is in the EU, Lyon. The others are Chisinau, Istanbul, Krasnodar, Moscow VKO, Tbilisi, Tehran IKA and Tel Aviv.